Secure your iPhone from Hackers using these ten tips. Users can use them to secure their iPhone from any type of external hack. None can hack your iPhone or the Internet. You don't even need any external app or software to secure your iPhone from hackers.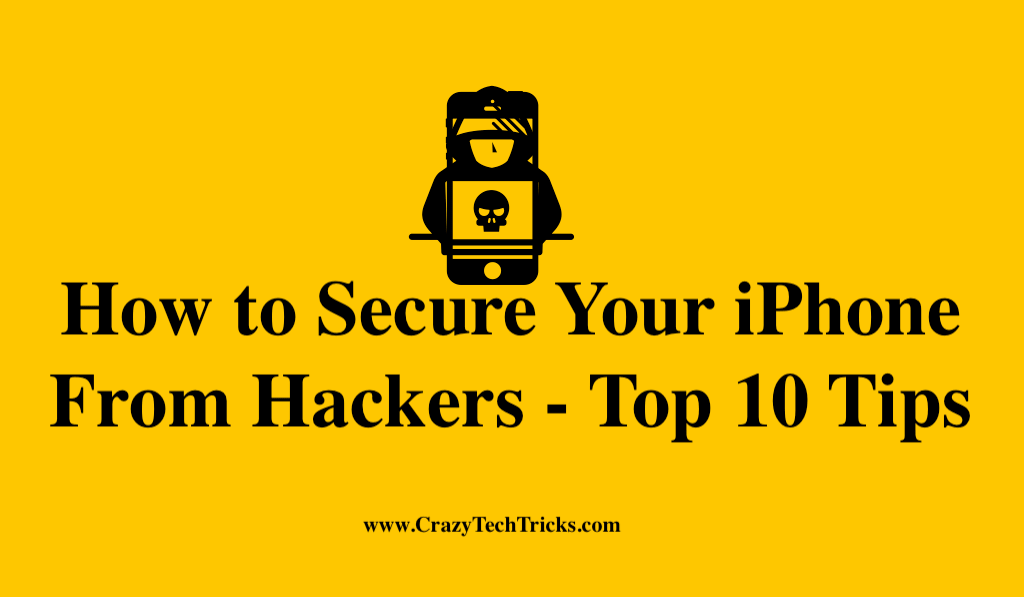 The technological advancements that are being made in the new world make security as a proper concern for the general population. With the increased use of technical devices, the security of data and devices becomes a concern.
How to Secure Your iPhone From Hackers – Top 10 Tips
We will discuss the top 10 practices to secure your iPhone from hackers. These will include some settings that you can change to make your phone secure and also some practices that will make your data and device more secure. "Prevention is better than cure" is what is being said and taught in the security community right now.
Read more: 5 Ways to Stay Safe from Hackers
Two-factor authentication
The Two Factor Authentication or 2FA is one the most popular yet less used method for increasing security on devices. Apple provides Two Factor Authentication for the Apple ID and iCloud. It utilizes two pieces of information. These include a six-digit code for verification and your password. Enabling the two-factor authentication allows a significant increase in the security of your device by providing an extra level of security through authentication.
You can enable the two-factor authentication for your Apple ID through the process given next. Navigate to Settings on your Phone >> "Tap on your name" >> tap on the option of 'Password and Security" >> Now tap on the option of "Two–Factor Authentication" >> Tap on "Continue."
Read more: How to Secure Yourself From Facebook Hack Scam
Disable Siri from your Lock Screen
Siri is undoubtedly one of the most used and useful voice assistants and is used quite extensively from Apple users. But, you might need to disable the Siri function of the Lock Screen. This should be done to prevent private information to be asked by Siri about the phone. Most of the people do not mind Siri knowing their personal details and if your device is put into the hands of someone will ill intent, they might just ask Siri to take out your phone without even opening the phone.
To disable Siri from your Lock Screen, follow the steps given next. Navigate to the "Settings" >> Now, select the option of "Passcode" / "Touch ID and Passcode" option >> Now, select the "Allow access when locked" >> Locate Siri and tap it "Off."
Make Strong Password
If you still use the 4 – digit passcode, it's time to stop and change over to stronger and complex multiple-digit passwords. You can use the combination of characters, numbers, and symbols to make a unique and robust password. This is suggested because it is often straightforward to break into the phone or even guess the password of the 4 – digit passcode to gain access of the device.
To set up a more secure password, follow the steps that are given next. Navigate to "Settings" >> Now go to the option of "Passcode" >> Change the option of "Require Password" to "immediate" >> Change the option of "Simple Passcode" to "Off."
Now, set up the password from Settings >> Password.
Read more: Has my Email been Hacked
Password Manager
Password Managers are a handy tool that is used to store passwords, and they are used for generating strong and complex passwords. With the time, the use of the Password Manager is supported. It is often encouraged to keep your device secure and prevent your device from having weak passwords that make your device more susceptible to being hacked or your password being cracked easily.
Password Managers such as Dashlane, 1Password and LastPass are some of the good Password Managers and should be used.
Biometric Security Options
Apple devices come with really advanced features such as fingerprint recognition and facial recognition software that are used heavily by the users. Therefore, it is highly advisable to use these features as they are the most unique feature anyone can ask for.
Read more: How to Bypass Xfinity Username And Password Hack
USB Restricted Mode
Apple provides the feature to restrict data flow from USB. These features were recently rolled out by Apple in an attempt to prevent data flow from the lightning cable after one hour of inactivity or few incorrect password attempts. Enabling the USB restricted mode will help you to keep your device secure and make sure that data is not being taken out of your device through USB. This feature also makes sure that the USB or lightning cable does not take any data out from the lock screen.
To start the USB Restricted mode, follow the steps. Navigate to the "Settings" >> now, tap on the option of 'Touch ID or Passcode" >> Scroll down and then tap on the option of "USB Accessories" and toggle it off.
VPN or Virtual Private Network
A VPN or virtual private network is a technology that allows you to surf the internet better and with proper security. If you are connected to a community Wi-Fi or open network, there might be chances that your data is being collected by an attacker and therefore, whatever the attacker will capture your search on the internet or whatever you use that connection. To prevent this from happening and keep your data and browsing secure, we use a VPN or Virtual Private Network.
A VPN encrypts the traffic that is being directed to your device. It encrypts both the outgoing and the incoming traffic, making a complete circle of protection.
Read more: Best Notepad Tricks you don't know
There are several VPN available in the market, and some of them are free, and some of them are paid. Make sure to use a VPN while connecting to any network to make sure that your data is encrypted and secure.
Don't Jailbreak your Device
Jailbreaking is the process of privilege escalation of Apple devices such as iPhone and iPad. Jailbreaking your phone gives access to third party application and makes them enable to run on your device. It basically removes the native software restrictions that are kept on the application that are available for the Apple device. If you jailbreak your device, you would definitely lose the warranty, and moreover, you make your device an open target for attackers. Since you are giving permission to a third-party application to run on your device, it becomes easy for you to mistakenly download a malware and loose or corrupt all your data.
Update Your iPhone
Apple releases updates that contain different security patches for the device and to make sure that your information is secured and the security of your device is at the top level. For example, the USB restricted mode was launched in an update as an additional security feature. Therefore, to secure your iPhone from hackers, make sure that you are constantly updating the device.
Read more: How to Make an Invisible Folder on Windows 10 PC
Be Aware of Juice – Jacking
Juice Jacking is a cyber-attack type where the attackers can damage your phone and phone's data through the USB charging cable that you've put in. A commonplace where people get juice – jacked are the "USB charging stations" that are present at communal places such as stops, airports, etc.
Therefore, make sure that you are bringing your own charger and charging cable while you visit and communal place to avoid the chances of being juice jacked.
Some Extra Notes
These are the top 10 practices that will keep your device secure from the hackers and keep your data safe. Moreover, some extra suggestions should be taken into consideration, for example, "Don't auto-join networks" as some network might be listening to the traffic that you might be visiting. Turn off the Cookies settings from your browser so that your data is not being stored on the browser and turn off the notifications that come on the lock screen as anyone can see vital and private information.
Conclusion
This article covers how you can be more aware of the security perspective while dealing with your iPhone devices. It gives you the top 10 tips to secure your iPhone from hackers and gives your extra suggestions for maintaining better security.
Was this article helpful?