I have shared the best free MP3 Tag Editors. These Mp3 tag editors will allow you to edit tags of any format music. You can use these on your Windows or Mac PC/Laptops.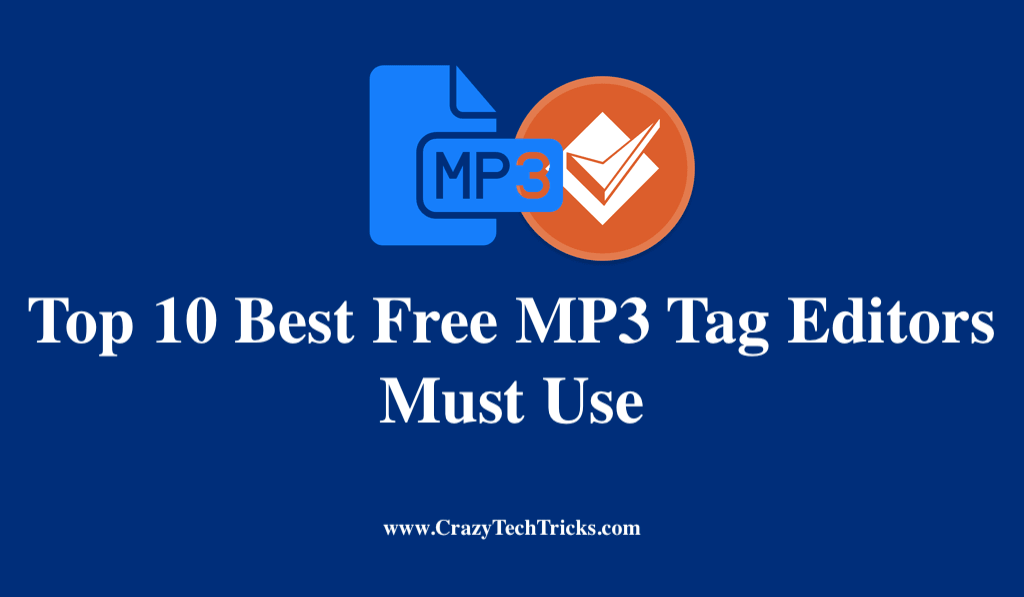 In many cases, downloading music from unauthorized sources results in the loss of album artwork and metadata. Metadata can also be lost for a variety of reasons, such as when files are transferred from one format to another without the necessary data being transmitted. If you're dealing with such a poorly tagged music collection issue, MP3 tag editors are a simple remedy. It is much easier to organize and categorize your files if you add missing tags with these tools.
Do not worry if you don't have the information handy, some of these apps can search for the tags for you online. Choose either a free or paid editor, but make sure you install it from a reputable site and run an antivirus scan on your machine regularly. However, if you're looking for only the best MP3 tag for free, you've come to prime place. MP3s have many tools for tagging, and any of them can be used to edit metadata and fill in any gaps.
Best Free MP3 Tag Editors
The top 10 best free MP3 Tag Editors are as follows.
MusicBrainz Picard
The godfather
TigoTago
EasyTag
Mp3Tag
ID3 Tag editor
Kid3
Metatogger
Footbar2000
TagScanner
1. MusicBrainz Picard
MusicBrainz Picard is a Python-based open-source, cross-platform music tagger that allows you to add and edit audio and cover art on your computer. Using MusicBrainz Picard, you can effortlessly add missing metadata to your media files across several platforms. Therefore, this app doesn't require your audio files to be in MP3 format for you to change the metadata. To identify your music files, it employs AcoustID, a unique identifier for each piece of music.
Read more: How to Edit Tags of Music on Android
2. The Godfather
It's a difficult process to sort and handle all the tracks after they've been downloaded. With the GodFather, you can find ID3 Tag information on Freedb.org and allmusic.com, rename your music files, and organize them based on ID3 Tag data. You can use it quite easily and conveniently. If you wish to modify the tags of a large number of MP3 files at once, this program is for you. It greatly facilitates your work.
Read more: MKV to MP4 Converter
3. TigoTago
With TigoTago, you can simply edit and modify the tags on a large number of different MP3 songs, all from within a single spreadsheet. By doing this, you will save a lot of time if you wish to add details to many songs. There are many audio and video formats supported by TigoTago including MP3, WMA, and WAV, along with AVI and WMV. TigoTago includes excellent tools for mass-editing your music and video collections. CDDB album metadata, file reordering, and file name changes from tags are only some of the features included in the application.
Read more: How to Find a Song by Humming
4. EasyTag
For Linux and Windows, EasyTAG is a feature-rich application for editing information in audio files. It enables you to browse, read, and update any portion of the metadata for your files. Additionally, you can make a single edit to all of your MP3 files simultaneously. It has an intuitive user layout and a wide range of language options make it an excellent choice. Aside from mp3, it can also play mp2, Ogg Vorbis, mp4, MPC, and APE.
5. MP3Tag
MP3Tag is one of the best free MP3 Tag editors because of its easy-to-use interface and extensive editing capabilities. It is particularly useful to have a batch editor that allows you to change the tags of multiple files at once. Changing the metadata for an entire album or genre is useful when you want to update the information for it. Using internet spreadsheets like freedb and Discogs, the software will scan for tags and album art for audio files that lack metadata.
Read more: How To Get MX Player For PC
6.ID3 Tag Editor
ID3 Tag Editor is perfect for everyone. Any language's missing metadata can be added to your MP3 files by using an ID3 Tag Editor (a Unicode-enabled MP3 tagger). You can also insert a cover image into your MP3 files with this feature. It allows the updating of tags and other metadata to be added to songs in MP3, WAV, FLAC, WAV, or OGG formats.
7. Kid3
Kid3 Auto Tagger is a valuable and effective tool despite the program's simplicity. Various sound files can be viewed and edited, making it much easier than ever to fill in all the relevant data. You can edit or convert Tag versions 1.1, 2.3, 2.4, and beyond with Kid3. You can even create this data easily from the filenames that already exist. With the ability to import and modify lyrics, Kid3 Auto Tagger truly is a one-stop shop for all your audio tagging needs.
Read more: How to Send GIF on WhatsApp
8. Metatogger
MetatOGGer is a highly user-friendly MP3 tag editor. Using this, your MP3, Ogg Vorbis, FLAC, WAV, WMA, and other audio files are automatically tagged with the correct information. This software allows easy tagging of massive music collections, high customization, and a wealth of conveniences, such as automated updates. Additionally, it enables you to categorize your files based on the data contained in the tags, a capability not accessible in other tag editors.
9. Foobar2000
As an advanced audio player, Foobar2000 stands out for the variety of features it offers and the freedom it gives the user to customize their experience. There are various options for organizing metadata, files, and folders in foobar2000. Foobar2000 is flexible in design, allowing for greater setup and customization freedom for the user. The latest version of foobar2000, version 1.6, does fix certain bugs, although Windows XP and Vista are no longer supported. The initial configuration of Foobar2000 requires some time and effort. However, once you have done so, you will be able to manage your media collection with it in various ways.
10. TagScanner
TagScanner is one of the best free MP3 tag editors on the market if you're an adept music-library administrator. Additionally, the program may construct playlists, write custom scripts, as well as change identities and tag information. Tags can be edited in such a way that even minor errors like typos or header case sensitivity can be corrected in bulk. TagScanner has a significant downside i.e: the interface is difficult to use, making it difficult to set up an efficient workflow. However, if you enjoy having complete control over your music collection, it's well worth your time and work.
Read more: Free YouTube Converters
Conclusion
The most common situation when downloading an MP3 album or another music file from the internet is that there is no metadata or album art. In addition, the uploader may have used incorrect information or skewed advertisements. For this reason, these MP3 tag editors are essential when it comes to correcting, updating, and editing your music's metadata.
When looking for the best free MP3 tag editors, you should be on the lookout for a combination of manual control and automated tagging. It's simple to organize your music collection like an expert with the correct software. Hopefully, these top 10 best free MP3 Tag Editors will help you organize your music library and make it easier to keep track of each track.
Was this article helpful?