I will share the complete details on what does 1 Tick mean on WhatsApp, 2 Tick, and Blue Tick. Does 2 Tick means message sent or message read? I will clear all your doubts and give you complete information.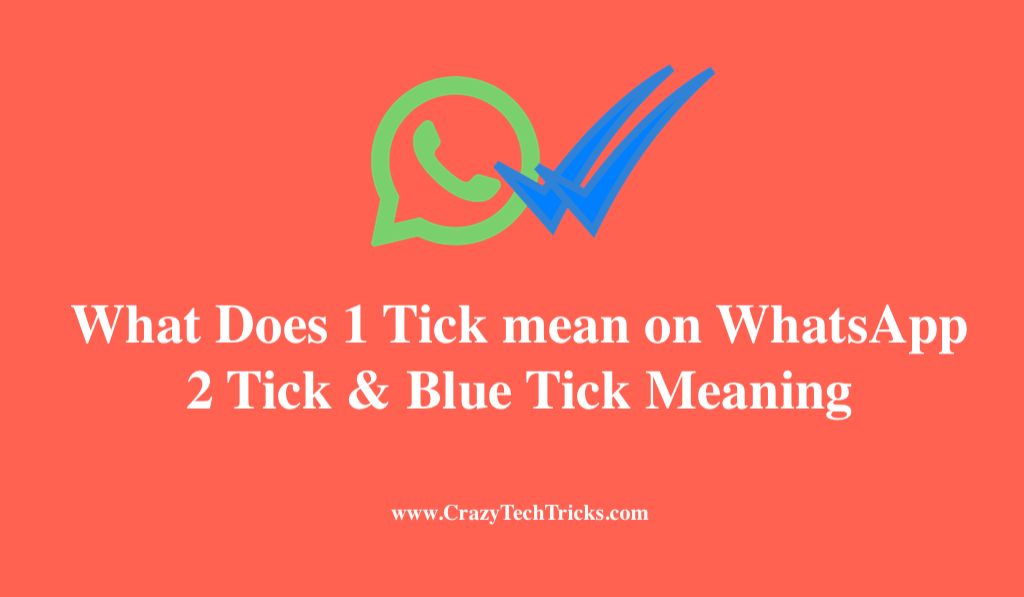 There are several reasons why WhatsApp is so popular, such as its ability to connect to nearly every part of the world, but many of the messages it sends never arrive at their intended recipient.
Since the Facebook-owned site began displaying the "read" and "seen" notices, your understanding of the tick system has been challenged many times. It is possible to deceive the masses into believing their communications are being read while being ignored with WhatsApp's ticking mechanism.
Read more: How to Create your Own Stickers on WhatsApp
What Does 1 Tick mean on WhatsApp
It's simple and fast to text a friend over WhatsApp because it's one of the easiest and most cost-effective ways to communicate. This may be the most convenient approach to keeping in touch with a friend who has relocated to another country. Occasionally, you might notice that gray ticks change into two gray ticks almost instantly, while other times, they take a little longer.
Read more: How to Setup WhatsApp Fingerprint Lock on Your Android
Moreover, The presence of 1 tick mean on WhatsApp indicates that your message has been sent, but has not yet been received by the intended recipient (or recipients).
The device may be turned off or not connected to the internet when it does not reach its intended recipient. Also, In WhatsApp group discussions, 1 tick mean on Whatsapp will probably persist for some time, though it typically disappears in a few moments.
Read more: How to Block WhatsApp Group From Adding Me
2 Tick on Whatsapp means
In WhatsApp, two ticks indicate the message was delivered to the intended recipient, but that they have not yet read it, according to the app. And blue checkmark indicates that the text has been seen. With this update, a message's send time may now be shown in the app's history.

In order to determine when a message is sent, users must press and hold down on a certain post. The reason for the two ticks in group chats is that all participants must see the message before two blue ticks appear.
Note: If users has change the privacy settings then even two tick means message read. But we will never know and same for other user also.
Read more: How to Send Large Video Files on WhatsApp
Blue Tick Meaning
Two blue ticks will appear alongside the message when the recipient has read the message. In a message with two blue ticks, you know they have viewed what you have sent along with your chat. Two blue ticks can appear in group chats, which indicates that everyone has seen your message.

Remember, however, that WhatsApp users can still view their messages without actually launching the program on most iOS and Android devices. In the absence of blue ticks, your recipient may have read your message without opening the WhatsApp application since reading a message on the home screen does not result in the appearance of blue ticks.
Read more: How to Add Contacts on WhatsApp
Conclusion
It is hard to tell whether the recipient read the whole message on WhatsApp – it can only tell you whether they entered the conversation. Moreover, we also inferred by this that the one tick means on WhatsApp is that it generally dissipates within a few moments, albeit it will likely stay in WhatsApp group talks for an extended amount of time.
This is because some of the group members may not have access to the internet or their phones. In addition, the ticks serve as a confirmation that you have been forbidden entry to a particular area.
Was this article helpful?