In our daily life, most of us use Microsoft PowerPoint to create an awesome and eye catchy presentation that is going to be presented in front of the viewers. But have you ever listen about Microsoft Sway? I am sure that most of you guys will say NO. Well, I would like to tell you little information about Microsoft Sway, that it is a free and web-based presentation maker which is developed by Microsoft Corporation. The rest of the knowledge I have shared with you guys in the below parts of the article. If you wanna use Microsoft Sway and want to know more about it then you should be with me.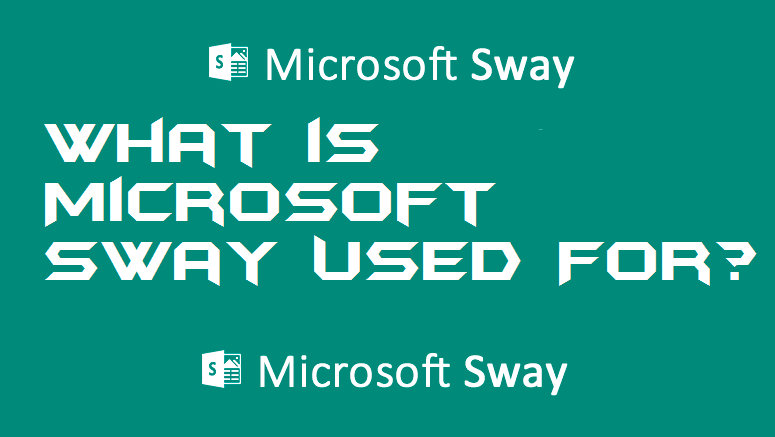 What is Microsoft Sway?
Microsoft Sway is a web-based presentation program that allows you to create a presentation using the internet and a simple web browser. Microsoft released it in August 2015. This web-based presentation program is free to use by any Microsoft user. A user only needs a Microsoft account to start using the Sway program. It has a great user interface such that a beginner can start from fresh without having any knowledge of its options. There are many more features offered by Microsoft Sway which makes it an exclusive presentation program. Besides it, there are privacy and security features also available which makes Sway a powerful presentation too.
Read more: How to Add Audio to PowerPoint for all Slides – Voice Over Google Slides
---
How it is different from PowerPoint?
PowerPoint is a subprogram which is offered in Microsoft Office. Using PowerPoint a user can create a presentation on the PC/laptop. Microsoft Sway is a web-based presentation program which allows you to create a presentation online. The Sway presentation program is free to use.
If we talk about portability, then the PowerPoint fails. Why? Because you can not use it on another PC/laptop by your Microsoft account. On the other hand, Sway is an online presentation program that is why the Sway is fully portable.
You will not get any privacy protection on PowerPoint. As well a there are no tools available by which you can share your presentation in the form of a web link. But, in Microsoft Sway you can share a link with your friends to let them have a look of it.
PowerPoint allows you to add more users using Office360 to let them edit the current presentation along with you. The Sway program also does that. It allows you to add any existing Sway user by sharing the link or using Office360.
Know more: How to Add Watermark in PowerPoint 2007, 2010, 2013 & 2016
---
How to Use Microsoft Sway
To use Microsoft Sway the only thing which you need to have is a Microsoft account. However, if you are not having one, then you can register for a new Microsoft account and then start using it. Just open a web browser and go to the link. You can get Microsoft Sway for your device as well. Currently, Sway is available for iOS and Windows 10 only. A user will get many options to start creating a new presentation very easily. You just have to click on the on-screen options, rest of the work will be done by Sway.
We found that what is Microsoft Sway and how to use Microsoft Sway. Not even that, but we also figured out some key point about how Sway is different from PowerPoint. There are several other presentation tools available on the internet which you consider to use in the making of presentation. But, why to do that if Microsoft is available in the market, right? I hope now you have got the complete details about Microsoft Sway. Make sure you share this article with others so that they can also gain the knowledge on Microsoft Sway similar to you.
Was this article helpful?