I will share top 10 best free Firewall Apps for Unroot Android device. You can download all the Firewall application for your Smartphone. These all firewall apps will work on your Android device. They are unlimited version and will work to reduce the risk of security leakage from your Phone.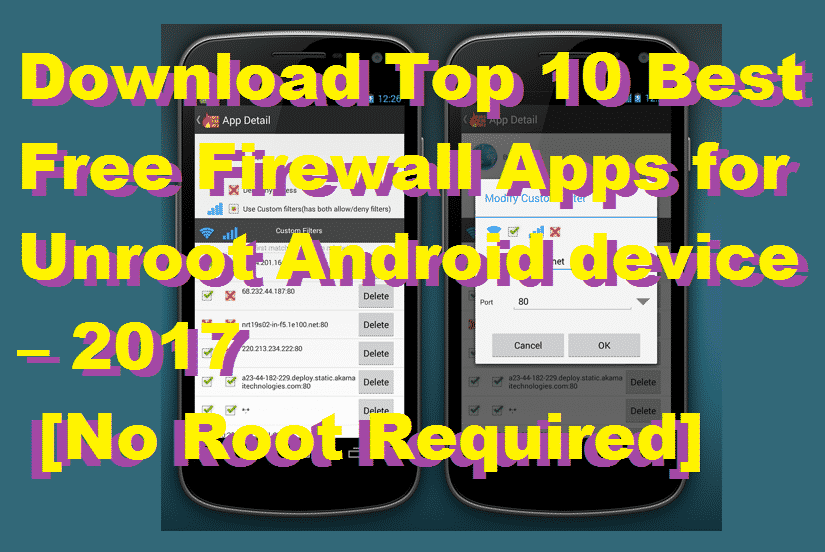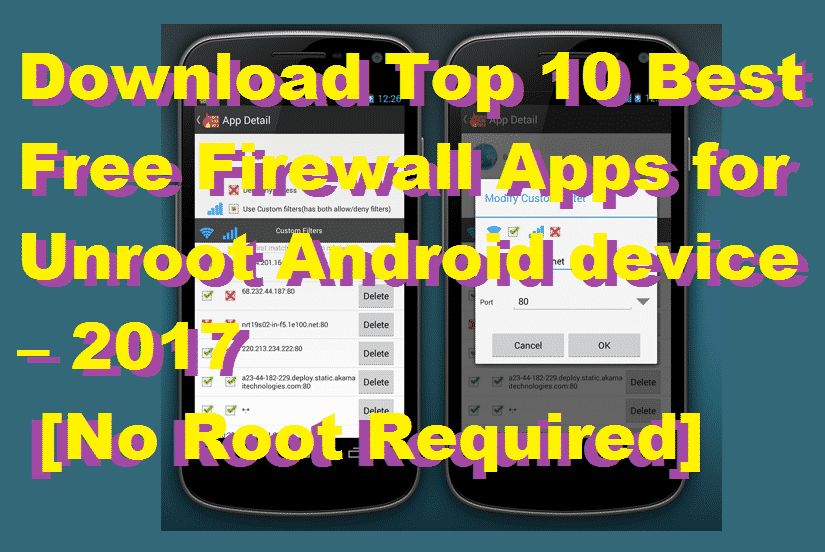 What is Web Application Firewall?
Most of you probably know that the Firewall is a control barrier between your network and untrusted networks, but if you are not aware of Firewall applications, then we are here to give you a brief on this. As the name 'Firewall' suggests it is a Wall against Fire, i.e., it protects your device from Malware attacks. It controls and monitors the network connections based on some predetermined security rules.
Previously this type of protection software was available only for your PC's, but today Firewalls are possible and necessary for any Android device as well. It is this much important for any device because:
They prevent your device from unwanted and dangerous connections.
Effective in saving data.
Prevent your details from outside networks.
Read more: How to Set Multiple Ringtones in Android Phone – Without Root
Android Firewall Without Root
Most of the Firewall applications that are available on the Play Store require a Rooted Device, and you might be aware of the fact that rooting your device always carries a risk. We don't want to see you in any trouble. So, all of the firewalls we'll be discussing will not require any 'Root Access.' 
Read more: Download Windows 7 launcher for Android apk Free Download – Full Version
Free Firewall Apps for Android
Let's check out the Top 10 Firewall applications that don't need a rooted device to work. These firewall apps for unroot Android device will work on any Android device.
Note: All these apps are available at official Google Play Store.
Read more: How to Change IMEI Number of Android Phone [Without ROOTING]
---
MOBIWOL (NO ROOT FIREWALL) for Unroot Android device
This application works without any root access. It mainly performs the several functions:
Improves the battery performance of your device.
Reduces your data usage as it restricts apps from consuming data in the background.
Set the limitation of various foreground operations.
Secure your device from untrusted connections.
Notifies you when an app tries to access the internet.
Read more: Top 10 Best Free Boomerang Alternatives – Email Productivity Tools
---
NETGUARD for Unroot Android device
This application requires no root access to set up the VPN network, and it is relatively more straightforward to use for beginners.
It comes with the below-mentioned features:
Supports both ipv4 and ipv6.
It can block data to be used by some system applications.
It supports multiple devices.
This firewall app will also alert you when an app accesses the internet.
It has only one drawback that it is not entirely free and you have to pay for its premium version that has some additional features worth the cost.
Read more: Top 10 Best Free Windows Magnifier Alternatives – Check Now
---
LostNet NoRoot Firewall for Unroot Android device
It is one of the best firewall applications available on the internet. You can perform various functions:
It can disable background data connection for different apps.
Monitors and controls the information sent and received by any application.
Allows you to specify rules for new applications.
It helps in removing traffic to specific ad networks.
Read more: Top 10 Best Free Alternatives to Paint on Windows PC/Laptop – Microsoft Paint Alternatives
---
NoRoot Firewall for Unroot Android device
It is one of the most popular and straightforward firewall applications available for Android. Mainly because of the features that it consists:
Comes with a simple interface that is very easy to use.
Protect apps from unauthorized access to the 'Password protect' feature.
Record and analyze the data usage of suspicious apps.
Protects all your data by offering Domain/IP filter functions.
Read more: Top 10 Best Android P Features You Must Know – Latest Android Version
---
NoRoot Firewall Beta for Unroot Android device
You must have noticed that all the apps perform functions or have features similar to one another. This way it is also one of most refreshing alternative available for all the Android users. It can deliver the various services for your device:
Saves your battery life.
Block internet access for suspicious apps.
Prevents data privacy.
It can check, allow or disable internet access for some apps.
It is generally for the advanced users like those who are well known with the IP addresses, port, and range functionality.
Read more: Has my Email been Hacked? Top 10 Ways to Check Email Hacked
---
Kronos Firewall for Unroot Android device
Kronos firewall doesn't require any access and accompanies with many inbuilt features that will ensure to keep all your activities safe and effective. It is one of the most trusted firewalls and even occupies an excellent rating on play store.
This firewall performs the following functions for your device:
Control and block internet traffic from some apps.
Ensures protection of your personal data from suspicious servers.
No advanced skills are required to operate Kronos FW.
Doesn't require any internet permissions.
Just give the access permission to this fantastic firewall and ensure safe working. H
Read more: TOP 10 Best 3D Games Android 2018 Download Now for Free
---
Avast Mobile Security (Inbuilt firewall) for Unroot Android device
One of the most reputed names in the market of antivirus. But you might be wondering why it is mention in the "Top 10 firewall list"? It is because the firewall is one of the unique features that come with this light-weight application.
With a rating of 4.5 on Google play store and more than 100 millions of successful installations.  Let's check out what else this app has:
Ad blocks
App locker feature
Block Trojan links
Works as a shield for your device
And much more
If you want to have a more vast experience with this app, you can opt for having a premium subscription.
---
VPN Safe Firewall- Free Proxy for Unroot Android device
VPN can also work as an excellent alternative to protect your phone from harmful links as it's packed with some fantastic features:
You can enjoy all the services free of cost for lifelong.
Ensures privacy of your device's data.
Enhances your battery performance.
Works properly for all LTE devices.
Read more: TOP 10 Best Free Chromecast Streaming Apps for Android/iPhone – 2018
---
AVG free Antivirus (Inbuilt firewall) for Unroot Android device
Just like Avast, AVG has inbuilt firewall feature which ultimately protects your device from malicious links, scheduled scanning and many more features like them:
 RAM cleaner and booster
Monitors and optimize data usage and battery performance.
Scans hundreds of applications in few minutes
AVG performs much more protection, performance, privacy, and theft features.
---
SMS firewall for Unroot Android device
It is the last but not the least app on our list. Power packed with some cool features but it's one of the primary function is that it works as a scanner and filter for SMS applications.
Some other features of SMS firewall app are:
Filters and detects spam messages that can cause a threat to your device.
Privacy protection and loaded with a safe vault
Monitors notifications and detect the suspicious ones.
Safeguard the privacy of the user.
Read more: Top 10 Android Apps to Try in 2018
---
Conclusion
These are the best free firewall apps for Unroot Android device. All of these applications are working fine. These firewall apps don't require any root. If you know any other free firewall app for Android phone. Then, do share with us in comments below and don't forget to share this article with your friends.
Was this article helpful?