Users can use WhatsApp Voice calling Feature on their Android or iPhone. I have shared a complete guide, where I have explained every feature of WhatApp and how users can call anyone using their WhatsApp. You can call any number directly.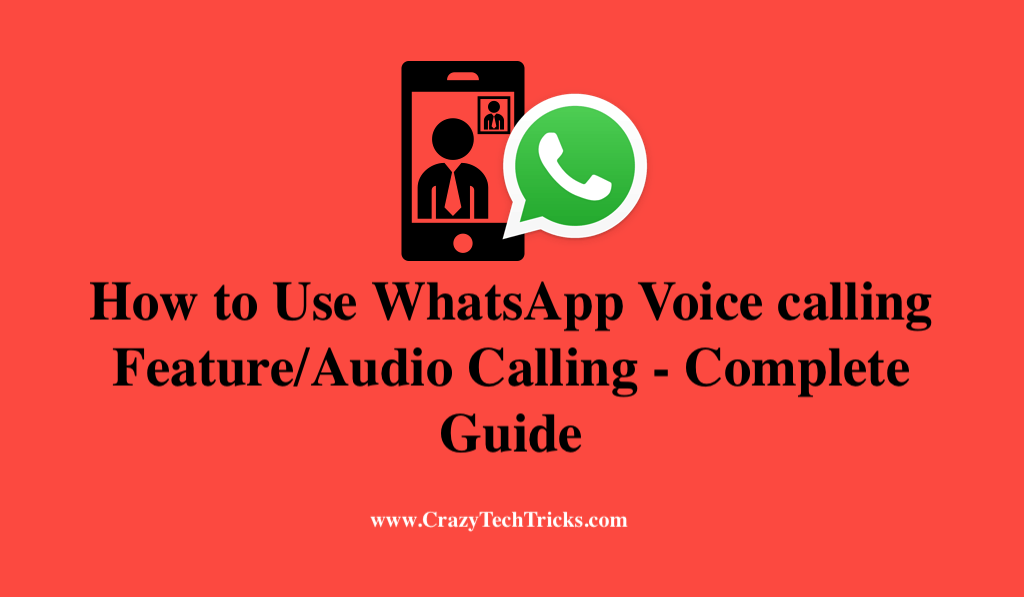 Are you an elderly one who just got to know a little about smartphones, and you want to call up your loved ones staying far away on WhatsApp but just don't know How? Or are you that small kid who just got a smartphone for yourself and wondering how to call up your close one? Well, congratulations, you are on the right site.
In this article, we are going to learn how to use on the most significant feature that WhatsApp provides us, the Voice call feature. Some of us might have already known how to use this feature, and some of us might not have explored this feature yet.
Read more: How to Setup WhatsApp Fingerprint Lock on Your Android Phone
Update your WhatsApp
So, let's dive right in, and explore how to use WhatsApp voice calling feature. In order to use this feature, firstly, you must have an up-to-date version of WhatsApp Messenger Application on your phone. To update your application, follow these steps:
For Android users
Click on the three horizontal lines icon.
Navigate to My Apps and Games.
In the first tab, you can find all the available updates for your apps. You can also search for that app and check details on recent updates.

If your app is not up-to-date, you will find it in the first tab itself, you can either update only WhatsApp, or you can just click on update all. I would definitely recommend you to update all of your apps as it is essential.
For iPhone users
Go to App Store.
On the upper right-hand corner, you can find a small person like icon. Click on it to open your account info.
Scroll till you find available updates.
Search of WhatsApp Messenger and click on update.
Once your app is all set, let us go ahead and see how to make a voice call. Well, there are actually two methods to initiate a voice call, or you know in simple terms, make a voice call to someone on your contact list.
Read more: How to Block WhatsApp Group From Adding Me
Details About WhatsApp feature and Click on Icon
The first method, just like you dial someone on your phone's contact list. Only thing is in WhatsApp, you do things in the so-called the WhatsApp way.
Open your WhatsApp.
On start, you can see something like this on the top.
The first icon, the camera icon lets you access your camera, to send images, videos to the status or to the chat conversation.
The next tab is CHATS.
You can see that this particular title is highlighted because I am on that particular tab. The number next to it represents the number of unread messages you are having.
Next tab is the STATUS.
In this tab, you can see the status put up by the people in your WhatsApp contact, and you can reply to them, you can also put up your own status in this tab.
Well now coming to the tab which we are focussed on CALLS.
In the calls tab you can find an icon.
Upon clicking on that icon, you will show with a list of your WhatsApp contacts and with a few other options.
You can see that there is a search icon on the top right.
Clicking on this icon will let you search the contact to who you want to call to.
The next option we have is the New group call.
Upon clicking on this we will be shown our WhatsApp contact list. In which we can add the people we want to make a call to.
When you select a contact, the contacts will be shown here.
You can also remove that person from the group call if you want to by clicking that 'X' mark on their profile pic.
Now what is all remaining is to make the call.
Click on that right icon which looks like phone to make a voice call, and click on the video icon in order to make a video call with the group.
If you don't want to make a group call, In the select contact interface, select a contact from your WhatsApp contact list.
Click on the phone icon to make the voice call, and on video icon to make a video call.
Read more: How to Send Large Video Files on WhatsApp
Directly Call anyone on WhatsApp
Next coming on to the second method. This is actually quite easy and fast.
Open the chat convo of the person you want to contact, if its there.
Else, you can click on this icon to search for the contact.
Once you have selected the contact, you will go into the conversation interface.
As you can see there are video icon and phone icon beside the contact name.
Clicking on the video icon will start a video call will that person. Whereas clicking on the phone icon will start a voice call with that person.
That's it, now pick-up your phone. Make sure your app is up-to-date. Then follow this process to make a Video call or Voice call to your close ones. And worry not, WhatsApp is secure with end to end encryption.
Read more: How to Add Contacts on WhatsApp
Conclusion
WhatsApp has a big advantage by starting WhatsApp Voice calling feature. Users can do unlimited voice and video calling. And the best part is the network. The network is always fine, and it even works when there is less connectivity.
Was this article helpful?