I will share complete details on what is an Edison Bulb. You can also read advantages and disadvantages of Edison bulb. I will also compare Edison bulb with other bulb.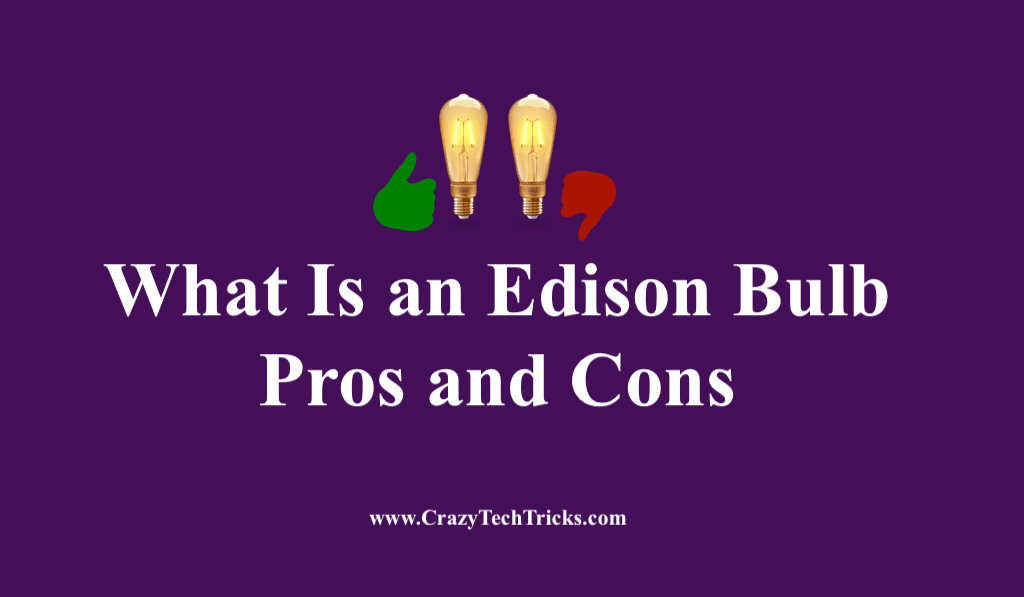 Are you a vintage look lover? Do you want to add some warm glow to your house? Do you want to make your house beautiful and aesthetic? Do you want the house to look different than other houses in your entire area? Using good lighting can do that all and on the top. Edison bulbs will do the light work for you and will make your place cozier.
What Is an Edison Bulb
Edison bulbs are retroactively known as antique light bulbs or vintage light bulbs. Edison bulbs are reproduction bulbs. They are made to look like the first bulbs by Thomas Edison over 100 years ago. They emit light at a color temperature of 2200–2400K). Edison bulbs are incandescent bulbs with filaments and lenses (Glass). These beautiful bulbs are a blast from the past.
Read more: LCD VS LED Monitor
Edison Bulbs – Advantages and Disadvantages
Are you thinking of buying Edison bulbs to add to the beauty of your place? But you must be confused about it would work according to your desires? I guess you are struggling to make this choice. If yes, then you landed in the right place. This article will tell you about the pros and cons of Edison bulbs! After all, before investing, you should know the outcome. Let's get started!
Pros of Edison bulbs
Everything has something positive in it and here down below are listed some of the beautiful qualities of Edison bulbs!!
Stylish Look

We all have dreamt of beautiful places, which look beautiful. We all want to create that look at our places. Edison bulbs help in attaining our desired, stylish looks and adding to the beauty of your room.

There are some places at homes that require certain fixtures. Edison bulbs would be the best option to give your home an aesthetic and a vintage look and at the same time make it more stylish. Many modern homes are going for Edison bulbs combined with neatly fixed installations.

Read more: Google Stadia Advantages
They make the Place look Warm

Edison bulbs are warmer than any other bulbs and can give your place a cozy feel. They release yellow color light creating a warm environment at your place. Feel the warmth of love with Edison bulbs.

Makes you Productive

Yellow color, according to psychology, boosts mood and productivity. Edison bulbs provided the perfect amount of warmth to make you more productive. So, with style, you get more productive.

Read more:Disadvantages of Headphones
They are Dimmable

you can dim the Edison bulbs according to your comfort zone. Edison bulbs can be dimmed using fixtures and a dimmer switch. These Edison bulbs are very compatible in comparison to Edison LED bulbs. If you choose LED Edison bulbs you may find it glimmering even when the item is promoted as dimmable.
Edison bulbs are Affordable

Unlike any other bulbs, Edison bulbs are completely affordable their cost-friendly. So what are you waiting for? You can go and buy bulk for your place to make it cozier.

Read more: Disadvantages of iPhone 11
Cons of Edison bulbs
Oh wait, before you go and buy it, you should know the cons of Edison bulbs. Edison bulbs have their limitations like other things. So let's discuss a few drawbacks of Edison bulbs.
They are Fragile

Edison bulbs are easily breakable and are fragile and it is its biggest flaw. If you have children and pets at your home, an Edison bulb would not be a good option.

They Produce Less Light

Edison bulbs produce less light in comparison to other bulbs. They are just an accent light. They only add warmth with their light. You should still have other bulbs at your apartment.

Read more: iPhone X Pros

They are Less Energy Efficient

Unlike modern bulbs, they turn up to 90% of their energy use into heat. LED lights on the other hand use only 20% of their energy in heat.
Read more: Best Alternatives to GoToMeeting
Conclusion
However, they use a lot of energy and give less light. Why won't they? After all, they are 100 years old. But you need not worry; in the market, many companies tried to design modern eco-friendly materials which can give you the same warmth as Edison bulbs. There is an availability of decorative spirals and coils of LEDs which you can use to add a tint of warm color to your place.
Was this article helpful?