Hello friends, Today I will share a list of top 10 best Chromecast Alternatives. Users can connect their devices directly to TV. You can connect your Smarphone to Smart TV or any other TV using Chromecast. We have shared chromecast with all details and their pros and cons.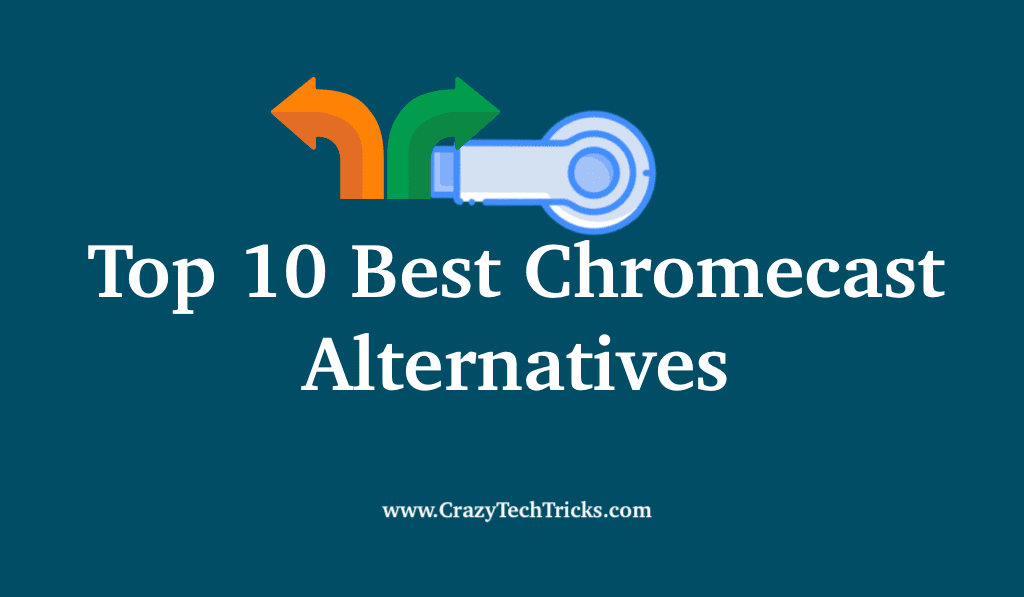 Google Chromecast is a dongle that brings your television a set of additional features through connecting to the HDMI port. It connects your mobile phone to your television and you can thus use your phone to control the dongle. Chromecast is a cheap and easy way to stream movies on your television from your mobile phones. But, if you want to look for alternatives, then this article will help you do so. We will be listing the top 10 best Chromecast alternatives, and we would be looking into different aspects in which these choices are the best Chromecast alternatives.
What are the Best Chromecast Alternatives? Top 10
We will be listing the top 10 best Chromecast alternatives below and then we will look into them individually.
Apple TV 4K.
Roku Streaming Stick+
Airtame
NVIDIA Shield TV
Amazon Fire TV Stick 4K
Now TV Smart Box
Amazon Fire TV Cube
CheapCast
Roku Ultra
Now TV Smart Stick
---
Apple TV 4K
Apple TV 4K is the addition by Apple to the range of set-top boxes and dongles. It is manufactured and sold by Apple. The main benefit it poses that it is very useful and appropriate for Apple products. Apple TV provides "tvOS" which is an operating system made for the device. Moreover, it has Apple iTunes Store access and provides an interface with easy interface. More applications such as Hulu Plus, YouTube, etc. are also available directly through it. The Apple TV 4K is available in the option of 32 GB or 64 GB.
Pros:
Provides better 4K quality streaming.
Excellent support for Apple devices.
Optimized operating system tvOS.
Good interface.
Cons:
Lack of expandable storage.
No HDMI cable included during delivering of product.
Slightly pricey.
Although the device is on a pricey end for some users, avid Apple users would be able to afford it, and it is quite convenient for it. Therefore, for the Apple users, it is one of the best Chromecast alternatives.
Read more: How to Set Up Donations on Twitch
---
Roku Streaming Stick+
Roku is an excellent streaming device and is really convenient in proving streaming services. Different streaming products such as the Roku Ultra and the Streaming Stick+ is made by the company Roku Inc. It provides support to the content of HDR and 4K. You do get the "Dolby Atmos" for specific applications. Roku provides convenient and versatile features through its different products and applications. You can control the Streaming Stick Plus with the remote or through the application on your mobile phone.
Pros:
Affordable Price.
Provides free content on the platform.
Good interface.
Provides Voice support with the remote for navigation.
Portable and long-ranged receiver.
Cons:
Provides no Dolby Vision support.
Read more: My Photo Stream vs iCloud Photos
---
Airtame
You may not have heard about this product as it is manufactured around the work related and education market. It is quite expensive with its HDMI adapter and is the most expensive product among the one mentioned in this article. It provides greater flexibility as it can run on any operating system. As this product is mainly focused on working, it is an excellent device for mirroring classrooms and meetings.
Pros:
Compatible with almost all Operating systems.
Convenient setup process.
Provides better security measures than the competitors.
Cons:
Read more: How to Watch UFC Fights Live Stream for Free
---
NVIDIA Shield TV
NVIDIA is one of the companies that has suddenly dominated the streaming market. NVIDIA launched the shield TV back in the year of 2019. They launched the device with a new design to live up to the competition from the Google Chromecast and the Amazon Fire Stick. Just like the competition, it is a small, almost cylindrical build so it can also hide behind the television and do not appear on the front of it.
Apart from designing perspective, this device supports the new technologies such as 4K and Dolby Vision.  Moreover, the new chipset allows services such as gaming apart from streaming on the television. NVIDIA also provides "Ai-Upscaling", which is a feature that tries to enhance the quality while gaming to 4k resolution.
Read more: How to Record Gameplay on PS4
The main restrictions that have been made are in the storage department. Where there is only 8GB of internal storage in the device. But, looking into this problem, a microSD card slot is provided so that the users can store their media and application on the external memory card.
Pros:
Supports new technology.
Provides gaming support.
Convenient design.
AI-Upscaling for gaming.
Cons:
Less internal storage.
Does not provide HDMI cable.
NVIDIA Shield TV is undoubtedly the best Chromecast alternatives present in the market right now. It is made smartly by the company to compete with the competition of Amazon Fire Stick and Google Chromecast and it does its due by providing the features that NVIDIA is popular in.
Read more: How to Cancel Twitch Prime Subscription or Free Trial 30 Days
---
Amazon Fire TV Stick 4K
Amazon Fire TV Stick is a really popular product with the Amazon Alexa users. It is a relatively cheaper device that holds the value for money agenda. It supports technologies such as 4K, Dolby Vision, etc. Just like the Google Chromecast, it is also a really compact and small device and is really convenient to use with the television. The stick allows you to watch entertainment on your television and moreover you can play games through the device. It is really convenient as it can be used on phones as well as on tablets. All these features for a relatively cheaper price range make the Amazon Fire TV Stick 4K one of the best Chromecast alternatives.
Pros:
Provides a platform to stream and game.
Provides support to future technology.
Value for the price.
In house support for the Amazon Alexa.
Cons:
Lacks interface flexibility.
No Google Play services support.
Read more: How Many Profiles can you have on Netflix
---
Now TV Smart Box
Another product developed by the Sky. The functioning of the device is somewhat similar to the Google Chromecast and the Apple TV. This implements a new pay as you go service. This gives you access to more than 100 channels. The price for the service is also reasonable with the services that are provided with it. It provides versatility by giving the feature to be streamed using the game consoles, Mac smartphone and computers.
Pros:
Provides free 2-week trial.
Affordable price.
Cons:
You will need to buy a subscription plan.
Read more: How to Host Someone on Twitch to PC
---
Amazon Fire TV Cube
This is another addition to the Alexa powered devices by Amazon. Since, this device is connected to the Amazon Alexa, you would be able to control your television through it and moreover the devices connected to Alexa. This device is quite an upgrade from normal streaming service and therefore comes with additional features. Amazon has implemented the concept of machine learning to learn the user decision pattern to improve customization and performance over time.
Pros:
Provides intensive support for Amazon Alexa.
Can control all the devices and accessories connected to Alexa.
Almost supports the new technologies.
Provides control over cable connection.
Cons:
No support for YouTube.
Does not support "Dolby Vision".
Read more: How to Record Gameplay on PC for FREE
---
Cheapcast
Cheapcast is an Android application that provides the feature to mirror or transmit your screens of smartphone and tablet to your TV. The application is available as free and without any cost. You can use the HDMI cable to connect your device to your TV or you can use the application and connect wirelessly to the television.
Pros:
Free.
Quick and easy installation and setup.
Cons:
Available as a third party application.
Read more: How to Remove Continue Watching from Netflix
---
Roku Ultra
Roku Ultra is the upgraded version of the Roku Streaming Stick Plus that we have discussed about above. It has much more pronounced features than the Roku Streaming Stick Plus and is one of the most powerful wireless device. Moreover, the Streaming Stick lacked the involvement of remote which has been included in the Roku Ultra. The remote supports the voice search functionality.
Pros:
Efficient user interface.
Provides free content.
Presence of smart remote with headphone jack.
Provides support for all the available streaming services.
Cons:
No support for Dolby Vision.
Read more: How to Set Up a Firestick with Kodi
---
Now TV Smart Stick
This is a really cheap alternative to Chromecast that allows streaming content on television. It does not have a wide range of application selection and has limited resolution.
Pros:
Really cheap.
Good user interface.
Cons:
Very few applications.
Limited screen resolution at 720p.
Read more: How to Set Up Kodi on Windows
---
Conclusion
This article enlists some of the best Chromecast alternatives. This includes the different merits and demerits of different devices and also tells you about them in brief. Users can check all these alternatives of Chromecast and select any suitable. We have shared advantages and disadvantages of ever Chromecast. So it will help users in finding the best product.
Was this article helpful?