Hello friends, Today I will share a method to add music to your Facebook profile. Users can add music/song of any artist. You can add English, Hindi or any languages song. I have also shared a method to add multiple songs, and you can pin or unpin songs from your Facebook profile.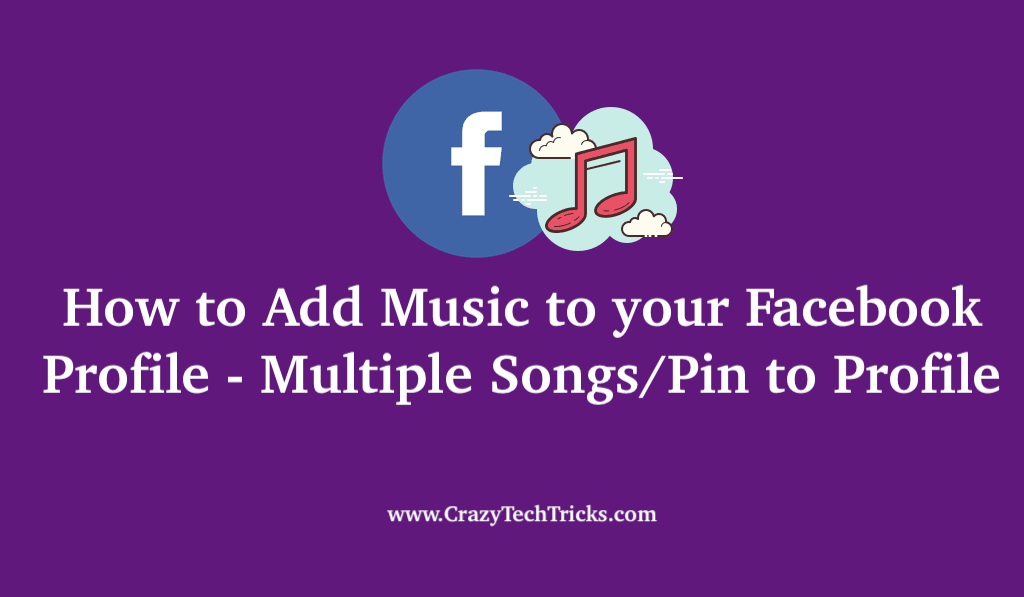 Facebook has been providing its users with a wide range of features to connect with the people. And what connects people better than Music! The good news is that Facebook even allows you to add music to your Facebook profile. The music feature is only available on the mobile application of Facebook. You can use on Android and iOS devices. Currently, it is not available on the desktop version of Facebook. It means you can't use on Chrome or any online browser.
Add Music Card to Facebook Profile
Before you proceed, make sure you add a music card on your profile. You need to add this because it will start showing the music option.
Open your Facebook profile screen.
Scroll down to the Photos and Life Events cards of your profile. You'll find the music card next to it.
Read more: How to Secure Yourself From Facebook Hack Scam
---
How to Add Music to your FaceBook Profile
You can add music to your Facebook profile by following these steps. But make sure you follow every step carefully. Users can add songs of any singer or any music present on the internet.
Open your Facebook profile and tap on the music card.
The song Library will open.
Use the search bar at the top to find the song of your choice.
Write the artist's name, album art, or Song's name and it will be displayed.
Now, Tap on the song to preview it.
Once added, you can go back to your profile and you'll find that song in the music section.
Must Read: How to Print Directly from Facebook
---
How to Add Multiple Songs to your Profile
To add more songs, you can select the music card on your profile. You can view your playlist followed by a continuous tap on the (+) icon and hit the add button next to the songs you want to include in your playlist.
Read more: How to Deactivate Facebook Messenger
---
How to Pin Songs on your Facebook Profile
A pinned song is displayed on the top of your music playlist and under your profile name. To pin a song,
Open your music playlist.
Tap on the 3 dot icon next to the song you want to pin.
Select 'pin to profile' from the menu.
Now the song is pinned to your profile.
Must Read: How to Fix Facebook Not Loading on Chrome
---
How to Unpin a Song from your Profile
You can even unpin a song from your profile by simply tapping on the three dots next to the pinned song. You can select 'Unpin the song' from the menu.
Read more: How to Unsend a Message on Facebook Messenger
---
How to Replace pinned Songs
You can pin a new song by selecting the pin option from the three-dot menu next to the song of your new choice. It will replace the previously pinned song in your playlist.
Read more: How to Remove All Third-Party Apps From Facebook At Once
---
How can Visitors Listen to Songs on your Profile
Now after you have added the song and pinned too. Let's see how the profile visitors can listen to the song. When a friend taps on the music section in your profile. It will show them the songs that you've added to your profile. By tapping on the song, the visitor would only be able to listen to its sample that'll last for 1 minute and 30 seconds only. The full song can be heard on Spotify by clicking on the song as Facebook recently added support for Spotify.
Must Read: How to Stop Facebook From Sharing Your Data with a 3rd Party
---
Conclusion
Facebook is working hard on adding more and more cool features to their Facebook. In the past, their video released has made so popular that now people watch the majority of their videos on Facebook. And now this music section will also increase the popularity of Facebook and make users stay on Facebook. Well, apart from this, what other features you think that Facebook should have? Do comment below.
Was this article helpful?