Whenever we want to record the sound of us or anything, then we use the inbuilt desktop Mic. But the quality of the recording is terrible. As PC/laptop Mic are not designed for noise cancellation. They even record the noise of the system sound, Fan, and other miscellaneous. At that time, we look for some profession Mic.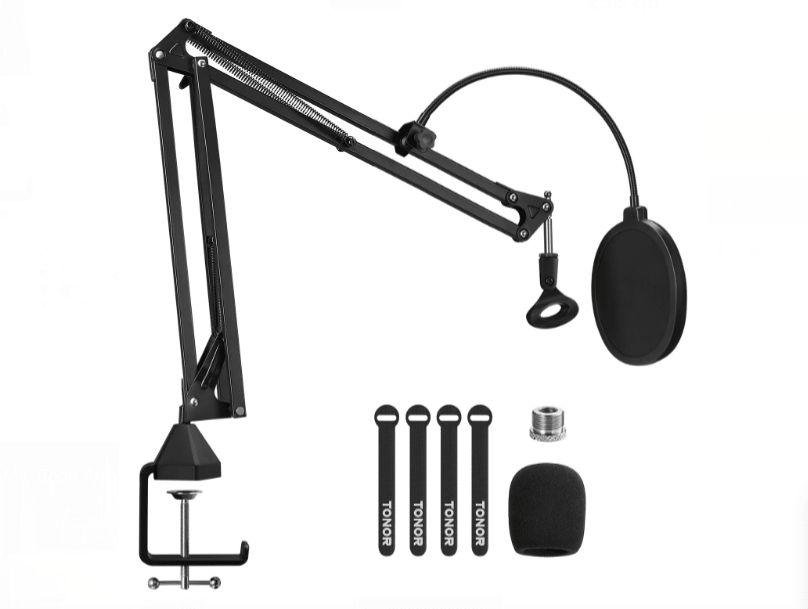 The best professional mic can cancel all the noise of sound, vibration and other noises. It will automatically record the audio you wanted to record. You can use them for doing voiceover over, singing, or any other type of task-related to voice recording. But from where will you get the best quality at a reasonable price? There is a company Tonor Mic.
It becomes one of the most selling Mic company after it came to the market. The company is having several types of electronic product and there Mic is also one of the best selling product. And yes the price is less than $50. So it is a great deal to buy your professional Mic.
Read here: Top 10 Best Portable Speakers Under $50
Best desktop Mic Under $50
There are several Mic available, but I will share the best Mic with the most number of connected Accessories. Today I will share two different Mic, one with Arm Stand and other with a Tripod and they both price less than $50
TONOR T20 Mic Arm Stand
It has a great buildup material and consist of Arm stand too. You can use this Mic for any type of recording. The Arm stand helps the Mic to be placed on any object or position. Users can also adjust up and down by moving the Arm of the stand. It is having a complete attachment of Mic with Arm. So you can use it anyway.
Rotate at 360 °
All attachment with Screw
The Arm can hold up to 1.8Kg/4 lbs
Latest Clamp
You must be wondering if a Mic has so many features, then it must be costly also. Well, the cost of the TONOR T20 Mic is $39.99. So currently it's even less than $40. What are you waiting for? If you are looking for the Mic with Arm stand, then this the best product.
Read here: 7 Portable Speakers Under 200$
---
Conclusion
There are several other Mic available on the site of Tonormic. You can check all types of Mic depending upon your requirement. But if you are looking for a Mic with Arm Stand or Tripod. Then these two options are best. You can use them for all types of recording stuff like gaming, voice-over, or anything you like to record.
Was this article helpful?