Increase your iPhone or Android Phone network signal. Boost Mobile Phone Signal and use them at home or outside anywhere. Get 100% Signal Strength always. Increase your Cell Phone Signal with Booster. It will help you in using your smartphone anywhere. Improve your Mobile Phone Signal and make a call from anywhere.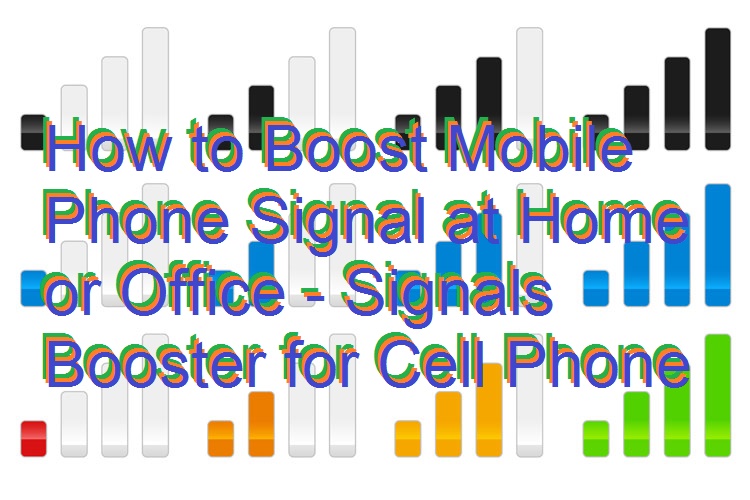 To boost mobile Phone signal strength, first of all, you need to know that why the cellular signal is weak? Nowadays, most of the mobile phones are GSM type and works with a sim card inserted in it. The messages from your phone are dependent on that small chip only. As you move from one place to another sim card get connected with one tower to another of the service provider you are using. To reach your mobile phone, the signals have to pass through many barriers like a wall, tree, etc., and sometimes these barriers make it tough for you to have a quiet telephonic conversation. Let's check out the reasons behind it:
Read more: How to Increase WiFi Signal Strength and speed
Boost Mobile Phone Signal at Home
Mobile signals are being measured in dBm or decibel-milliwatts.
To have a smooth telephonic conversation, your phone should get the minimum signal strength of 100 dBm
Getting signal strength below 100 dBm may cause voice break.
Now, comes how can you boost mobile phone signal at home or office – signals booster for Cell Phone. I am going to instruct you different steps to increase your mobile signal strength
Open the nearest window of the room you are present.
Raise your phone towards the roof so that it could catch signals.
Move to a higher place. Rooftop would be the best idea.
If you know the direction of any mobile tower nearer to your house tries to get nearer to that.

Airplane mode can also be helpful in this case. Keep your phone on airplane mode for a while and then turn it off. After turning off the airplane mode, your phone will start getting current signals, and it will help you out in making a smooth call.

Try not to cover your phone's antenna
You can use an external jack antenna also.
Voice over Internet protocol (VoIP) is also considered as a good option for smooth calling. If you have the secure wifi connection, you can go with this option.
Cell signal booster device can also be useful for you. You can install a cell signal booster device at your home or workplace and get smooth signals.
Read more: How to Boost your Internet Speed with Google DNS
Signals Booster for Cell Phone
I have shared the link to the software. This software is free if you download from below link. This application will tell you the signal strengths and help in improving your mobile phone signal. It will boost your mobile phone signal.
These methods listed above will help you in making your phone calls easy anywhere and everywhere you are. I would suggest you try these techniques one after one while facing the signal problem. I am damn sure that you are going to like all these above-mentioned tricks.
Was this article helpful?