Hello Friends, Today I will share top 10 WhatsApp tips, tricks, and cheats. These are the best way to crack all your Whatsapp secrets. You can do a lot more with your WhatsApp using these tricks. I will also share several hidden features of WhatsApp all these are fantastic tricks of WhatsApp. You can use these great WhatsApp tricks on your Android or iPhone.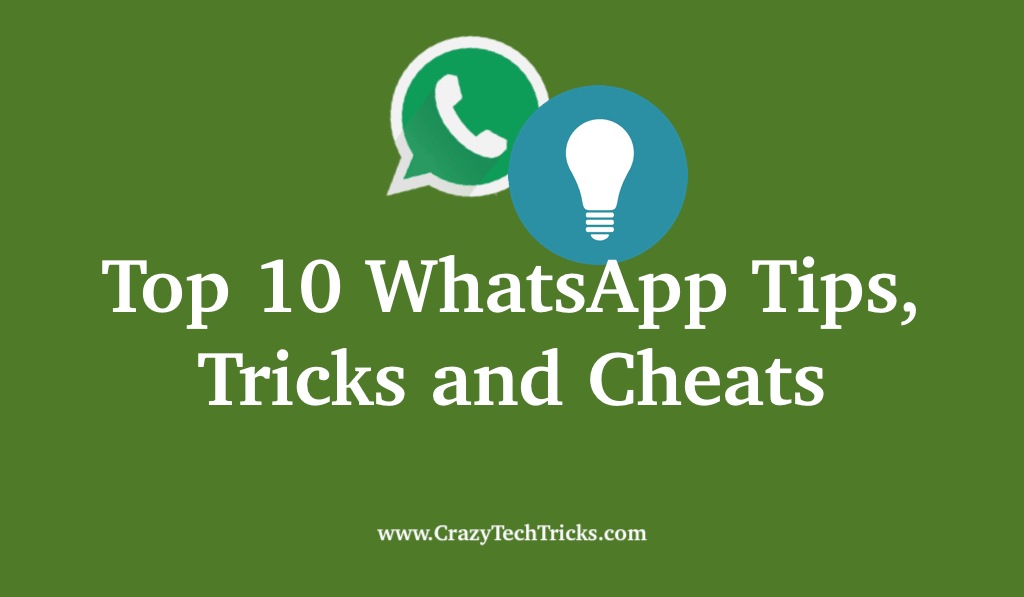 WhatsApp Tricks and Cheats – WhatsApp tips
After Facebook invest $1billion to be the owner of Instagram, then online media went nuts. But this is nothing when the wave hits media with news that Facebook has next targeted WhatsApp to bring marvelous changes. It is incomparable to what WhatsApp receives from Facebook with a massive amount of $19billion. It has been the breaking news for several days. One of the most popular and amazing apps, WhatsApp, has faced fierce competition in the market with rivals like WeChat- the most popular app in Asia pacific and China region. The line is another tough rival to WhatsApp those days which has its theme park.
Read more: How to Setup WhatsApp Fingerprint Lock
WhatsApp Tricks
They hold their grounds with many eye-catching features, but WhatsApp beat them all and set new popularity for itself among the users especially among the younger generations to have a secure messaging experience. Today, almost all of us are aware of how to use WhatsApp; but I can guarantee that you don't know everything about WhatsApp. Though we all use this app at least once in a day, still there are always more tips, tricks, and features to learn about and use regarding WhatsApp.
Top 10 WhatsApp Tips, Tricks and Cheats
Are you willing to be a bona fide proof using WhatsApp and learn about some of its excellent tips and tricks? Now, it's easy my friends; just move on with the flow, and you'll get it!
---
Create shortcuts to your conversations
Are you always using WhatsApp to be in touch with your essential peoples/ parents/wife/boyfriend or girlfriend? If so, you will be amazed to know that you can create shortcuts of your conversations and they will appear on your device's home screen. Isn't it a streamlined experience to enjoy? For this, you have to open your WhatsApp; then tap on the chats tab. After this long-press the required person's conversation that you want to create a shortcut. Click on the added chart shortcut button popping up from the menu. Your shortcuts will be created.
Read more: How to Share Facebook Post on WhatsApp
---
Save memory usage
If you are enthusiasts of photography, then you might get annoyed of the message repeatedly showing "your memory is full; delete some items from library images." As WhatsApp's sharing feature is a remarkable tool to enjoy; friends keep on sending hundreds of images and jokes every day. Those images are stored in our device's library and with changing the time they clog up your library. It takes a lot of your valuable memory space and can make you embarrassed if caught up with the wrong pair of eyes. You can stop this to happen by merely tapping on the options showing in the manner of three vertical dots at the top-right corner. From there you can go to settings and then click on the data usage. Under this section, you will find the tab written media auto-download. Tap it to uncheck all the boxes, and now you can only save the required images/files that your friends shared.
Read more: How to Send GIF on WhatsApp
---
To-do list for your messages
If you forget things now and then, then definitely this trick is worth to use. WhatsApp's schedule messages trick can help you out in remembering your essential meetings and parties to attain.
Must Read: How to Block WhatsApp Group From Adding Me
---
Locking up your WhatsApp profile
If your phone is used by multiple people, then you should know how to lock your WhatsApp profile and keep its contents away from your loved ones. You have to seek the help of a third-party app for this. Android users can go with the AppLock whereas iOS users can depend on iAppLock. They are trusted and reliable source to keep your data safe.
Read more: How to Keep WhatsApp Online All the Time
---
Want to recover deleted or lost messages? 
Then this trick is for you! Whether you lost the data from your WhatsApp due to malfunction of some other reasons; nothing to worry about as WhatsApp saves all your conversations on the SD-card of your handset. You just need to go to the SD card of your mobile via accessing the file explorer. Then move to the WhatsApp folder and enter into the database folder. Inside it, you will find a file named as 'msgstore.db.crypt'. This is the file containing all your conversations which you have sent or received on the same day. You will also see another file named 'msgstore-yyyy..dd..db.crypt' in the same folder. This file is containing all your messages received or sends in the last seven days. Simply access them with any text editors and you can now able to read your entire WhatsApp messages those were lost or deleted.
Read more: How to Send Large Video Files on WhatsApp
---
Changing one WhatsApp number with another
Sometimes we change our mobile number which demands to change our WhatsApp number simultaneously. In that case, we need to contact our near and dear ones about the change. To change WhatsApp number, you need to click on the settings; then go to account; then tap on the change number option. It will ask you to enter your old WhatsApp number and then to enter your new number. After entering your new number and hit the ok button, it will send a verification code to the same number that you have updated from old to new. After verifying the number, it will show that your number has been changed successfully.
---
Create fake WhatsApp conversations
Yes, it is possible to create fake WhatsApp conversations with anyone even with celebrities. You can do this and keep on astonishing your friends. Trust me they will never know that you have made them fool via creating fake WhatsApp chats with notable persons. All you need to do is to install a third-party app called WhatSaid and you will be able to create fake conversations with any big star by simply using their pictures and name. Create your own fake messages and prank with your buddies.
---
Send files Phone to PC or vice versa through WhatsApp
Transferring files from Phone to PC or PC to Phone is easy with this WhatsApp's amazing trick. You can also compress the file without any software. Follow the guide to make it happen! At first, save your number with your name on your device. After which your WhatsApp icon will see an option message like +91******. Click on it to chat with yourself. This trick will allow you to send any file to yourself. Now is the time to know how you can share the files from Mobile to PC and PC to mobile. Once you access the web application of your WhatsApp via scanning the code on your computer, you can select the files and upload it to the message box and send it to yourself. After hitting the enter button, you can see the same file sent to your PC. Click to download them on your PC or do the same with your device.
Read more: How To Use WhatsApp Web
---
Use multiple WhatsApp accounts in a single device
It is the trendiest trick of WhatsApp these days on the internet. Here I am sharing it with you all folks so that you can be another on the list to use multiple WhatsApp account in a single device. There is an Android application called Ogwhatsapp with which you use multiple accounts. Download and install it on your android device and fulfill your wish to handle dual accounts in a single device.
Read more: Telegram vs. WhatsApp
---
Give a new look to your WhatsApp background
Since 2010, WhatsApp has taken the market, but still, people are unaware of the background change. Change the weird background image of your WhatsApp and filled it with anything you like the most. Go to the options> then to settings> then to chats and then select the wallpaper of your choice. You can also choose and make any picture your WhatsApp background from your phone's storage.
Read more: How to Charge your Mobile Phone Faster
---
Conclusion
These are the best tips and tricks for WhatsApp. Users can do a lot more thing using their WhatsApp. I have shared top 10 WhatsApp tips and tricks. If you know, any other suggestions are tricks. Then, do share with us.
Was this article helpful?