I will share complete difference between Google Earth Vs ArcGIS. I will compare them on pricing, users, for what they are use and a lot more.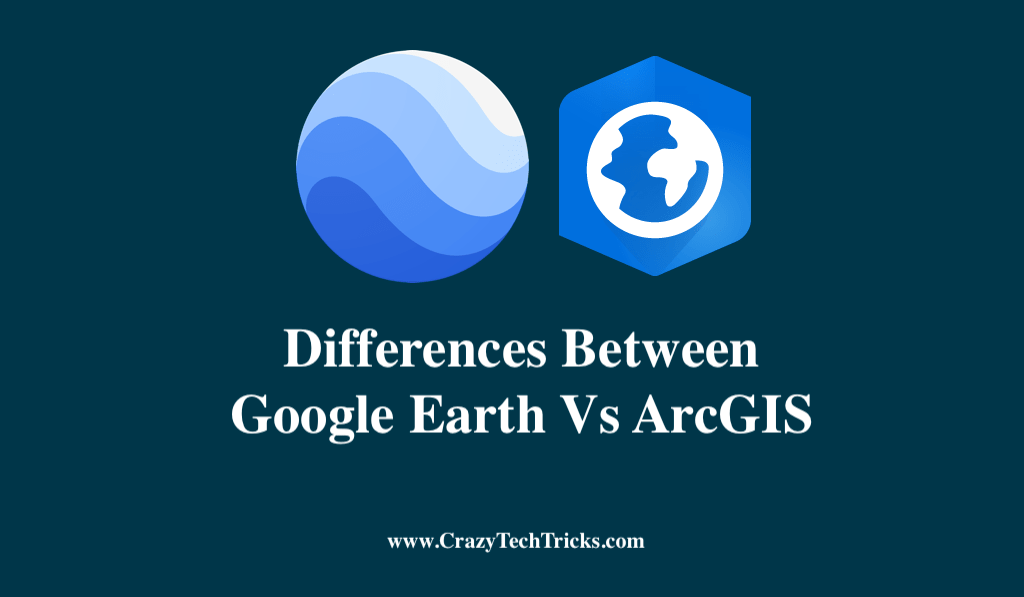 Google Earth
When it comes to finding locations on the planet's surface, Google Earth is a go-to choice. It is described as a three-dimensional map of the world that was generated by collecting photos from satellites, aerial photography, and geographic information system (GIS) data. It enables users to see cities, landscapes, landmarks, and pretty much anything else on Earth from various perspectives using Google Earth.
Read more: Google Earth Pro Free Download
ArcGIS
Apart from mapping the Earth's surface, ArcGIS offers a number of other tools for handling the chosen location on the surface of the Earth with a number of different tools available on the program. ArcGIS is used to make maps, collect geographic data, analyze mapped information, find out about geography, and use maps for different things.
Google Earth Vs ArcGIS
The difference between Google Earth Vs ArcGIS are as follows.
Users
Pricing
Accessibility
Focus
Performance
Lets read in details.
1. Users
Google Earth is a free, open-source tool that most people use to map out various locations on the planet's surface. You can immediately begin using it after downloading and installing it on the computer. It is mainly used by civilians. Whereas, With ArcGIS, scientists can create maps using cartography, and the platform is primarily used for map development. People don't use ArcGIS as much as Google Earth, but businesses and organizations mostly use it.
Read more: How to View Google Photos Location Map
2. Pricing
With its simple interface and almost instant response, anyone can use Google Earth. Google Earth is free to download. Whereas, In order to get the most out of ArcGIS, you'll need to upgrade to the paid version. A premium edition must be purchased in order to gain access to the more complex features.
Read more: Android Pay vs Google Wallet
3. Accessibility
Google Earth can be easily accessed on a phone or a desktop pc, making it convenient to use. Whereas, ArcGIS is not easily accessible. To use ArcGIS, a user must first purchase the software. A large organization is more likely to use it than an individual.
4. On the basis of its Focus
For the most part, Google Earth is geared for the general public and their need for geographic data and maps. When it comes to globe exploration via internet technologies, Google Earth is the more popular. Other than that, ArcGIS  gives the user greater options for customizing and manipulating maps to meet their business needs.
Read more: How To Plan a Route with Google Maps
5. Performance
Using Google Earth, you can get a panoramic perspective of some of the landmarks and other objects on the planet, as well as a real-time sense of how they seem on the ground. It provides a 360-degree panoramic view of the surrounding area. Whereas, Users will be able to undertake 3D analysis. Advanced capabilities of ArcGIS enable the customers to do assessments of places and maps on the earth's surface, and the software is designed to be user-friendly.
Read more: How to Use Google Maps Offline
Which one is better Google Earth Vs ArcGIS
On the other hand, Google Earth is clearly superior if you're a regular user. It is entirely free and offers a variety of features for all users. Meanwhile, ArcGIS provides this information to corporate sectors, companies, and various other entities. In order to operate effectively using ArcGIS, one must have particular abilities in data analysis. With Google Earth, this is not required. That's all there is to it. I hope this post has provided you with a clear understanding of the differences between Google Earth vs ArcGIS.
Conclusion
There are several other apps and software to view maps and create routes. Several users and business people now use professional mapping for their taxis or delivery vehicles. Hope the difference between Google Earth vs ArcGIS cleared all your doubts.
Was this article helpful?