You can change shipping speed on Amazon app using your Android or iPhone. I have also shared a method to change the shipping time or day using the online website on Chrome.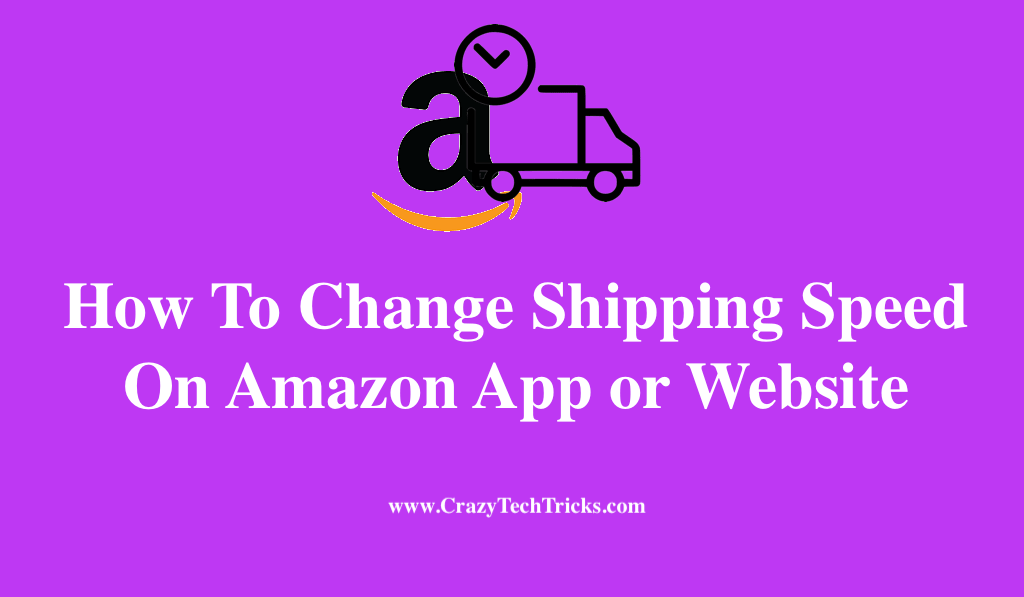 Amazon might be one of the world's largest and most recognizable stores, but it is also one of the few e-commerce sites that offer virtually everything anyone could want. Customers only have to choose what they want, and Amazon will handle everything else, including shipping. The large choice of delivery alternatives it provides to its target clients is also a major factor in its performance. There are a number of options within Amazon's settings that can be used to change the delivery preferences for any order you place on the site.
Read more: How to Delete Shipping Address on Amazon
The order page is where you'll find information on Amazon's shipping options. On this page, you can change your delivery date, address, and more if necessary. In some cases, you may need to schedule an in-home delivery due to the weight or size of the item. However, The date and time of your scheduled delivery can be changed by clicking Your Items in your Account if the order has not yet begun the shipping process.
Change Shipping Speed On Amazon App or Online
When adjusting the shipping speed, you may want to check and modify the shipping type as well, to expedite delivery. Additionally, you might not be eligible for all products based on variables like demographics and Prime membership. Someone recently asked if you could change shipping speed on Amazon. Answer: You can change shipping speed on Amazon before being shipped if you are eligible for more than one mode.
Read more: How to Link your Amazon Prime to Twitch with Amazon Prime
How to Change Shipping Speed on Amazon App – Android or iPhone
Changing a shipping address using a phone app is a simple and convenient method. All that is required is that you have the Amazon app installed on your smartphone. Some cellphones already have it pre-installed, and all you have to do after that is follow the steps below:
Go to the Amazon app on your phone and launch it.
Touching and holding the bottom-right corner of your home screen will bring up three lines (menus).
You can check the status of your order in the My Orders section.
Now, To change the shipping speed, click the Change Shipping Speed button.
When you're done, select a new date and time.
Choose a different day and hour from the calendar that's more convenient for you.
To confirm your action, click the Confirm button.
Read more: How to Get Free Audiobooks on Audible using Registration
Change shipping Time on Amazon app on Website
To adapt shipping speeds on the site, it is crucial to understand how Amazon's pre-scheduling policy works. Often, you can change the delivery date of an Amazon order if you make one. During the checkout process, you need to specify a time and date if you wish to change your shipping speed after checkout.  However, to do so on website, follow the steps outlined in the following section:
The Amazon login can be accessed by clicking the "Login" button. link
In the upper right corner, click "returns & orders".
Select the sequence in which you want to make changes.
Then select "Change shipment speed" from the drop-down menu that appears.
When you're done, select a new date and time.
Decide what time works best for you by looking at the calendar. Moreover, To proceed with the modification, click "confirm" on the confirmation dialogue box.
Read more: What is the meaning of Fulfilled by Amazon
Conclusion
It is ideal if Amazon uses the default shipping mode while you are checking out and registering with Amazon. The good news is that you still have the option of making a change to improve delivery quality on rare occasions. Just note that you have to make these adjustments before the item is shipped out of your hands! In case you cannot find any options similar to these in your Amazon account, you can contact Amazon Support to learn more about the current status of the product in question.
Was this article helpful?