I have shared a complete article on How Chatgpt works and what is the machine behind that. You can find the machine and algorithm involve in Chatgpt working.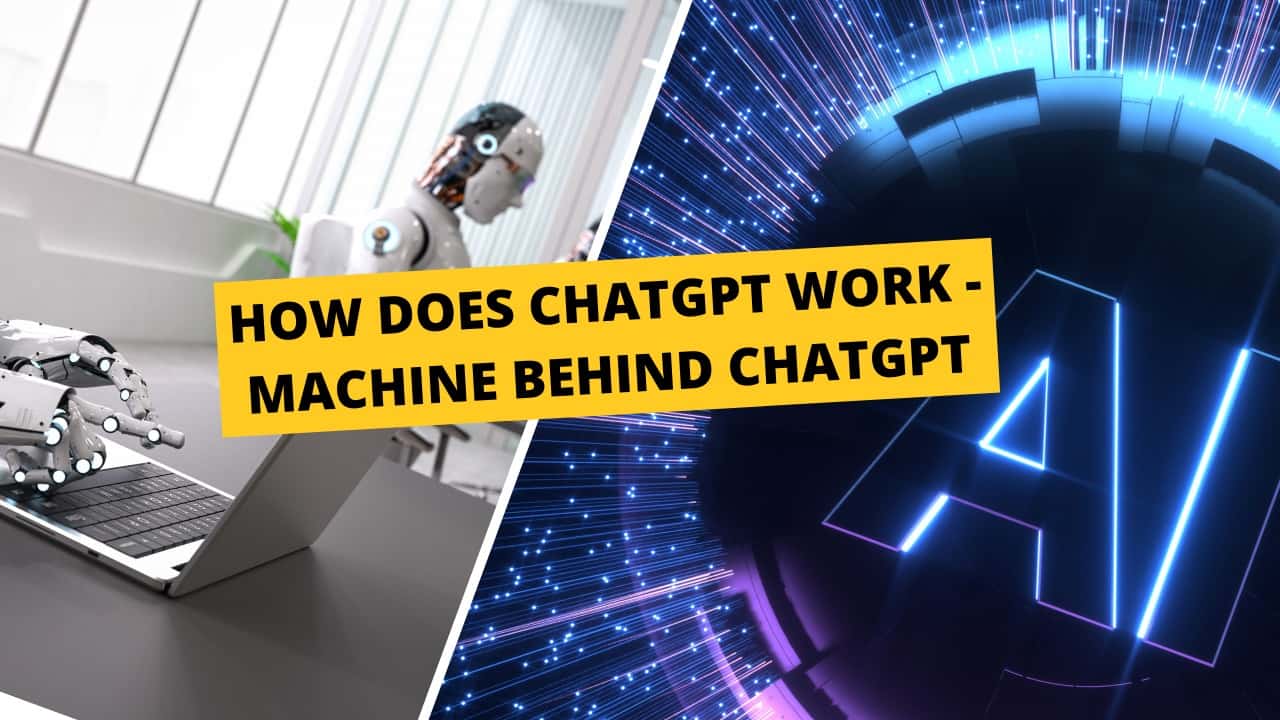 The amazing language model ChatGPT, created by OpenAI, uses deep learning techniques. It is based on the Generative Pre-trained Transformer (GPT-3.5) architecture.
This revolutionary model can comprehend and produce human-like text responses, making it a useful tool for numerous applications like client service, virtual personal assistants, and artificially intelligent agents. In this post, we will look at ChatGPT's internal operations and the mechanism that powers its conversational ability.
Read more: How to Backup Text Message in Gmail
How Does Chatgpt Work – Machine Behind Chatgpt
As you read the above overview of what is chat GPT, I hope your curiosity is dispelled. Now, let us discuss the framework of Chatgpt, such as how it works and what machine behind this Open AI took Chatgpt. Furthermore, the segments are as follows:
Section 1. Language Comprehension and preparatory training
ChatGPT uses a powerful neural network design and deep learning to produce text answers that resemble those of human beings. It goes through a lengthy training process where it learns from a massive quantity of data to interpret and understand English, enabling it to give replies that are relevant to the situation and logical. Let's learn about it in detail.
Pre-processing of Corpus and Data: An extensive corpus of text data from the internet is exposed to ChatGPT during its pre-training phase before it can begin to operate. By examining this unstructured data, the model can anticipate the subsequent word in a phrase while recognizing statistical trends and semantic relationships.Tokenization, a process that divides text into smaller components, is used during training. These tokens are subsequently processed using a multi-layered transformer-based neural network architecture, which is particularly good at comprehending context and recognizing word associations. As a result of this procedure, ChatGPT can provide logical and contextually appropriate answers in response to input.

Read more:

What Does ISO Mean On Facebook
Transformers: The Foundation of the Structure: The transformer architecture acts as ChatGPT's framework, utilizing its potent self-attention mechanism to comprehend and produce language. The model can assess the significance and links of words inside a sentence thanks to the several layers of transformers that analyze tokens.

By taking into account both the present context and the larger context of the discussion, this attention mechanism enables ChatGPT to produce logical and contextually appropriate replies. The transformer layers are essential for improving the model's grasp of input sequences and making sure that relevant outputs are generated.
Training Objectives: ChatGPT gains the ability to anticipate the following word in a conversation based on the previous context during pre-training. The model can recognize statistical patterns, semantic correlations, and grammatical structures in the training data thanks to this procedure. These patterns let ChatGPT develop a thorough comprehension of English, which serves as the foundation for its ability to converse.
Read more: What Does a Yellow Heart Mean on Snapchat
Section 2: Adjustment: Modifying the Model
The continual method of fine-tuning or updating the model by certain objectives is essential to ChatGPT's operation. This entails adjusting the model's parameters, enhancing hyperparameters, and training on unique datasets to enhance performance and corresponds with desired user needs, making ChatGPT a flexible and adaptable conversational AI system.
Fine-tuning under supervision: Following pre-training, ChatGPT goes through supervised fine-tuning, where the model is modified using a particular dataset to improve performance. Human AI trainers conduct conversations while acting as both the user and the AI assistant while following predetermined rules to build a dataset.

This dataset is then used to improve the model by instructing it on how to provide contextually suitable replies in a conversational scenario. ChatGPT can provide appropriate responses that fit the conversational environment thanks to the fine-tuning process, which helps it to understand the patterns and signals included in the training data.
Contextual Window and History: To generate appropriate responses in a conversational situation, context is essential. The conversation's past communications are kept in a context window that is maintained by ChatGPT. The model can interpret user inquiries and produce replies that are contextually suitable using the information provided by this context.
Personalizing and Adapting Models: ChatGPT adjusts to the particular job or domain it was trained on during fine-tuning. Through this process, the model can specialize and produce responses that are more suited to the needs of the application. Personalization is another benefit of fine-tuning, which enables the model to be trained on particular user preferences and customize the dialogue experience.
Read more: What Is Duplex Printing
Section 3: Generating Reactions via Inference
By using the technique of inference, ChatGPT produces responses by taking an input prompt or message and producing a response based on its acquired knowledge and comprehension of language patterns.
ChatGPT becomes an intelligent conversational agent capable of having meaningful interactions through the inference process, which entails applying the trained model to the incoming data, decoding the tokens, and creating a coherent and contextually suitable reply. Therefore, lets know about it in details about this;
Input encoding, sampling, probability distribution, and tokenization: The model is prepared for inference, when it produces replies to user inputs, once it has undergone training. Tokenization, or the division of input into tokens, occurs when a user submits a message. Following the input of these tokens, the model runs them through its layers and produces a probability distribution across the vocabulary for each token location. To find the most likely next token, the model draws samples from this distribution. This method is done continuously, resulting in a series of characters that compose the algorithm's response.
Setting Response Quality Limits: Although ChatGPT is intended to deliver replies of the highest caliber, it occasionally yields inaccurate or absurd results. OpenAI has methods to address these problems, such as the Moderation API, which weeds out offensive information. User input is actively welcomed to help the model get better over time and fix its flaws.
Section 4: Managing Ambiguity and Uncertainty
ChatGPT is remarkable, yet it is not faultless. In certain cases, it could provide replies that are illogical or inaccurate in their facts. This may happen because training data have intrinsic limits or because it's difficult to determine the user's purpose.
To address these problems, OpenAI has put in place a few tools, such as the Moderation API, which helps weed out offensive or dangerous information. The model is continually improved with the help of user feedback.
Section 5: Continual Learning: Model Advancement
By taking into account user comments and actual usage, OpenAI seeks to continuously enhance ChatGPT. They produce new versions regularly, improving the model's potential and resolving its shortcomings.
Additionally, OpenAI has tested techniques like Reinforcement Learning from Human Feedback (RLHF), which allows for the model to be improved by input from human AI trainers. By using an iterative process, ChatGPT is guaranteed to change over time, improving its dependability and use.
Read more: How to Search Gmail by Year
Conclusion
ChatGPT is a significant step forward in the realm of natural language processing, stretching the frontiers of machine conversation to new heights. The pre-training and fine-tuning techniques, along with the strength of the transformer architecture, enable it to comprehend text and produce human-like text answers.
Although there are obstacles and restrictions, OpenAI's dedication to improving the model and taking user input into account promises a path for even more advanced conversational AI systems in the years to come. ChatGPT can transform how we connect with machines and offer up new opportunities in a variety of fields, from client service to virtual aid, through continuous learning and development.
Was this article helpful?