Don't you sometimes wonder and think, how many watts is my computer using? I am sure you would have. Desktops and laptops have become an integral part of our life and so is their power consumption.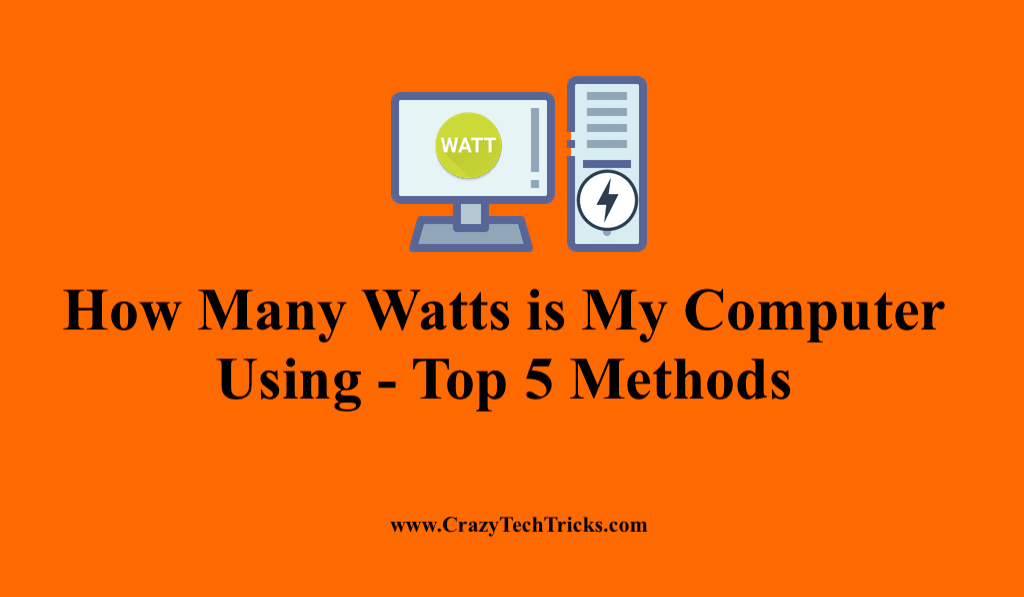 How Many Watts is My Computer Using
If you want to know How much electricity is your computer using. Then follow one of these 5 methods to measure the amount of Watts your PC is using.
Local Cooling
Power Supply Caldualtor
Task Manager
Open Hardware Monitor
Power Meter
OuterVision
Method 1. Use local Cooling
Local cooling is an free application that can help you in estimating the power usage by the main computer components. Follow these steps to know the power usage and brag your friends by telling them "how many watts is my computer using" because I am sure they won't know it!
Download link the application from your browser.
After downloading, Go to the Settings Option.
From Settings Go to My Power Tab.
This application is very useful and can help you even in managing your Power settings.
Read more: How to Fix Broken Charger Port on Android
Method 2. Power Supply Calculator
Power Supply Calculator link is an amazing free online tool that will help you estimate your electricity usage on your PC. However, this app does not give an estimate of your computer's power usage in real-time. But, it helps you calculate each component of your laptop separately, such as processors, graphic cards, monitors etc.
Read more: How to Setup Smart Garage Door Opener
Method 3. Task Manager
You can use task manager from your taskbar settings to know the electricity consumption. Here are the steps given below:
Open the Task Manager from the Taskbar. You can even press Ctrl+Shift+ESc.
Click on More details.
You will get a Power Usage and Power Usage Trend Column.
If you don't find it, you can click on the power usage and power usage trend column in the drop-down menu. You will get all the details there.
Read more: LCD VS LED Monitor
Method 4. Open Hardware Monitor
It is a very lightweight application use to calculate the energy usage of your system. Follow these steps to use this application to know the answer of the question How many watts is my computer using.
Install this Application link on your Device.
It will start collecting data from your temperature sensors, monitor voltages, clock speeds etc.
This app will also provide you with additional information about your device, including GPU, CPU, and much more.
Read more: list of Windows Powershell Commands
Method 5. Power Meter
Using the application Power Meter or Watt Meter will have the least margin error. It is the most accurate method to calculate your power usage by your device. These are handy devices that can be plugged in the wall outlet. Plug your device into them and then these handy devices will show you real-time energy usage by your device.
Read more: How to Fix Computer Has Power But Won't Turn On
Kill- A- Watt Electricity Usage Monitor is the most popular kind of Watt meter and is easy to use and handle. This device can multitask as it can be used with all the devices, which have an outlet to plug in. This will tell you which devices in your home eat most of the energy and electricity and give you the bill in 4 digits or more! But this device, too have a drawback. One of the drawbacks is it cannot record the power consumption.
Bonus method: If you made up till the end, then you should get some bonus and here is your bonus method.
Use Outer Version
This Outer version calculator is a highly effective tool which is even used by the PC Hardware and Power Supply manufacturers. It gives you the estimation of your device's power draw. This requires you to have the details of your device. The details include model of your computer, RAM, CPU, Optical drive and more.
Read more: Poweramp vs BlackPlayer
Then this will ask you about the number of hours you use your device. And it even lets u estimate the power consumption of attached device like keyboard and mouse. Isn't it interesting? Go. Try it.
Conclusion
Knowing how much power your device uses can help you look and estimate your expenses and help you work optimally. Use these applications to know about the thief your power. Gig:)
Was this article helpful?