Read complete details on how secure is Google Drive on Android, iPhone, Windows PC/Laptops. I will also share several tips to secure your Google Drive from hackers and other people. You can secure both your Individual and Business Google drive.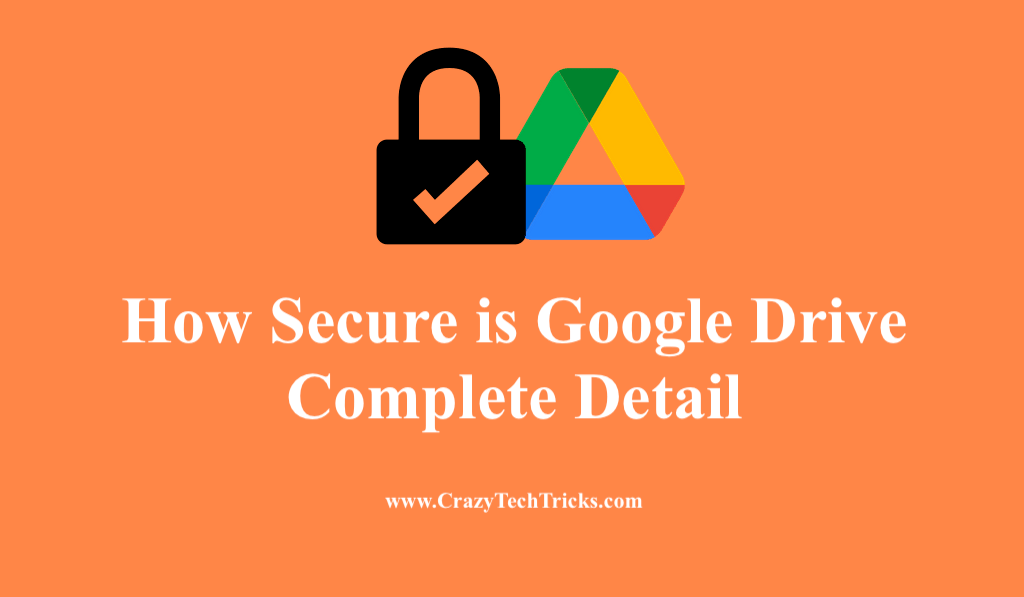 Security has always been a matter of concern among users while dealing with data in this online world. Today, we will get to know about the security of our data in one of the most popular storage services, "Google Drive".
Google Drive holds the data of billions of users as it is secured and safe that makes users relying on it. However, threats can knock the privacy and safety of your data at any moment while stored online, either by hackers, human error, software, hardware bugs, or unethical employees. This makes Google Drive users restless about the safety of their data stored in it.
Read more: How To Save Video to Google Drive on Android
What Makes Users Agonize about the security of Google Drive?
Though Google Drive has emerged as the most approved storage service across the globe, but some threatening incidents have put a question of the security of Google Drive that has become a matter of concern among its users. Let us highlight these incidents, which are listed below:
In 2014, approximately 5 million Google users become the victims of data leakage in which their Gmail usernames and passwords were leaked online.
In November 2019, a software bug had sent a user's Google Photos to strangers without the user's consent. Reportedly, 100,000 users became the victims of it.
These incidents should act as an eye-opener for the users involved without any prior safety measures in the cloud storage of the data. So, the question can arise what safety measures we can take individually to ensure more safety of our data stored in Google Drive.
Read more: How to Backup Contacts to Google Drive on Android
What does Google say about the security of Google Drive?
According to Google, it has the right to immediately suspend a Drive user who violates the Acceptable Use Policy and indulged in phishing and other unfair practices with the data. Furthermore, if Google found the organization guilty, it suspends the respective account and even restricts the access of the administrator from all the Google Workspace services.
How Secure is Google Drive for Business
Though Google Drive is well-secured, however since it is not end-to-end encrypted and the encryption can be unfastened with the encrypted keys, which basically means your data stored in Google Drive can be accessed by hackers or Google can hand over your data to authorities legally.
Read more: Best WeTransfer Alternatives
How Does Google Drive Make sure the Safety of your Data
Google operates with the strong 256-bit Advanced Encryption Standard (AES) encryption on all its Google Drive servers. To further strengthen the privacy and security of data, Google uses TLS/SSL encrypted keys.
How Secure is Google Drive Encryption
Earlier, we have talked about how Google Drive is secured. But, one should note that Google Drive encryption is not strongly safe. Google Drive is not end-to-end encrypted. This means Google terms of service can get through your stored data for information and keywords to enhance Google ad target. It can also hand over your information to legal authorities having your warrant.
Read more: What is Error 651
How to Secure Privacy of your Google Drive Data
To make sure your Google Drive files are private, Google suggests its users act upon the following areas:
Ensuring more security of your Google Account: If you are accessing a shared or public computer, make sure to sign out of your Google Account once done and never install Backup and Sync or Drive File Stream on it.
Have control over sharing your files with others: Your files stored in Google Drive remain private as long as you share them with others. So, always make sure with whom to share your data.
Read more: How to Send Large Files over the Internet
How to Add more Security to Google Drive
To strengthen your data is well-secured in Google Drive; make sure to mainly look after file safety during transfers, software bugs, and privacy of the cloud itself. These can be ensured by heading into the following methods that are listed below:
Avail Authentication by Two-Factor: Verification by Two-step can prove to be a game-changer for you to ensure your data is safe from hackers. It restricts the access to your Google Drive data by anyone who gets your password.
Encrypting Data While Transferring: You can encrypt your data stored in Google servers while transferring to Google Drive through Google, itself being the service provider, encrypts the data stored on its server. To do so, you can use Boxcryptor or Cryptomator which are a third-party solutions. It will benefit you by strengthening the privacy and security of your data.
Control App Permissions: As an administrator, you can monitor and control which apps and Google services each user can access. As an administrator, restrict the access of your Google Drive files to limited and trustworthy users to avoid an attack on your data.
Classification of your Data: It is a good idea to classify the data systematically while data of massive users are handled. You can categorize and distinguish sensitive data and non – sensitive data and provide the necessary privacy and security to these data. It will bring down the chances of sensitive data disruption and attacks from hackers on these data.
Have a Back-Up of your Data: It is wise to have a Back-Up of all the data stored in Google Drive at regular intervals to alleviate the data disruption risk. You can operate on the Drive File Stream service available in Google, which offers synchronization by two-way hard drive and Google Drive.
Include Endpoint Management in G Suite: Endpoint Management helps you track and manage your data security by giving you access to each device that controls your G Suite data. You can have an eye on the person who is signing in and their henceforth activities. You can set screen locks, delete confidential data, can remove accounts from one central location. These actions should be taken when your device gets lost or your access gets restricted from desktop sessions.
Read more: How to login to Windows 10 Without Password
Conclusion
Google Drive is one of the most secured and trusted services among users. However, it is wise to be more careful while dealing with your data as nothing sounds completely safe and secured over the Internet. If you want to store data with Google, opt for paid services using Gmail, Drive, and chrome to ensure advanced security.
If you are not keen to store your data on Google Drive, opt for other apps like Canto DAM, Dropbox, OneDrive, pCloud, etc. that are the best alternatives to Google Drive. Ultimately, your data privacy and security are your utmost priority over the Internet.
Was this article helpful?