You can add Error bars in Excel by following these method. It will work on every Excel version from 2013, 2016 to 2019. You can add error bar like %, Standard deviation.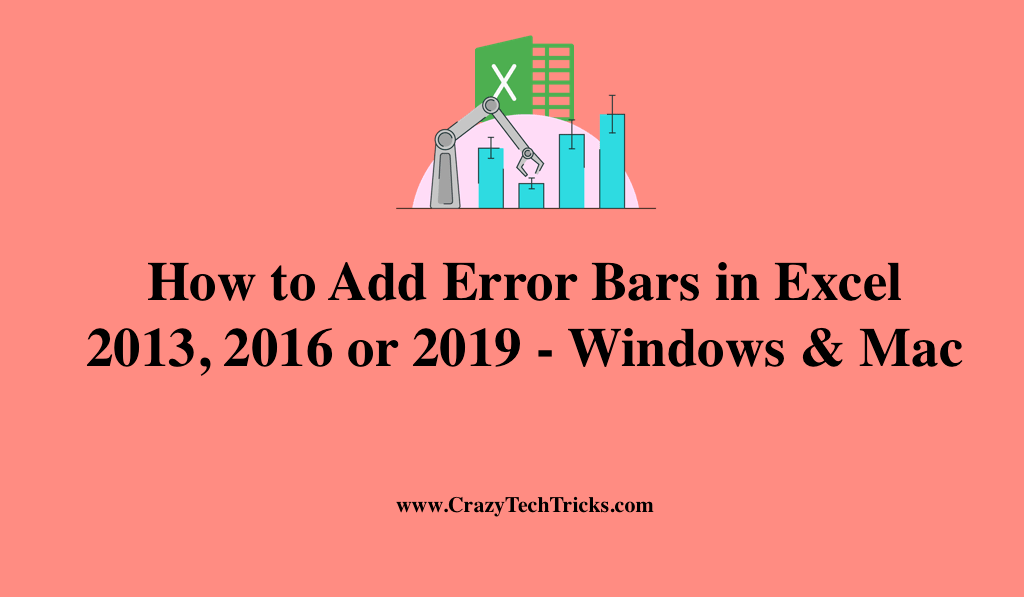 Error bars are an extremely valuable tool for visually displaying errors or variability in a data set (i.e, they show the range of possible deviations between the true and measured values). It is a critical piece of equipment for statistical analysis and scientific studies.
Read more: How to Add a Secondary Axis in Excel
Error bars can be added to appropriate charts in Excel, such as bar, column, line, scatter and bubble graphs. The user may include the following error bar types i.e standard, percentage, standard deviation and fixed. You can optionally provide a different error value for the individual error bars.
How to Add Error Bars in Excel
Microsoft Excel provides several types of charts in which you can display error bars for data.  Therefore, Using the instructions below, you may add error bars to your Excel chart:
Within your Excel spreadsheet, head towards the chart.

Choose

"Chart Elements"

from the drop-down menu in the chart's upper-right corner.

Choose the appropriate option by clicking on the

arrow

and

expanding the Error Bars (standard error, percentage error, standard deviation, or more options)
Choose More Options to get additional modification choices.
The dialogue box Add Error Bars will popup. Once you've selected the series you want to alter, click OK.
An Excel window will pop up prompting you to launch it. Using the error bar options here, you can adjust the error amount, error bar direction, end style, or standard deviation.
Read more: How to Insert Multiple Rows in Excel
By Using Error Bars More option
Using More in the preceding step gives you more control over various settings, including the ability to change Error Bars' color.
Select Error bar > More Option > Add error bars in Excel.
Choose appropriate series and then choose OK. An error bars side window will open. For example: take the horizontal error bar section.
End styles let you add a cap or no cap at the end of the error bar.
For the Error Amount field, you can choose either a fixed number, a Percentage, or Standard Deviation.
Choose Custom > Specify value. The (+) and (-) error codes can be altered here.
Now, click OK.
Select Error Bar Options and repeat this step for each series.
Read more: How to Use Exponents in Excel
How to Add Individual Error Bars in Excel
There may be times when you need to individually add error bars in Excel of varying lengths to each data point in the series. To do this, perform the following steps:
For each data point, use the STDEV.P function in the adjacent row or column to calculate the standard deviation.
Select Chart Elements > Error Bars > More Options in order to open the Format Error Bars window.
Select the settings option for Error Bars.
Select Custom under Error Amount and then Specify Value.
Enter the reference to the cell in the Custom Error Bars Dialogue box from which the Standard Deviation was derived for both the Positive and Negative Error Value.
Now that you've added individual error bars to Excel, you're done.
Read more: How to Export Outlook Calendar to Excel
Additional information
Also, by using standard Error Bars, you can add error bars in Excel directly to the chart's plotting window. Changing the error bars after they are added is as simple as double-clicking one of them. You will open the Format Error Bars pane by clicking this, where you can configure everything about them.
Read more: How to Group Worksheets in Excel
Conclusion
It's possible that the steps outlined above will vary significantly depending on the Excel application you're using. No matter how they're done, the outcome is the same regardless of the order in which they're carried out. Therefore, we hope you were able to make you understand how to add error bars in Excel 2013, 2016, and 2019.
Was this article helpful?