You can play Vampire Survivors for free on various games platform. I will share two top platforms like, Steam and Itch. You can play the game for the whole time for free.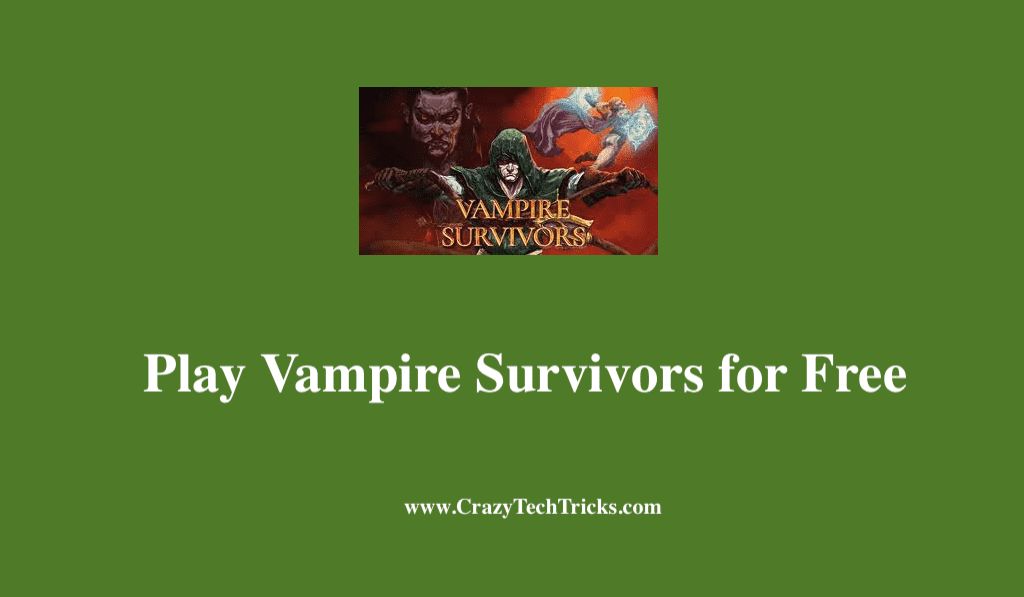 Vampire Survivors was scheduled to be released in December 17, 2021. It is the latest Early Release success on Steam. By killing creatures and gaining upgrades, you can play this free browser game which is simple yet addictive. Now, what if you want the complete package? Right now, it's available for only $3 on Steam.
Now, without creating much fuss, let's go through how to Play Vampire Survivors for Free.
How to Play Vampire Survivors for Free
To play vampire survivor for free, you have two options:
Using itch.io
Buy on steam
Using Itch.io to Play Vampire Survivors for Free
With the help of itch.io link, you can try out Vampire Survivors for free right in your web browser! However, we were unable to play the game in any version of Safari. We tested the game in Chrome and Firefox, and it worked without issue. Theoretically, this game should run on any computer running a modern operating system, including a Chromebook or a Mac. It is not necessary to register on itch.io to play the game, however, saving the web version to your collection will allow you to access it later.
Read more: How to Turn Off Steam Achievement Notifications
Although Vampire Survivors is a browser game, your progress is saved between plays. So, you can close the tab or refresh the window without losing your progress. Depending on your device's capabilities, you can play vampire survivor for free with a keyboard (arrow keys), a mouse (click and drag), a cable or Bluetooth controller, or a touchscreen. To find out when the most recent update was applied to the itch.io listing to play vampire survivors for free game, click the "More Information" link.
Read more: How to Disable Steam Popup Ads Immediately
Although the browser version and the premium Windows version can't share saved files currently, the developer has stated that they'll look into ways for this to happen in the future.
Buy on Steam to Play Vampire Survivors for Free
Once you have played vampire survivors for free, you can purchase Vampire Survivors for $2.99 on Steam. In the future, this pricing could change. The Windows operating system has the most features and is regularly updated with the new subject matter. If you are part of the Steam Early Access program, you can buy a copy of the game when it is released sometime in the future. According to the developer, only the Steam edition is subject to frequent updates, whereas the web version on Itch is to be considered as a demo.
Read more: How to Refund Games on Steam
The steps to download and install and play vampire survivors for free on steam are:
If you click on the Download link , you'll be sent to GamesDatabase, where you may download the game.
Click the blue "download now" button after waiting five seconds. Wait patiently for the downloading to complete before moving on to the next step.
After the download is complete, select "Extract to" from the context menu of the.zip file that contains the game. To do so, you'll need 7-Zip or Winrar, which you can download here.
Upon double-clicking the exe application in the Vampire Survivors folder, the application will launch.
That's all for now, have fun! You can install missing dlls by running the All In One Runtimes.exe file on your computer.
Read more: How Does Humble Bundle Work
Conclusion
Vampire Survivors is a simple but irresistible game that's already garnered a lot of attention from the gaming community and the media. It's perfect for people trying to get their hands on a graphics card who don't have a monster PC. This game has a retro look and feel, and it strikes the right balance between casual and addictive. If you're lucky, you can play vampire survivors for free. I hope we were able to resolve your query on this subject. If not, please let us know in the comment box below.
Was this article helpful?