Hello friends, Today I will share a method on how to clean boot Windows 10. Users can use this method on their Windows PC/Laptops. I will share an inbuilt way, and you can clean boot without any external software. You will be able to restart your PC faster.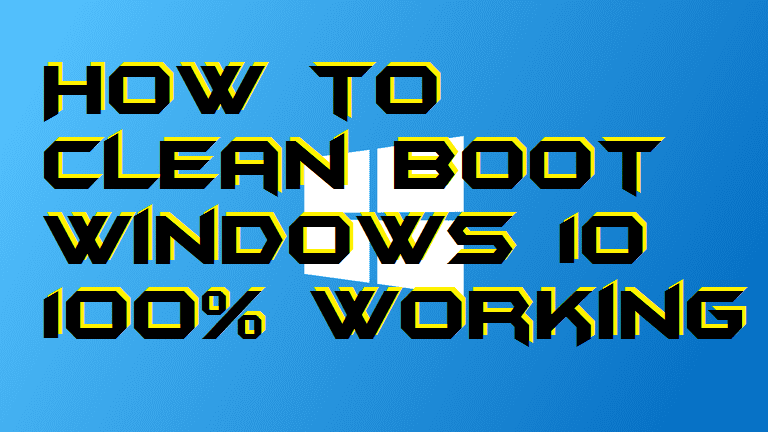 We guys sometimes feel frustrated whenever you boot your Windows 10 Pc/laptop. Sometimes we think that our Windows PC is taking too much time to let itself boot or turn on. It is a common thing which many of the Windows users has reported. This is all done because we install programs in our PC/laptop and forgot to disable it when our PC boot for the first time whenever we invoke it. So, to prevent your computer or laptop from that situation, you guys can learn how to clean boot Windows 10. Did you know that you can change the system language in Windows 10 without reinstalling it?
What Does a Clean Boot Windows 10 Do?
If I talk to you in simple words, then I will say that the clean boot Windows 10 does a great job in stopping the technical boot issue which occurs when you boot your Windows 10 PC/laptop. Let me clear it for you guys. Whenever we boot or turn on our Windows 10 PC/laptop, then you might be able to see the lagging sometimes. These lagging is generated because of the applications or programs that are heavy to run while the system starts up. So, we decide not to let them start up whenever our system starts. We choose to start them manually when we want to start them. So, at that time we need to clean boot our Windows 10 PC/laptop.
Read more: How to Remove Office 365 From Windows 10 PC/Laptops – Top 2 Methods
Whenever we switch on our Windows 10 PC or Laptop, then many of the programs or files loaded up at the meantime. Thus, sometimes it causes the booting up problem. Hence, now the entry of clean boot Windows 10 exists here. The clean boot does a great job by troubleshooting the Windows 10 PC/Laptop so that the unnecessary programs of files won't start up and only the operating system will let itself to turn on. This really saves the battery and pressurize less load on the memory.
How to Clean Boot Windows 10
In this part of the article, we are going to get to know how to clean boot Windows 10 PC or laptop. It is effortless and straightforward to clean boot Windows 10 OS. Not only the Windows 10 OS but users can also use this stated method to clean boot any Windows version based laptop or PC. However, today's goal is only to provide you a simple way so that you can learn how to clean boot Windows 10. There is no extra software or tool is required to clean boot your Windows 10 PC/laptop which is malfunctioning due to some technical reason.
Make sure you are logged in to the admin account on your Windows 10 PC/laptop.
Now, click Start and type msconfig.
Then, click on the System Configuration from the results.
After that, the System Configuration tab will appear on your Windows 10 PC/laptop screen.
Now, click on the Services tab.
Then, check the checkbox of Hide all Microsoft services.
After that, click on the Disable all button.
Now, go to the Startup tab under the System Configuration window.
Then, click on the Open Task Manager link.
After that, select the item which you want to Disable and do the same.
Finally, close the Task Manager and exit the application.
Lastly, make sure you reboot your Windows 10 PC/laptop as well.
Conclusion
This was all about how to clean boot Windows 10 PC/laptop. It is the finest and best way to release the load from your Windows 10 PC/laptop while it boots up or turn on. You can read some tweaked article like running Android apps on Windows 10 without any emulator as well. I hope using this article you have learned how to clean boot Windows 10. Make sure you share this article with your friends and family members who need to learn how to clean boot Windows 10.
Get more stuff like this
Subscribe to our mailing list and get interesting stuff and updates to your email inbox.
Thank you for subscribing.
Something went wrong. Try Again!