I will share the complete difference between Samsung Pay vs. Google Pay. I have compared their pros and cons and will compare several other features.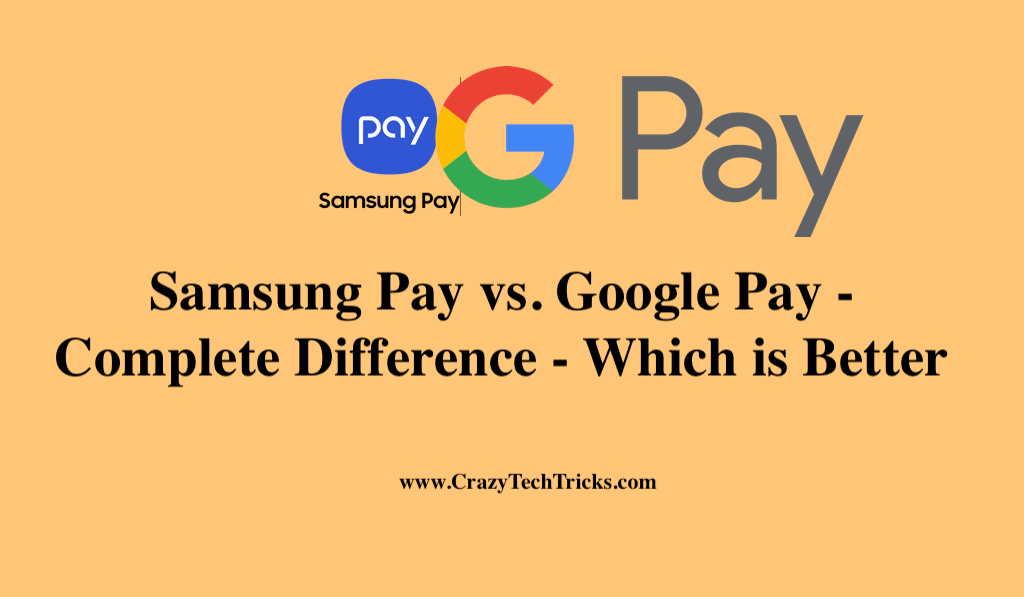 The means of making a payment are undergoing a period of transformation in accordance with the progression of technological capabilities. All small to medium-sized purchases are generally paid for digitally. However, a number of digital wallet solutions on Android use NFC technology today.
Read more: Android Pay vs Google Wallet
Similarly, digital wallets such as Samsung Pay and Google Pay are available on Android which uses NFC technology. These two digital wallets Samsung pay and Google pay have nearly identical features and are both available on Android phones.
Samsung Pay vs. Google Pay – Complete Difference – Which is Better
Samsung Pay is pre-installed on all of Samsung most recent mobile devices and serves as the company default mobile payment solution. While Google Pay you can install from the Google Play Store. On mobile devices, payments can be made via Samsung Pay or Google Pay (both are referred to simply as Pay).
Which is more secure
Both Samsung Pay vs. Google Pay methods have excellent levels of safety. In addition to its many security measures, Samsung Pay includes tokenization, which ensures no one, not even Samsung, can access your payment information. As part of the software, Samsung Knox protects your phone against.
Read more: How to Delete a PayPal Account
Google Pay is an application developed solely for use with mobile payment services developed by Google. The major difference is that it can be installed on all Android as well as iPhones. While Samsung Pay is only available on Samsung.
Rest everything is like Samsung Pay, for example, Payment services for both phones use biometric technology, such as facial recognition and fingerprints. Payment services for both phones are also much safer since only you can make payments.
Transaction Capacity
If you're looking for an app that allows you to make a transaction of any size, both Samsung Pay vs. Google Pay are excellent options. Yet every single vendor has the ability to decide on their own min and max purchase amounts. Typically, Most vendors allow customers to pay a maximum of $30 using these services.
Read more: How to Delete Feedback on Amazon
Worldwide influence
All those folks who travel regularly from one country to another should consider using Google Pay as their payment method of choice. Because Google Pay is available in over 40 countries, Samsung Pay is not even accepted in 20 of those countries. That is why Google Pay is the clear winner here.
NFC technology
The mobile payment system Samsung Pay is commonly embraced since it may use either MST or NFC. In contrast, some transportation providers support Google Pay without NFC (Near field communication).
Moreover, In the case of combining NFC with MST technology, Samsung is not the most financially beneficial company as its availability is limited. While in the United States and many other countries, Google Pay is currently available on a wide variety of mobile devices.
Read more: How to Find out who Made a Fake Facebook Account
Set-up
Using Google Pay might be a better option for you if you place a high value on a simpler initial setup. Samsung Pay is far more complicated and time-consuming to set up than  Google Pay. While Google Pay is far greater convenience and faster process.
Conclusion
In conclusion, we are able to assert that Google Pay is significantly more effective. With a larger community of contributors, its users are always kept informed about new features and fixes. With Google Pay, Android users can pay friends and relatives, pay at the checkout, and pay their debts all from a single app.
But this not with Samsung pay because it only can be in installed in Samsung which is its biggest drawback. As it is not possible to buy a Samsung phone just for Samsung Pay.
Was this article helpful?