Hello friends, Today I will tell you tricks on how to delete a Google account. You can delete your Google account from Windows PC/Laptops. Users can even delete Google account and still use other services. You can also individually remove any Google services.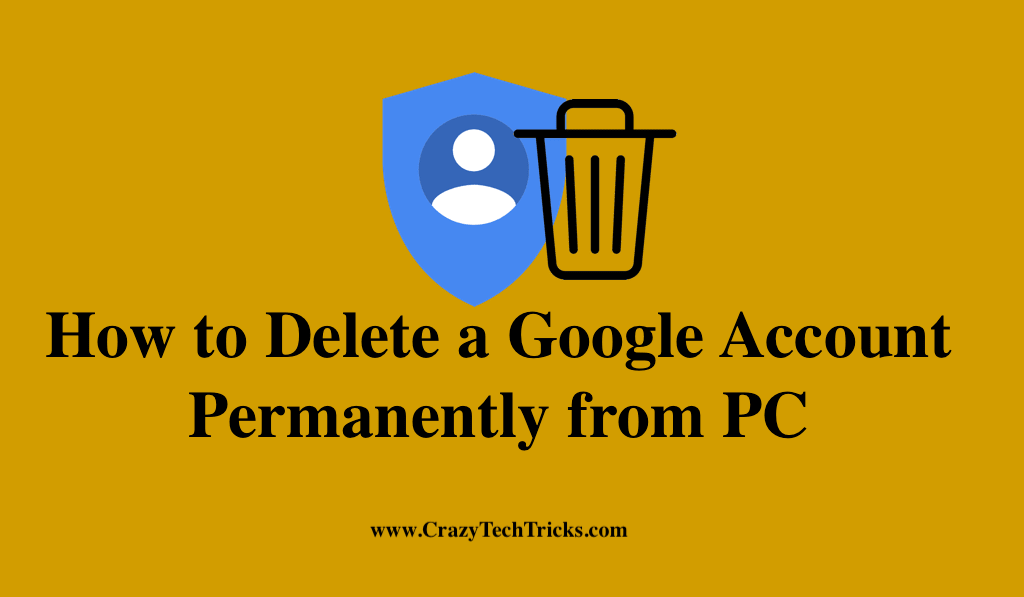 Google started its journey on 4 September 1998. However, now it's more than just a search engine. Today, Google offers hundreds of products and services, most of which are managed with a single Google account. Their most famous and most used services include Gmail, Hangout, Google Photos, Google Drive, Google Maps and countless more.
How to Delete a Specific Google Service and Keep using Google Account
Users can even delete specific Google Service and still use their Google Account. We have received several emails related to this topic. Yes! It is possible to delete a Google service without deleting your Google account.
Read more: Speed Up Google Chrome
More than 95% of a person's online life is connected with Google one way or another. The advantages of this network are almost limitless. For one reason or another, one always wants to get rid of this one particular online identity. Fortunately, Google is very considerate about its privacy and users rights and provides them with a choice to delete Google account permanently from the web.
How to Delete a Google Account Permanently from PC/Laptop/Chrome – Delete My Google Account
Several people have a question whether they can delete their Google Account or not. While doing a test, I was able to delete my Google Account from my Laptop. Yes! You can delete your Google Account from your Windows PC/Laptop. I will share any easy to delete Google Account permanently.
How to Delete Your Google Account using Windows PC/Laptop
Make sure you follow every step, and there is no undo once you delete your Google Account. All the services in your Google account will be deleted too. You can also delete Google search history.
How to Delete a Google Account
These days people use so many services of Google. You must have used Gmail, Google Play Store, Google Drive and much more. All these services are accessible from one Google account. But if you want to delete a few services and keep your Google account. Then, you can select a few services and keep your data safe.
Open the Google Login page from your Chrome or any browser.
Fill in your current Gmail address and password of Google account you want to delete.
Click on Sign In.
If you forgot your password, then click on 'Forgot Password' and follow the instructions therein to recover your password.
Go to "Account Preferences" on top right corner of the screen.
Now, Select 'Delete your account or services.'
You'll be redirected to a new page where you can select to delete a specific product/service or Google or the whole Google Account.
To delete one or more Google products only click on 'Delete products' and follow the instructions. To delete the complete account, click on 'Delete Google Account and data'. Enter your password again to confirm your identity.
Review the data connection with your account and confirm your decision by checking two boxes at the bottom. You can download your account data if you need it before deleting your account.
Click on "Delete Account."
That's it! Once you click on Delete Account, your whole user data will be wiped out.
Read more: How to Save Contacts on Google Account
How to Delete Google Account History
Sign in with your Google Account.
Go to 'My Activity' and click on 'More.'
Select 'Item View' if you want to delete a specific activity record.
Otherwise, click on 'Delete Activity by.'
Go to 'Delete by date' and open the drop-down list.
Select 'All-time' to delete complete account activity history or any other option like last week, month, or year to delete history for that period.
Select 'Delete' and confirm your choice.
The activities so deleted will be permanently removed from user data records. You will stop receiving a suggestion from Google and recommendations on YouTube.
Read more: How To Delete Your Google Search History
Note: The above methods for deleting Google Account and Google Account history works on all types of devices. Please note that once your account history is removed, it cannot be recovered. However, if mistake deleted your Google Account, you can restore it within the next two or three weeks
Conclusion
These are the best ways on how to delete your Google account and still use other Google services. Users can delete their Google account anytime by following the method mentioned above. Make sure your share these tricks with your friend and help them in removing their Google account.
Was this article helpful?