Hello friends, Today I will tell you a trick to Fix "This copy of Windows is not genuine". You can fix this error in your Windows 7, 8, 8.1 and 10. These methods will fix Build 7600, 7601 and 9600 error. Users can fix all the error related to Windows is not a genuine issue.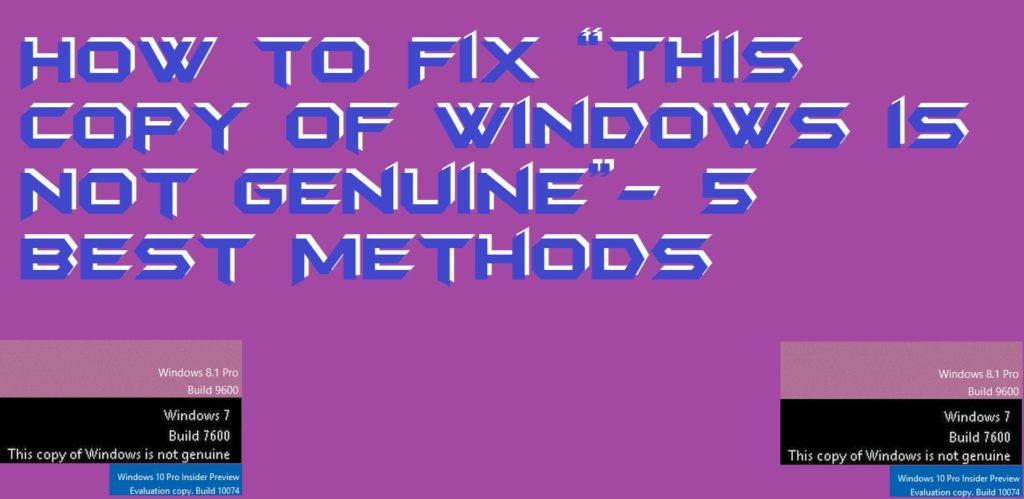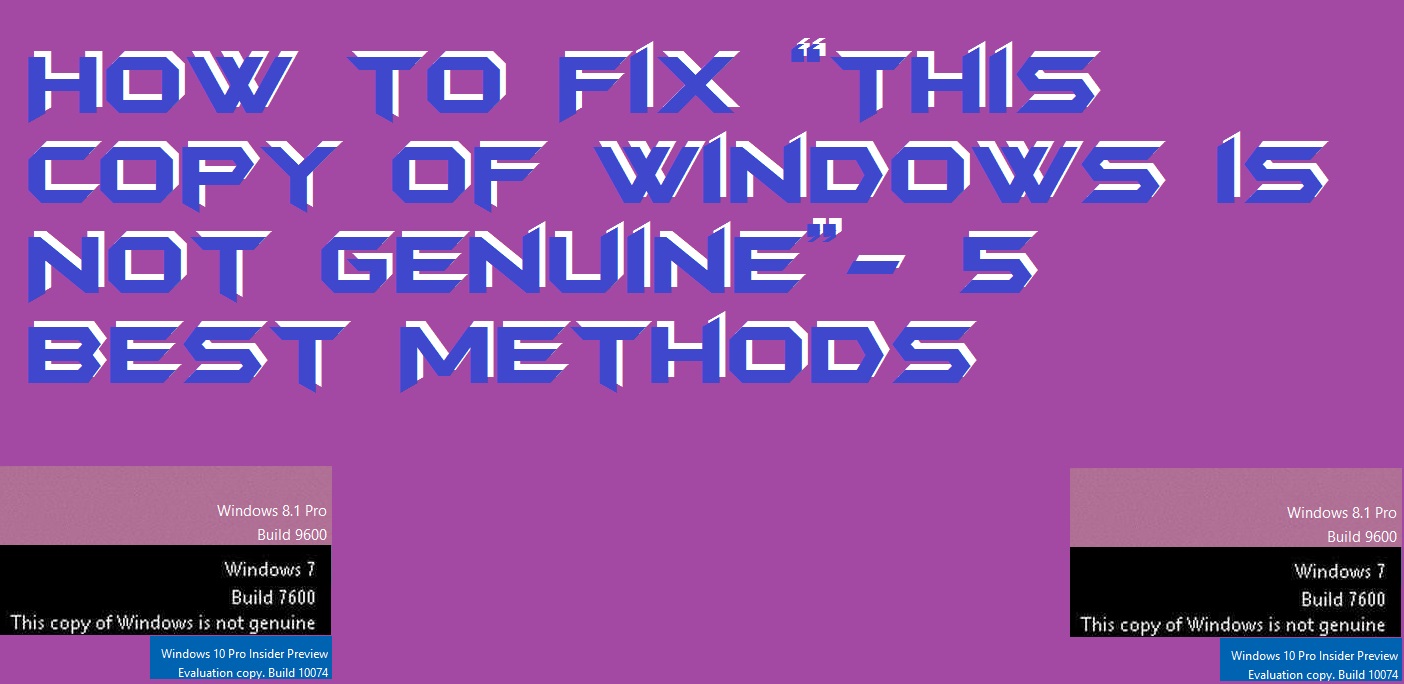 "This copy of Windows is not genuine" Solution
Microsoft Windows is the most used OS among the people on regular basis for business or personal work all around the world. People tend to buy either the pirated version of Windows or the licensed one. If you have licensed version, it is well and good. But sometimes, pirated version seems more economical and provides almost the same features as the original. But Windows keep on creating a problem for the user by showing several errors and popups. These errors are shown on almost all Pirated version of Windows like.
Windows 7
Windows XP
Window 8 or 8.1
Windows 10
You must have observer error while using the trial or pirated version of these Windows.
Read more: How to Activate Disabled Facebook Account – FB Account Disabled Solved [100% Working]
How to Fix "This copy of Windows is Not Genuine"
Well, I have the right tips for you to calm down and carry on with your daily routine. Our CTT team has done a huge research and found several methods to fix the copy of Windows is not a genuine issue. Here are 5 best and simple methods that cut down the pop up "This copy of Windows is not genuine".
Read more: How to FIX Windows 10 Start Menu Missing Issue – 3 Best Methods
---
Method 1: Using Command Prompt
Search for CMD in the Search the web and Windows on your taskbar.
Now, Right click on Command Prompt and choose Run as administrator.
All you need to do is type SLMGR –REARM and by chance, if you get any errors using this command because sometimes it may not work for Windows 7 version, try SLMGR/REARM.
SLMGR is Software Licensing Management Tool. REARM command resets the licensing status.

Press Enter button and then you will get a message to restart your computer.
Click OK to restart. (Even if you don't get the message don't forget to restart your computer.)
Read more: How to Fix Windows 10 WiFi Issues – Best Methods
---
Method 2: Uninstalling KB971033 Update
KB971033 update calls back to Microsoft servers every 90 days if you have a copy of Windows and displays the not genuine message.
Search for Control Panel in the Search the web and Windows on your taskbar.

In Control Panel, click Programs and Features.

To the top left corner you will see an option as View installed updates, click on that to view the list of updates. Or you can directly search windows update in the search box of the control panel to skip step 2.
You will find Security Update (KB971033) on the list.
Right-click on the update and select Uninstall. If a box appears, choose Yes.
Reboot your computer.
Read more: How to Update Windows 10 Offline
---
Method 3: By RSOP
RSOP stands for Resultant Set of Policy. If your computer is experiencing Activation error message, run the Resultant Set of Policy wizard. This method works on pirated Windows 7 or Windows Server 2008 R2 where mostly the 'not genuine' message pops up.
Press the Windows icon + R keys to open Run window box.
In Run window, type rsop.msc and press OK.

Go to Windows Settings -> Security Settings -> System Services.
In System, Services right-click on Plug and Play and choose an automatic option from there.
Again open Run window box as in step 1 and Type update/force command and press Enter.

Restart you PC.
---
Method 4: Deleting SLUI.EXE
Open File Explorer.

Follow the path This PC/My Computer -> Windows (C:).
Search for the System32 folder in the search box then find the slui.exe file in a similar way.

Delete the slui.exe file.

Repeat the first method.
---
Method 5: By Turning OFF the Updates
By this method, you won't get any updates on your pirated version of Windows OS and thus the notification.
Open Control Panel.
Search Windows Update in the search box.
Click on "Install Updates Automatically" option.
From the option, select "Never Check for Updates".
 Click on apply to change the setting.
---
Note: These methods are for Education purposes only. Misuse may lead to legal problems.
Conclusion
These are the best methods to fix this problem. Some methods may not work for some versions of Windows but that is the reason many alternative methods are provided. So was this tech trick of use? If you know any other methods please comment in the comment section below and also don't forget to share this article with your techno-geek friends.
Was this article helpful?