Hello friends, Today I will share a method on how to delete your TikTok account. Users can remove all their TikTok data and completely remove their profile from TikTok. You can use this method on Android, iPhone, or even Chrome browser.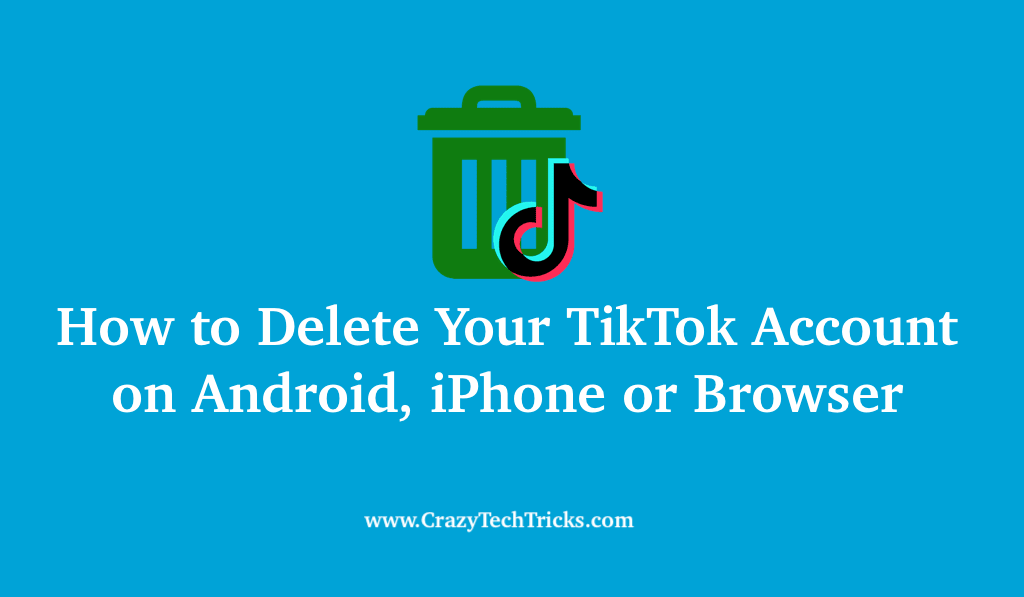 It has become really famous like any other social networking platform such as Instagram, Facebook, Twitter, etc. Many people are becoming celebrities via this platform and many have got their profiles verified too.
How to Delete Your TikTok Account on Android, iPhone or Browser
Also, your shared information, such as chats or videos, might still be visible to others, even your delete your TikTok account. Moreover, You'll lose your access to the content you've posted and won't be able to receive a refund for the purchased items. You won't even be able to log in again using the same account, once you have permanently deleted your TikTok account.
If you never signed up for a TikTok account, and just had an application on your phone, then you do not have a TikTok account to delete. You can simply uninstall the app.
Read more: Best Video Sharing Sites
---
How to Delete your TikTok account using the Application
Lack of privacy features is a major reason why people are deactivating their accounts often. To delete your TikTok account on your mobile devices (Android or iOS), you can proceed as:
Open the TikTok application on your Android/iOS device.
Make sure you've your account signed in and your phone number/e-mail verified by TikTok.
Go to your profile tab.
Hit on the three-dot icon in the top right corner of your screen.
Tap on "Manage My Account" under Account Settings.
Select "Delete Account" on the bottom of the screen.
For verification, Enter your Password first. In some cases, TikTok asks for One Time Password (OTP) verification via e-mail or phone number too.
Tap on "Delete Account." And your account will be deleted.
You'll automatically be logged out of TikTok.
Read more: How to Permanently Delete Pagefile.sys in Windows 10
---
How to Delete your TikTok account using the Browser
Note: You need to install the TikTok application in your mobile devices to delete your account as there is no direct option to delete your TikTok account directly using a browser.
Visit the website, TikTok Link.
Sign in to your account.
Tap on the menu icon on the top left corner of your screen.
Click on the Help Centre.
Under My Account & Settings, tap on the Delete your Account.
And you'll be prompted to the steps you need to follow to delete your account after installing the mobile application in your devices.
Read more: How to Read Deleted Reddit Posts
---
Other alternatives to delete your TikTok account
Since it is impossible to restore your data, once you delete your TikTok account, You can go for other alternatives too.
TikTok offers several advanced options to its users that enable them to be hidden from the public eye. That's why you need not delete your TikTok account if you don't want others to access your music videos.
1. You can set your Privacy Settings to Private. All the TikTok accounts when first created are public to everyone, But you can simply switch to the private mode by heading over to the Settings menu and choosing the Privacy and Safety feature. It enables you to control who can see the content shared by you. Your new followers will have to send you a friend request to view the content that you share on your account.
Read more: Best Skype for Business Tips and Tricks
2. You can switch off "Allow others to find me" feature in the privacy and safety menu.  This feature, when turned off, restricts your account to be shown in the friend suggestions that others receive on their accounts. It will prevent other users from finding you.
3. You can also limit the number of people who can get in touch with you through TikTok. This is another way to increase your safety on this video sharing platform.  You can control who can send you messages and post comments on your videos. You can easily find "Who can send me messages," and "Who can send me comments" options in the Privacy and Safety menu. Set both of these options to Just Friends if you don't want to receive messages from TikTok users you don't know.
Read more: WhatsApp Tips
---
Conclusion
TikTok is one of the most used apps by people these days. It is good when only used in a good way but several have taken it in creating useless content. There are several debates around the world. That weather TikTok should be banned or not. But still, some people are loving the app and on the other hand, some are uninstalling.
Was this article helpful?