Hello friends, Today I will share 12 best skype for business tips and tricks. You can use this best skype for business tips and tricks to record your videos and do more stuff using Skype. All these are amazing hidden features of skype which very fewer people know. You can do a lot of more from video recording to voice and etc.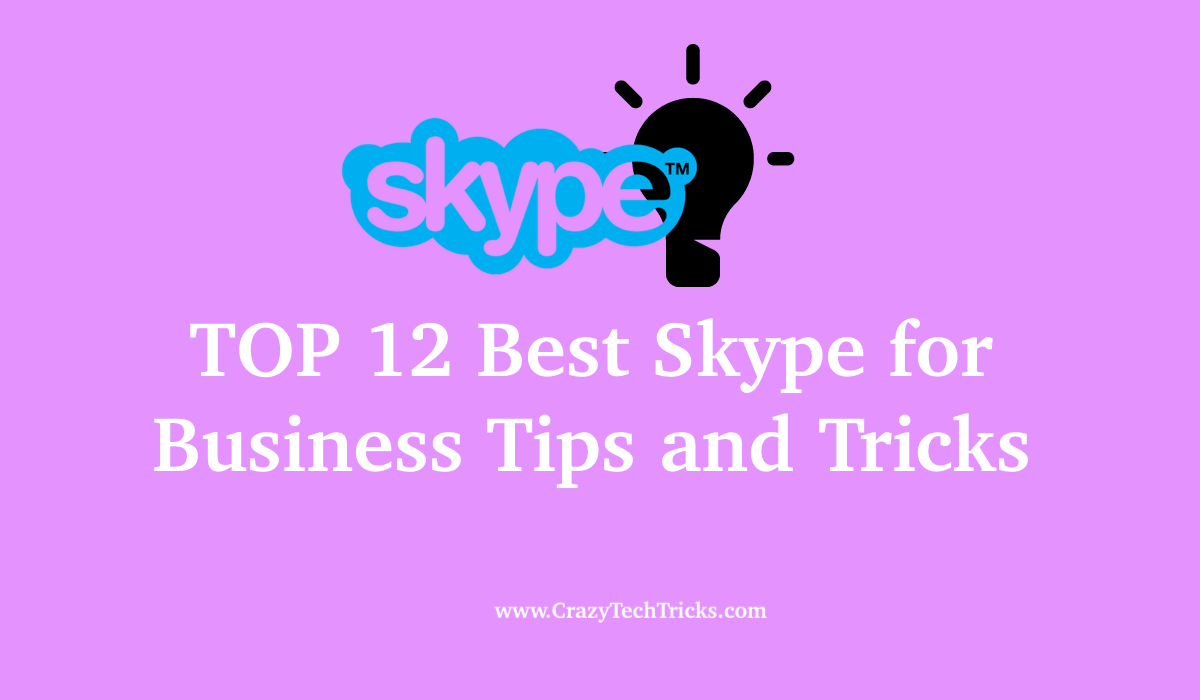 Skype is a popular video and text messaging application offered by Microsoft. It has emerged as a popular option for business people due to its ease of usability and effectiveness. Skype is being used around the world for conducting job interviews, business meetings, board meetings and even strategic management.
Skype for Business Tips and Tricks
These are best skype for business tips and tricks. You can use Skype to increase your business productivity to a great extent. But it is not going to be an easy job especially if you are starting a new business or are using Skype for the first time. You have to employ some tactics and plan to use Skype for augmenting your business's productivity. Let me provide you some tips as to how you can use Skype for your business.
Create Skype Business meeting via Outlook
The thing about online meetings is that it is very hard to remember the schedule always. It happens many times that someone forgets to turn up in the conference or someone joins in very late. A solution for this is to schedule your meetings and keep them in an online calendar which reminds you of time before to join the conference.
But instead of using any third party apps to do so, you can schedule business meetings via Skype only using Outlook. All you have to do is tap or click on the Skype meeting button while creating an appointment in Outlook. You can also put up the link to join the meeting.
Record meetings
It may happen that after completing your meeting, you start forgetting things. You forget the discussed actions and strategies to be employed; or what presentation you were asked to make and how. Things like these happen a lot in the process of virtual meetings. But you can overcome this drawback by Skype by merely recording your entire meeting. It provides you with dual benefits, you have a definite proof as to whatever happened in the conference. And you can always refer to the recording to recall any forgotten part.
Read more: How to Use Skype Without Microsoft Account
You can do this by clicking the three horizontal dots at the lower right side of your screen when you are in the meeting and click on the Start Recording option. You can pause, resume or stop the recording by using the icons that come up on your screen.
Use Keyboard shortcuts
Skype for business is full of keyboard shortcuts and utilities to ease up your experience just like other Office products. You can start with some essential shortcuts such as using Windows key + Shift + O to accept an invitation or Windows Key + Esc to reject it. There are many such shortcuts embedded into the software to ease up your experience while you are in a business meeting.
Some of the shortcuts you can use are –
Ctrl + Shift + H to put a call on Hold
Alt + Q to end a call
Ctrl + Alt + S to stop sharing your screen
Contact Privacy Setting
You can categorize all of your contacts into five categories based on your relationship with it. The default settings for Skype business is Colleagues for people in your business circle and External Contacts for people outside it. You can, however, change this and assign them other setting such as Friends and Family, Workgroup and Blocked Contacts.
You can change this setting by right clicking on their name and then click on the option titled Change Privacy Relationship. There, you can see the default setting assigned to him and choose from the other options to alter his/her one.
Organize Q&A, Polls, and Whiteboard
You can make your meeting on Skype for Business more interesting and interactive by utilizing Q&As, Polls, and Whiteboards. Whiteboard is a feature where you can present your ideas to everyone in the meeting using drawings and diagrams you draw on the spot. Selecting the Whiteboard option will open a common Whiteboard for all the attendants of the meeting.
For using these tools in your meeting, click on the Present Content button and then click on More. Now you can choose to pop up and use anyone among the Q&A, Polls, and Whiteboard option present there.
PowerPoint Presentation
Although Skype allows you to share your screen with others in a meeting, you can also choose to just share a PowerPoint presentation instead of your whole screen. Not only PowerPoint, but you can also share any Office document in your meeting via Skype for business.
Just go to the presentation you want to share, click on Slideshow and then choose Present Online and then Skype for business. There, you can choose to either send the presentation to a meeting already in progress or start a new meeting with it.
Transfer to Mobile
You may be in the middle of an important meeting. But want to leave your computer for a while without having to leave the meeting. Now, you can take your laptop everywhere with you (unless it's a laptop). The more sensible option here is to transfer your meeting from the computer to a mobile phone as you can carry your phone anywhere with you.
To do so, you need to set up your mobile number first before the meeting. You can so that by navigating to Settings > Tools > Options > Phones > Mobile Phone. Now provide your mobile number along with the region code and click OK. You can transfer your meeting to your phone now easily by clicking on the Call Control buttons and then choosing Transfer. Select My Phone next and then click on Transfer. You will receive a call on your mobile phone transferring the meeting from your PC to it.
Read more: How to Delete Skype Chat history from Android Phone
You can utilize best skype for business tips and tricks mentioned above to enhance the productivity of your business meeting, while also making it more interactive. Skype has gained such popularity. Because of such exciting features only which makes it very easy to conduct virtual meetings nowadays. But, a virtual meeting is still a business meeting where you have to maintain some dignity and has to be your proper self just like a physical meeting. Here are some Skype for Business Tips and Tricks you should keep in mind to prepare yourself for an urgent meeting on Skype for Business.
Use Quality Equipment
Attention and focus are very essential in any meetings. When you're taking part in a virtual meeting. And keeping your focus can be heard due to outside interference in your surroundings. If you make a role in such meetings on a regular basis. You should buy some quality equipment and headphones with noise canceling features. It will help you to listen to the proceedings of the meetings more clearly while also keeping your focus on it.
Do not Multitask
Try to refrain yourself from engaging in other activities when you are attending a virtual Skype meeting. Do not check your emails, play games or do some other online activities during the session. And try to keep undivided attention to its proceedings.
Be careful while sharing your screen
You get the option to share your screen with others on Skype for Business. But, you need to be careful while sharing your screen on a meeting. Shut down any necessary programs before sharing your screen and block all kinds of notifications too. Make sure nothing objectionable is present on your screen to avoid any embarrassment in the meeting.
Mute your microphone when not speaking
Microphones these days are very sensitive and can capture background sounds and noises which may disturb or obstruct the meeting. It may be the sound of your Mom cooking something in the kitchen, or some serial running on a TV in the house. Background noises can cause disturbance and unwanted time loss. Therefore, when you are not speaking something to about to talk about anything, keep your microphone turned off to ensure a smooth proceeding of the meeting.
Establish Protocols beforehand
Virtual meetings, like a real meeting, can often get vehement. A debate may start where everybody is speaking. While no one is listening and this will lead to chaos and confusion. It may also happen that someone asks a question midway when someone else is talking breaking his/her momentum. To avoid any of these scenarios, organize the etiquette and protocols of your meetings. To beforehand and convey it to everyone at the beginning only.
Last Words on TOP 12 Best Skype for Business Tips and Tricks
These are best skype for business tips and tricks. You can use to ensure a proper, clear and concise Skype for the Business meeting. You may use any of the suggestions mentioned above and tricks to make your conference a success and ensuring its productivity. Skype for Business offers a lot of tools and provide you with ample opportunity to conduct a meeting sitting in the comfort of your home only. You just have to learn to use it right only which is not a very difficult task.
Was this article helpful?