Single page blog are best way to earn money. As each and every blog is related to some event or some common problem. Over 90% people on internet use search engines. Search Engines are the most visited website on internet. And if you have a page of No.1 search engine google. Then it would give you first spot in search engine. In this post we will discus to earn money from single page blog.
Everyone who use internet just wanna make money by doing nothing. So you can earn money from doing nothing. All you need is bit luck. And creative mind of yours. Here are some tricks that make you earn a lot.
Read More : Top 10 reasons Why your Smartphones hang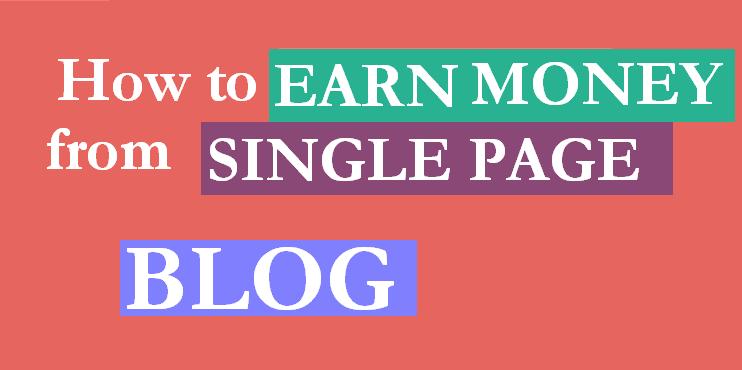 Just think of some future events. And make a blog on that event. For example think some future events which will go in your country or world. I'll make a blog name 2020 elections in United States. And just guess some of politician whom i think will fight for presidential elections. And write a bit about that. Till 2020 year come your page will be around 5 year old. And google will keep that on first page. When that exact year come and people will search about that event. You will observe boost of traffic on your single page Blog. You can apply for adsense and you will earn a lot.
Read More : How to use whatsapp voice calling feature
You can make a single page blog on any event. Most searched page on google are about sports and technology. You can write about Iphone10 or 2020 olympics. When you make blog with this name. Then you will see global traffic towards your blog.
If you keep posting every day on your blog then your page will be on top till any further event happen. For example if i make 2024 Olympics then my page will be at top till next olympics.
Read More : Never judge a smartphone on its camera pixels
Why use Google Blog
Always make blog on Google as it show your content on google first page. As compare to other websites present. And it is also free, user don't need to pay for webhosting etc. Your website will get several visitors daily. You will easily get approval from adsense. There are several features which only google blog can provide you.
CONCLUSION
Points discussed above are best way to earn money from a single page blog. As it provide traffic from the search engines. And people who come from search engines do most activity on websites. I would recommend you all to make a single page blog on google. And start now by posting on it. Dont post any copied content as it reduce the strength of your blog. And you will loose your blog from 1st place from search engines
Trending : How to unlock Password Protected RAR file,How to schedule gmail to send email later,How to FIND DUPLICATE SIMILAR IMAGES on Internet
Was this article helpful?