You can use this method on how to send a fax from my phone. This method will work on both Android and iPhone. Users need to download an application to send a fax from your phone. You can easily connect a Fax machine to a cell phone. It an easy app to send a fax from your Smartphone. It let the users attach any file or data and then send a fax. You can send a fax to anyone without any machine. All you need is your Smartphone.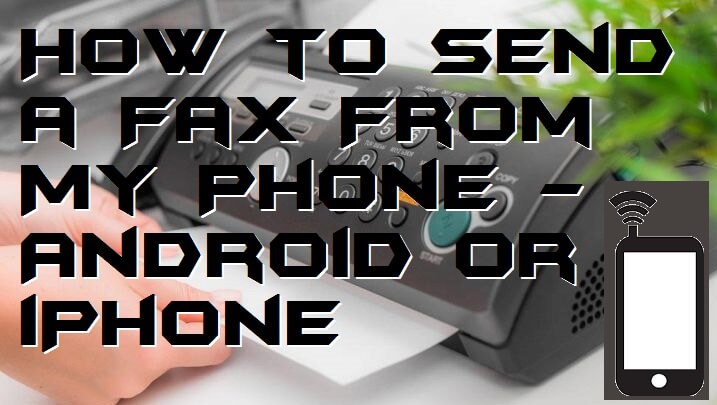 Sometimes we have to use our fax machine to send or receive a fax. But, did you know that now you can use your smartphone to send or receive a fax? If you are saying no, then let me tell you that I have a fantastic method to send a fax from my phone. Don't you believe me? Go through the article and check yourself.
Read more: How to Get Android P on Your Smartphone Now
When we look around, then the computers and smartphones are present in everywhere. But, the fax machine will be probably present in some places. Well, in this new era, no one looks for the fax machine also. That is why none of the people uses the fax machine in nowadays. However, now the smartphones can also use the fax machine too. It has solved the issue of not touching the fax machine in this era. To use fax machine from the smartphone, you don't have to use any extra equipment. You have to use a simple and straightforward method to aim your job.
Read more: Top 10 reasons Why your Smartphones hang
How to Send a Fax From My Phone
To send a fax from my phone, we are going to use an app which is very simple and easy to operate. This app is available for Android & iPhone both the smartphones. So, any user can download and install it on Android or iPhone to use it to send or receive fax from the mobile phone on the go. I am going to show you the full tutorial for Android or iPhone in a single way so that it will be easy for you to understand. Check out the below-mentioned step by step guide to do so.
Download and Install the cool app which is eFax on your eFax Android or eFax for iPhone.

Now, after installing eFax app. Simply, open it.

Now, in the To section, enter the recipient's fax number or tap the contacts icon.
That's it. You have successfully sent a fax from your smartphone. 
Images Source: eFax
Read more: How to Fix Printer Problems with Windows 10 – Windows Printer Troubleshooter
---
Conclusion
Use this method and send a fax from my phone. By using this method, you can quickly send or receive fax on your smartphone. Apparently, there are lots of apps available on App stores so you can download them and can use it if you want. Although, this app is top-rated and very much easy to use in both the smartphones whether its Android or iPhone. But, after some certain limits, you have to pay some amount of fee to continue using this app on your smartphone. But till then you can enjoy it for free of cost. Do not forget to share this article with your friends too. Let them also know this fantastic method to send a fax from my phone so that they can use their old fax machine in this new era.
Was this article helpful?