You can Install a deb file in Linux by following these four methods. You can either use a command or a graphical desktop. All these ways will help you to get a DEB file in Linux PC/Computer.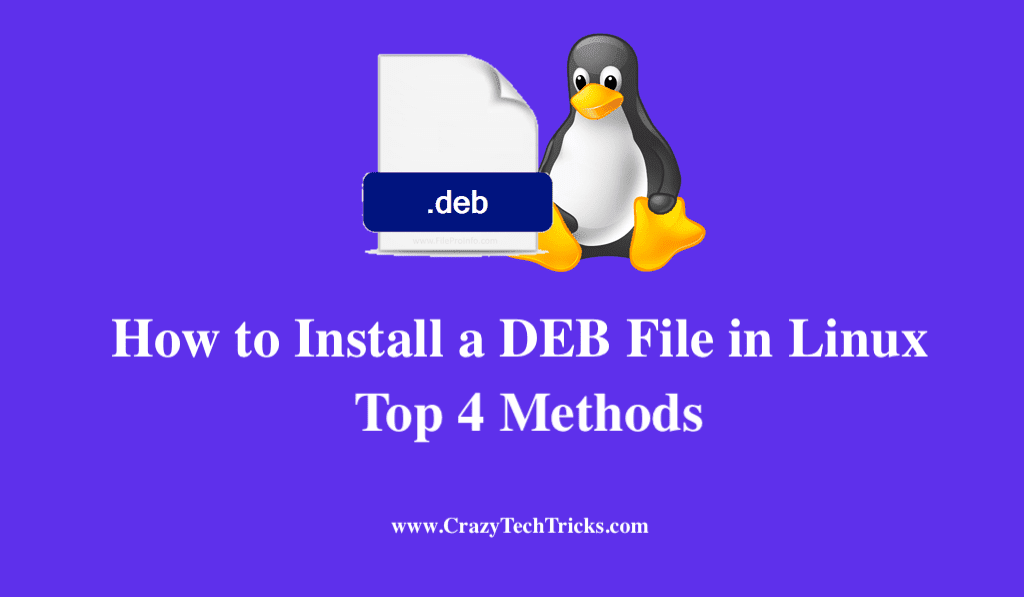 Linux is the most widely used open-source operating system (OS), it manages a computer's hardware and resources directly, such as the CPU and RAM. So, if you've finally finished installing Linux, and you've obtained a file ending in ".deb." What are your options at this point? Here, we'll take a look at two methods to install a DEB file in Linux.
We'll show you how to use TeamViewer by downloading and installing the deb package. The remote help, desktop collaboration, web conferencing, and data exchange between PCs are all available with TeamViewer. Open a web browser and go to the Linux page of the TeamViewer website to download it. To obtain the deb package, click on the Deb download link. There are, however, two approaches to this. Both the graphical desktop (GUI) and the Command are capable to install a DEB file in Linux.
How to Install a DEB File in Linux
We will use these four ways to install the DEB file in Linux.
Graphical desktop (GUI)
apt
gdebi
dpkg
1. Graphical desktop (GUI)
Start the installation by double-clicking the deb file rather than the command line. Clicking on this will display the default Graphical Software Center for your operating system:
Upon clicking the Install button, you will see a dialogue box.
Once you've entered your administrative password, click the "Verify" button to confirm your identity.
The size and attachments of the file may bog down the process to install a DEB file in Linux.
Upon installation, the "Install" button in the Ubuntu Software Center will become "Remove."
The program has now been successfully installed and is ready for use.
Read more: How to Install Kali Linux on Windows 10
2. apt
The apt-get and apt-cache command-line utilities allow users to manage packages on Debian and its derivatives, such as Ubuntu and Linux Mint systems. A command called apt can be used to install new software, update existing software, or even update the entire Ubuntu or Linux Mint system. Most apt-get and apt packages do not work with it.
Package names are associated with deb archives in the /etc/apt/sources.list file. For example, you can use deb files to retrieve and install package names such as TeamViewer, apache2, and MariaDB. An apt-get or apt installation of a local Debian file simply requires the package to be located in the current directory (or a subdirectory of the current directory).
sudo apt install ./teamviewer_amd64.deb
Read more: How to Use Snapchat on PC without Bluestack
3. gdebi
Local Debian packages can be installed with the help of gdebi, a small command-line utility. It automatically detects and installs package dependencies as they are discovered. The below command can be used to set up a new package. To enable the download and installation of this deb package for you, simply answer "yes" to the question.
$ sudo gdebi teamviewer_13.1.3026_amd64.deb

...
Do you want to install the software package? [y/N]:


To enable the download and installation of this deb package for you, simply answer "yes" to the question.
Read more: Extract Table from PDF Files
4. dpkg
A package manager for Debian-based systems, dpkg is a low-level software. Install deb packages using dpkg with the -i (or -install) option. To install a deb file in Linux can result in one or more package dependencies that can be resolved and installed i.e:
$ sudo apt install -f
Read more: keyboard shortcuts for Windows
Conclusion
My tutorial on how to install.deb files under Linux are geared for those who have never done so before. Gdebi and the apt command can be used to easily install local deb files in Linux from the graphical interface or the different command line. The reason is that Linux Software is not very stable and the dpkg command does not work with dependencies. We've covered everything you need to know about installing a deb file using these four methods in this guide. We hope you found this content informative.
Was this article helpful?