Must check these Kodi Keyboard shortcuts for Windows and Mac. Users can play, pause, stop, fast forward, next or give several commands just by pressing a few keys. You can be very quick with commands and do all the tasks without using a dialog box.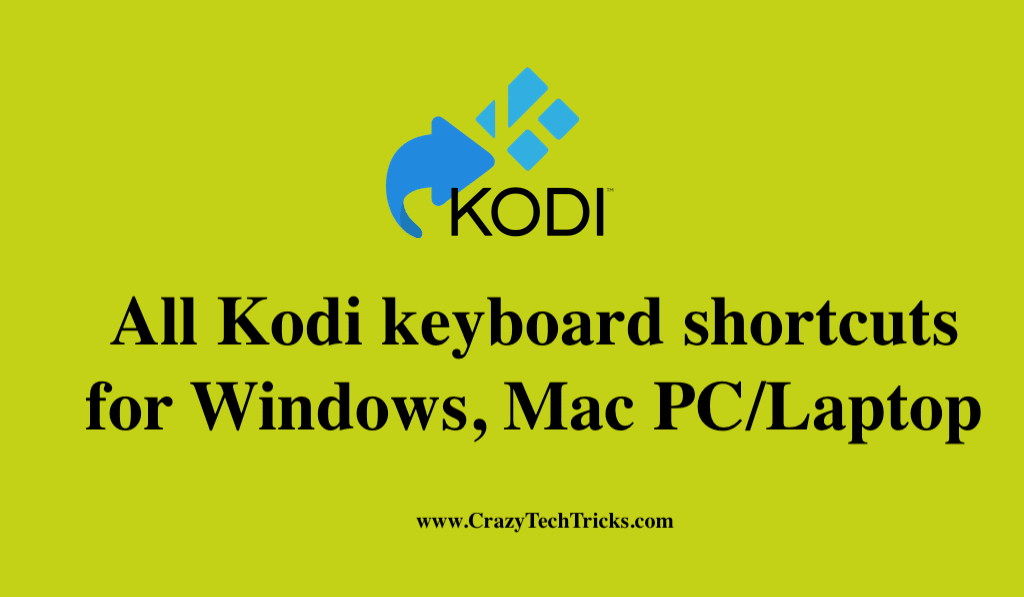 Kodi is one of the most powerful media servers and players which is also an Open Source. It supports a wide range of devices. You can use Kodu on your Windows, Mac, Android, iOS, Linux, Raspberry pi, etc. The main advantage of using Kodi is that it has unlimited customization features. You get to customize Kodi's entire interface using Kodi Skins, Kodi Repos, and Kodi builds.
List Of Kodi keyboard shortcuts for Windows & Mac
If you use Kodi regularly, knowing about the Shortcut keys will help you a lot. Using shortcuts makes you more professional rather than going through the dialog boxes just to get one task done. Here are the Shortcuts that you must give it some time, learn them, and use them while using Kodi the next time.
Play and Pause
You can play a media or pause ongoing media by just pressing the P key.
Stop
Pressing X, you can stop an ongoing media.
Rewind
If you like a particular part of the video, you can go back to pressing the R key. If you press the R key once, the video rewinds in a 2x pace. Pressing it two times will rewind the video by 4x speed.
Read more: How to Set up Kodi on Android TV
Fast forward
If you are getting bored or watching with your parents and suddenly an intimate scene comes. You can fast forward the video by pressing the F key. Pressing the F key once will Fast forward the video by 2x pace and pressing it two times will fast forward the video by 4x pace.
Next Picture
Shuffling between images is a bit different in Kodi. You will need to use the comma(,) and full stop(.) button in order to shuffle in between the images in your gallery.
Screenshot
You can capture a scene that got you the most by pressing Ctrl+S or PrtScr Key.
Volume control
You can easily control the volume levels by using the + key and – key. Pressing the + key will increase the volume, you will have to press multiple times to increase to a level that you need.
Read more: How to Set Up a Firestick with Kodi
Mute
You can mute the audio by just pressing the F8 key.
Toggle Subtitles: T
You can toggle the Subtitles between On and Off by pressing the T key on your keyboard.
Zoom video
You can zoom the video according to its resolution and set the one that has a better quality. You need to press the Z key to change the aspect ratio of the video.
Zoom Pictures
Zooming into pictures is quite straight forward. You just need to press the + key and – key to zoom in or out while previewing an image. You can also zoom pictures according to the levels in the range of 1 to 9. You can press the number keys in order to zoom the picture accordingly.
Read more: How to Set Up Kodi on Windows
Fullscreen Toggle
If you want to watch a movie in a fullscreen or if you want to watch a tutorial and work side by side, you can press \ key to toggle in between Fullscreen mode and Windowed mode.
Power off
Pressing the S key will show you the shutdown menu to choose to power off or put Kodi onto the hibernation state.
Adjusting Audio Playback
Sometimes the audio playback might be faster than the video or slower than the video. You can adjust the playback speed by pressing the right and left arrow keys and the alt key.
Read more: How to Setup Parental Controls on Roku TV
Quit Kodi [Mac]
If you are using a Mac, and you want to quit from Mac immediately, you can press CMD+Q.
Minimize [Mac]
You can minimize the Kodi into your Dock simply by clicking CMD+M.
Conclusion
There can be more Kodi Keyboard shortcuts. But I have listed the most common and used shortcuts for Kodi. Users can use them on their Windows PC/Laptop. Do share any shortcuts in a comment if i have missed them on the list. I will also try my best to update this list of Kodi shortcuts when more are provided in the future.
Was this article helpful?