You can permanently turn off Steam achievement notifications. No popup or any other type of notification will be shown to you when you open the steam account. All notifications will be stopped on your Windows and Mac.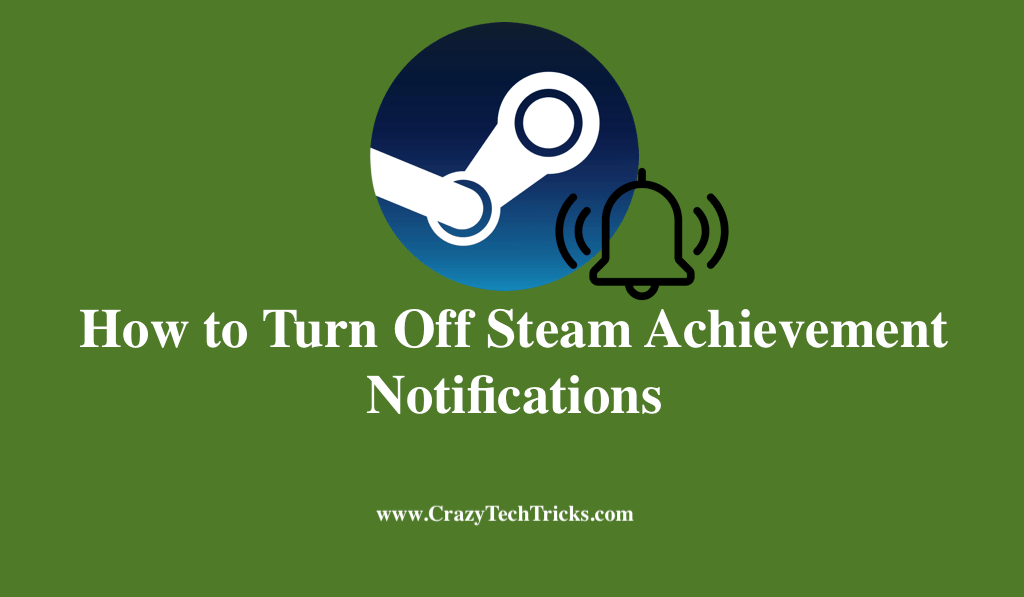 Steam Overlay is an interface that allows you to go to the steam community. You could find steam achievements notifications, chat messages, pop-up messages that keep you informed regarding your friend's online status and the game currently playing. You can also see the time, the duration of the current playing session, and other stuff related to it.
Read more: How to Disable Steam Popup Ads Immediately
You can directly head to the steam community while in the game using the keyboard shortcut Shift + Tab. Here, we are going to discuss the ways to turn off steam achievement notifications.
How to Turn off Steam Achievement Notifications
Many users found the Steam achievement notifications offered in the steam community pretty helpful. However, the drawback which it beholds is that it slows down the system. It grasps a chunk of memory and processing power to run. That's why users prefer to disable this to enhance the performance of the platform.
Throughout Steam
Individual Game basis
To turn off the Steam achievement notifications, you can do it either throughout the steam or on a game basis individually.
Read more: How to Refund Games on Steam
Method 1: Throughout Steam
To turn off this in all the games i.e. throughout Steam, you are required to disable the Steam Overlay in all Steam apps option.
To do so, open Steam, which is located at the top menu.
Click on Settings and switch to the "In-Game" tab.
Mark the tick box next to Disable Steam Overlay in all Steam apps.
Read more: How to Delete a PayPal Account Permanently
Method 2: Individual Game basis
You can turn off the Steam achievement notifications on a game basis individually by removing the Steam overlay of the game you wish to turn off its notifications.
To perform this method, you need to right-click on the required game from your Steam Library. A pop-up menu appears.
In the pop-up menu, select Properties, which is on the last of that list. Now, the Game Properties screen will appear.
In the General tab, disable the Steam Overlay for that particular game.
Read more: How to Make Campfire in Minecraft
How to Customize Steam Notifications
Many users prefer to customize their Steam notifications according to their preferences so that they can get notified only about the things in which they are interested.
Go to Steam.
Click on Settings.
Switch to the Friends tab.
Select Notifications & Sound Settings.
Change the Settings as per your choice.
Mark the notifications you want to get in Steam.
Hit Save and continue to your game.
Read more: How to Make a Door in Minecraft
How to Modify the Steam Notifications for Group
You can even modify the Steam notifications for Group as well. You will be provided with two options – one for Friends and the other for Group Events/Announcements. You are required to uncheck the Display a Notification and Play a Sound for the option you want. If you uncheck for both the options, then the Steam notification will get turn off completely.
Read more: How to Disable Steam Popup Ads Immediately
How to Add Apps as the "non-Steam game" to the Library
Though you could find any Steam app in your Library, if you wish to add apps as Non-Steam games to the Library, say Notepad, we will guide you for it as well.
Open Steam, which is located at the top menu.
Switch to the Games tab.
Select the "Add a Non-Steam Game to my Library" option.
Select the particular app and add it.
Read more: How to Refund Games on Steam
Conclusion
It feels pretty irritating when notifications get pop-up, especially when you are not interested to head into them. As we care for you and your peace, so we have highlighted the easy and convenient methods to turn off Steam Achievement notifications. We have also talked about the steps to customize the Steam notifications in simple ways. This reference will surely help you and all those who are in search of it.
Was this article helpful?