You can refresh page on Mac by following this command. Users can refresh their desktop or online webpage. You can refresh Google Chrome or Safari.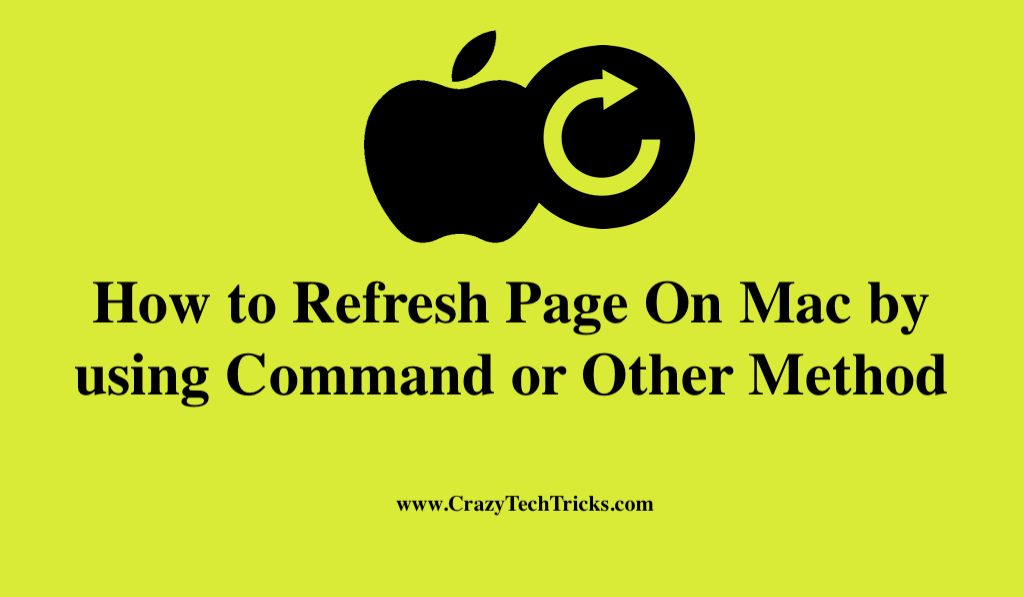 It is highly recommended to perform a refresh on a website if a website is not responding properly or the content within the page is not updating to reflect changes you have made. A refresh can be separated into two types: one that simply reloads the website, and another known as a hard refresh, which completely changes the page. In order to clear the browser's cache, you must perform a hard refresh or reload on the browser. Therefore, the webserver must download fresh content for the browser.
Read more: How to Remove Broken Registry Items on Windows
When it comes to refreshing apps like the App Store, Mail, and Messages, it's the same as refreshing a web browser, but there are times when it's necessary to do it. However, In this blog, you will get all the information related to how to refresh page on mac.
How to Refresh Page On Mac
There is nothing more frustrating than being forced to wait when a website fails to load or update data. In particular, this applies when you are pressed for time and need to complete your assignment as quickly as possible. Moreover, while pressing F5 is a common shortcut on Windows for refreshing a web browser, website, or webpage, this shortcut has an entirely different effect on a Mac.
Read more: Save a Picture as a PDF on Mac
Refresh page on Mac can be accomplished more quickly by pressing Command+R (or cmd+r) instead of F5. The vast majority of Mac web browsers work similarly.
Also, Web pages that don't display correctly or exhibit out-of-date content may require more than a simple refresh. It is recommended that you do a hard refresh in this situation because doing so forces the web browser to delete its local copy of the page (cache) and download the most recent version from the site server.
Read more: How to Create a Zip File on Mac
To perform a hard refresh, you need to use the key combination Command+R, but whether you use Chrome, Firefox, or another browser will depend on the combination.
How to Refresh Page on Mac Google Chrome
Any open tabs associated with Chrome are intended to be deleted instantly when the browser consumes a large amount of RAM. In order to save system resources and relieve the strain on your browser, this is an automatic procedure. Moreover, there are two ways by which you can perform refresh page on Mac. Additionally, here are the methods to perform a refresh on Google Chrome.
In order to reload, press Shift + Reload.
Press Command + Shift+R at the same time.
Read more: How to Make a Folder on Mac Without Right Click
Refresh Page on Safari
Using Safari, you can perform a hard reload by deleting the website's files and cache and reloading it from scratch. By doing this, the uploaded files are deleted from your computer's hard drive and updated ones are downloaded. Moreover, The following are the two steps to perform a Safari refresh or reload a page. These are;
For accessing the menu, use the curved arrow on the right side of the address bar.
Hold down the Command-R key on your keyboard.
Also, for the hard refresh, Command-Option-R is the command to use.
Read more: How to Disable Ads on YouTube Safari
Conclusion
It is most often not true that F5 refreshes web pages on a Mac. Instead, it lowers the brightness of your keyboard. In addition, when a page is refreshed in the browser, internet explorer contacts the server to request a new copy of the page and its constituent elements (such as images).
If the page was accessed with a Request message, the browser will Submit the material once more. That's the reason, anyone shouldn't refresh pages continuously and also some cons which should be taken care of. Moreover, I conclude my blog on the How to refresh page on Mac.
Was this article helpful?