You can turn on predictive text on iPhone by following this method. You can even change the predictive word or delete any predictive word from your iPhone.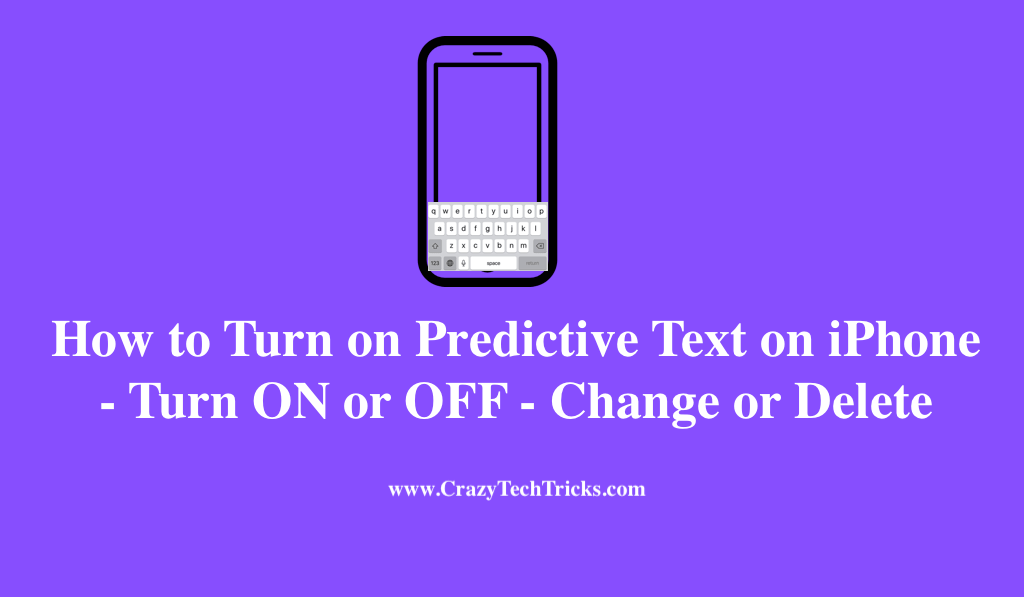 Suppose you are in a meeting and your wife or girlfriend texted you something important at that time. So, in that case, you will get irritated to reply to her text by typing sentences repeatedly. So, in order to assist you at that time, this predictive feature has been established for iPhone users.
Read more: Is iPhone 13 Waterproof 
This predictive feature assists you by predicting words as you type and automatically adding them. This will save your time and increase efficiency. So, it will automatically indicate what you are going to type and all you need to do is tap on that. Now, if you aren't sure how to turn on the predictive text on your iPhone, don't worry about it because I will walk you through the process in this blog post.
Read more: How to Set up Emergency Bypass on iPhone
How to Turn on Predictive Text on iPhone
If you are in the middle of an argument on the chat or text then turning on this predictive text iPhone will help you speed up your texting by automatically predicting other words.
For example, suppose if you are typing "what's wrong with" then this feature will automatically suggest "you". In addition, it will also pick words and phrases that are likely to be appropriate for your statement, based on your past conversations.
Now, if you have not turned on predictive text iPhone, then follow the steps below.
Open the setting option on your iPhone.
Go to the General option. 
Then go to Keyboard. There you will find the predictive option under all keyboards.
Click on the round icon to turn on the predictive feature. Upon clicking it will turn green.
Now your feature has been enabled and you can use this feature.
Read more: How to Remove Book from Kindle on iPhone
How to Turn Off Predictive Text on iPhone
This feature may be fun to certain people, while some of you will find it an annoyance. For that, you guys will think of turning it off to avoid such inconvenience. However, if you don't know how to do so, then you just follow the process given below.
You can achieve this by following the identical steps that were outlined in the previous turn on predictive text on iPhone.
Setting > General > Keyboard.
Now. click on the round icon to turn off the predictive feature.
How to Change the Predictive Text on iPhone
There will eventually be a point when you will want to replace the text when it is no longer required. Many of you might face issues regarding this, so you just have to follow the given steps if you want to change your given predictive text with the new one. Moreover, the steps to change the predictive text on iPhone are as follows:
Go to the setting icon on your iPhone.
Then go to general > keyboard and after that go to replacement. 
Add additional words and phrases from there. In addition to that, Predictive text functions can also be customized.
Read more: How to Stop Video Captions on Facebook on iPhone
How to Permanently Delete the Predictive Text History
Some of you may be wondering if it is possible to permanently remove the predictive text history and the answer is yes, you can do so. On an iOS device, clearing out the history of your predictive text is a process that can be accomplished with relatively little effort.
Additionally, it is essential to keep in mind that once the predictive history is removed, there is no way to get it back. This is something that should be kept in mind before deleting the past.
You just have to go to the setting> general.
Tap "Reset" which is located under the General heading.
Enter your password to reset the keyboard dictionary.
Now, confirm.
Conclusion
In Apple's predictive text box, you cannot remove a single word one at a time, As a result, you are forced either to ignore the suggestions, wait in the hope they'll disappear over time, disable predictive texting, or reset your keyboard dictionary. Therefore, with this hereby I conclude this blog on how to turn on predictive text on iPhone. If you still have any queries related to this, please feel free to ask in the comment section below.
Was this article helpful?