Hello friends, Today I will share ten best free password managers. You can store your Windows PC/Laptops, Android or even any file or document password. These managers are wonderful and keep your password most secure. Users can access their password from these managers using online or offline methods. It's almost impossible to hack these password managers.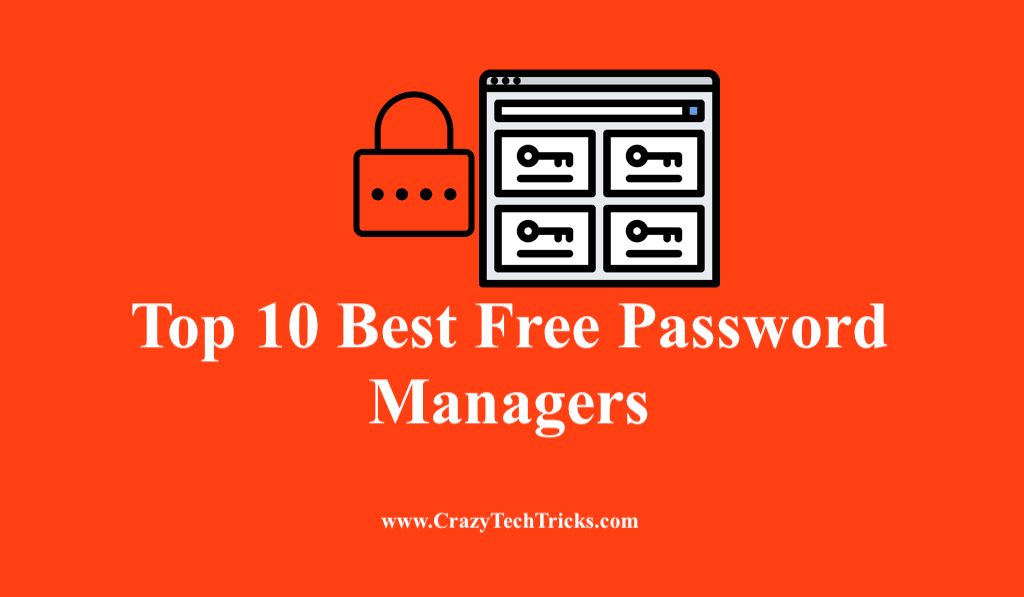 Types of Password Managers
You can get your passwords saved locally on the computer, or some managers save all your passwords on the cloud. Locally storing means, you can access your passwords only from a particular device where the passwords are stored and are prone to viruses. On the cloud, it is more useful as you can access it anywhere on whichever method you wish to access. On cloud provide more security and flexibility because of its distributed database nature and use one of the best encryption technology to protect your data.
Some are cross-platform based too that enable data access locally as well as over the Internet. There are also browser add-on password managers that automatically detect the site and find the matching password for that particular site. There are also USB devices that store passwords and make them accessible when you plug it to your PC but are not so secure as you might lose it. These physical devices are not free too. Users can find the best Free Password Managers and also some paid.
Top 10 Best Free Password Managers for 2019
Are you facing problems remembering passwords for various sites? Nearly, everyone has an average of 25 or more accounts on numerous websites. Are you using the same password for all websites? This might not be a good idea and is quite an insecure way. You can also remove password from PDF.
Even if one password is out, this might prove to be risky to keep your private information safe and secure. Well, there is something called the password managers that might be helpful in keeping your passwords secure. Your email, social media accounts, internet banking accounts, online shopping need to be thoroughly password protected. Well, Password Manager Softwares make life easy, and you can log in to any website carefree without much strain. But it would be advisable if you use these Password Managers only for the sites you think are not that crucial. Sites like online banking shouldn't use these tools because like there might be a loophole that may cost you a lot. Also, read our guide on how to password protect a folder in Windows 10.
These free Password Manager stores your credentials in an encrypted format that makes it almost impossible for the hackers to break it. You get a password vault that keeps the passwords for all the websites you have registered to. Password managers can also generate a strong password if you run out of passwords. It requires a master password for you to access all the other passwords. But how much difficult it is to memorize just one when you have been memorizing dozens of passwords earlier. I am listing some best free Password Managers to make your 2019 stress-free and help save your brain space. 
10 Best Free Password Managers
You can check the complete list of these best free password managers. We have analyzed every password manager in brief detail.
DashLane

Roboform
LastPass
Sticky Password
KeyPass
1Password
Zoho Vault
Google Smart Lock
RememBear
KeePassX
Do read every best free password managers detail and select the best option.
Read more: How to Recover Instagram Forgot Password
---
DashLane
DashLane is available on Windows, Linux, iOS, Android, and MacOS. It provides the amenity of storing unlimited passwords on whichever device you choose to. Strong passwords are generated spontaneously where they seem fit. It comes with a feature of securely sharing of files and a dashboard to check your online security status. There is a presence of emergency contact feature that grants access to the chosen trusted third person in case you cannot access your account. It monitors dark web regularly and will send notification if your data is being breached. DashLane Business offers a one-month free trial for using premium features that start with $3.33 per month after the trial period is over.
---
Roboform
Roboform for businesses is blessed with marvelous user interface making it favorite for most of the non-technical users. It supports Windows, Linux, iOS, Android, and MacOS. You can have unlimited admins to monitor information for one account. Admins can set password policies for the entire company or particular users. It ensures one-click login regardless of the website you are browsing. Automatically captures passwords from your browsing and allows access from multiple devices. Special features include folders for managing passwords, offline access to all passwords, and a quick search for searching passwords. There is also provision for sharing login credentials safely. This might come handy in the industry and for teams.
Read more: How to Password Protect Folder
---
LastPass
This is a top-notch password manager app for Windows. Its business plans are quite affordable. LastPass is a cross-platform based app meaning you get to store locally as well as on cloud. 50 users get one LastPass Team for helper services. You can also import data from other browsers on your computer in case you use different browsers like Chrome, Firefox or Internet Explorer. It is free and has been there for a decade now. The past customers for this app were NPR, TechCrunch and The New York Times. You can also save it on your phones and smartwatches. It also saves autofill information for frequently visited sites. The business package costs $2 for up to 6 users and provides 1GB of file storage and auto-fill desktop forms.
Special features are two-factor authentication, automatic password capture, auto form filling and secure notes for storing card number, social security numbers, etc.
Know more: How to Bypass Xfinity Username And Password Hack
---
Sticky Password
Sticky Password is available for Windows, MacOS, and also for iOS and Android. Almost 16 browsers support it. Special features include autofill, password management, two-factor authentication, and biometric verification. A secure vault for storing credit card information that enables checkouts in just one click. In the paid version of Sticky Password, features like cloud backup, cross-device sync, etc. are included. There is a facility to sync data over the WiFi if the user doesn't want it to happen over the cloud. It has an excellent password generator tool.
---
KeyPass  
KeyPass is available for Windows, Linux, and Mac altogether. You have to download the setup and install it on your computer. It gives access to plugins, extensions on your browser with added functionality. You have the facility to create backups for your password database with use of the plugins. There is a way to integrate this app with your preferred browser. It's free and open source. Storage facility to store username and password locally in an encrypted file.
Special features are a combination of key file and master password, option for grouping passwords, and plugins to extend password functionality.
---
1Password
1Password is the best for storing passwords for your Mac. It is a commercial tool and may prove to be amazing if used for businesses. There is an option for a free 30-day trial. 1Password, as the name suggests, makes you remember a master password for accessing the rest of the passwords. By using strong encryption, it safeguards your private data. Additionally, you can also access this data on your phones or any other devices using finger unlock or PIN protection. The software is integrated with web browsers like Chrome, Firefox, Safari, etc. This makes it available for capturing data you will be filling on various websites and store it different folders of information. 
---
Zoho Vault
Zoho Vault is less expensive than Roboform and costs just $1 per month for a single user. It has provision for best security for businesses. Zoho Vault has substantial user permission controls that makes it easy to control the employees. There is a hierarchy based system; you can assign owners and give customized roles for data access. Master Password is not saved with the host. The encrypted information is stored on Zoho servers but not even accessible to them without the decryption key which is with the account holder. You can integrate it with other Zoho services too. There is just one drawback that it might seem to be hard to use.
---
Google Smart Lock
Google Smart Lock does an astoundingly good job at managing passwords. It comes native with Chrome, Chrome OS and works fine on Android. You might be unknowingly using this whenever you browse on Chrome. Whenever you enter any password details, Chrome asks to remember the password for that particular site. Google automatically puts in more information if you chose to remember the password for that site. You don't have to remember every while you browse through different websites. Google Smart Lock supports usernames, credit card information, and is entirely free. It remains locked in the device is away from you, thus securing your data if somebody tries to use it. Users can also secure Google Chrome browser with password.
---
RememBear
RememBear was developed by developers of TunnelBear VPN. Though being an app, it stores the data of the websites you've browsed through. It captures the passwords and stores the credentials in an encrypted format, even credit card information. RememBear comes with a notepad function. The premium provides cross-device syncing, data backups, and priority support. RememBear is quite new in the market and may be in a beta phase with some occasional bugs in it. 
---
KeePassX
It is open source and free. KeePassX is an application which stores encrypted passwords like stored in a database. This database can be unlocked using a key file or a master key. Due to its portability, it can be carried on USB and runs on Windows without installation. Passwords can be sorted according to the groups. A feature called hotkey is present that looks up the entry and auto-fills the data. KeePass supports multiple languages. It has a password generator. Provision to add third party tools and plugins. KeePassX was formerly used on Windows and now has emerged as a multi-platform app.
---
Conclusion on 
Best Free Password Managers for 2019
So, these are some well-known best free Password Managers found on the Internet. These might look protective, but every software has its drawbacks. It will be wise if you use these password managers with caution. In case you are migrating from one manager to another, don't forget to delete data on the previous one. It will be much safer if you go along with just one password manager that provides the best security services.
Was this article helpful?