You can stop video captions on Facebook app or online using Chrome. I have shared two methods to permanently or temporarily switch off video captions.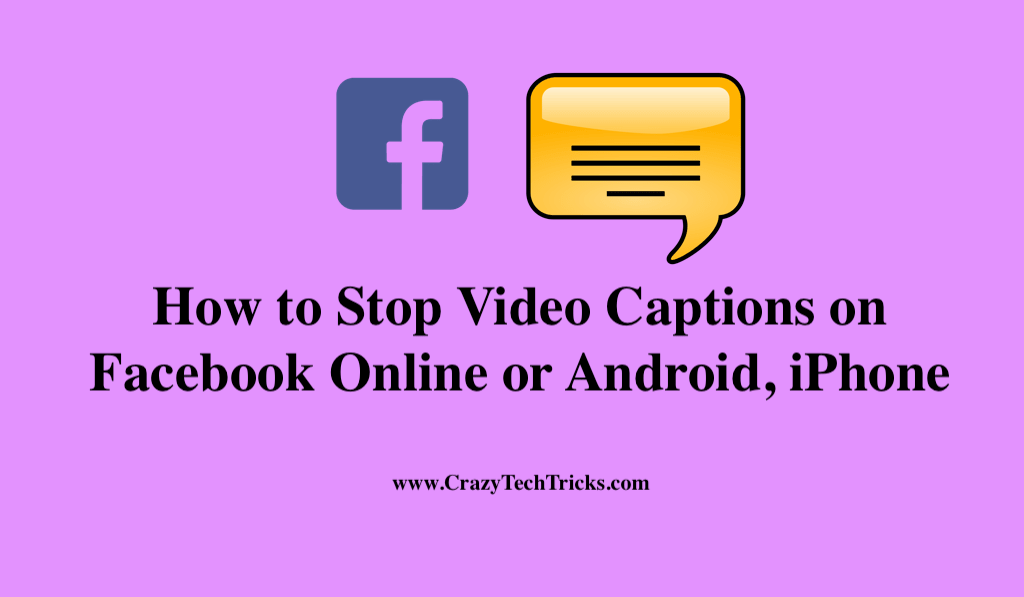 Facebook has developed a new tool that allows users to translate publications into their preferred language or start subtitles for videos.
Every Facebook caption turns on into a live video by default. Although many people use this option, some people claim that subtitles in apparently engaging videos are irritating. As a result, closed subtitles appear alongside videos with muted audio. Those who unmute the video will be able to see the captions again. You'll probably think about putting it off permanently in such a scenario.
Read more: How to Find out who Made a Fake Facebook Account
How to Stop Video Captions on Facebook
If you don't want to see live subtitles and want to stop video captions on Facebook, you can permanently disable the feature so that it no longer bothers you. Furthermore, turning off subtitles on Facebook videos is simple and can be done whenever and anytime you choose.
Read more: How to Turn Off Active Status on Facebook on Android
Method 1. For computer
First, open your favourite web browser on your computer and then browse Facebook. Simply log in to your Facebook account if you already have one. Now, following this blog will help you to disable the subtitling on your desktop.
Click the setting & privacy symbol in the left sidebar of the page to adjust your privacy settings on Facebook.
Select "Setting" from the drop-down menu.
Choose Videos from the left-hand menu.
Select "Always show captions" from the drop-down menu next to Off account.
Choose off to disable captions for Facebook videos.
Read more: What Does ISO Mean On Facebook
Method 2. iPhone Users
You can disable captioning for Facebook videos from the Settings app on an iPhone or iPad. You should be aware that the change will affect Facebook and other apps on your phone that display captions, so take the time to familiarize yourself with it before making the switch.
Navigate to the home screen of your device.
Select iPhone settings from the drop-down menu.
Select Subtitles and Captioning from the accessibility menu.
Tap Closed Captions + SDH if closed captions are available for a video.
Read more: How to Reduce Facebook Data Usage on iPhone
Disabling Facebook Auto-Captions Live producers switch studio
Using the Facebook page settings, you can turn off Auto-Captions to stop video captions on Facebook for that particular post. Since Facebook controls this feature internally, it cannot be modified through the Switcher Studio app.
Go to the Live producer on Facebook.com page.
Choose "Share to a Page You Manage" from the drop-down menu, then select your Facebook page for caption management.
Click Settings from near the bottom of your dashboard.
Select the arrow beside Viewing.
Disable the "Automatically produce captions" box.
Unchecking the box for automatic captions on your Page will disable captions for Facebook Live videos.
It is currently impossible to stop the studio switch automatic Facebook caption generation. To accomplish this, you must use the live producer. As a result, you cannot disable Facebook automated closed captioning software if you do not have access to the Facebook live producer tool.
Read more: How to Hide Your Facebook Page Temporarily on iPhone
Conclusion
Furthermore, Android lets you hide or turn off subtitles, change their size, blur the background, and change their colour.  If, however, you enjoy the use of subtitles with backgrounds but find that the colours are too bold or consume too much space, you can adjust the opacity.
In order to modify the background settings so that subtitles are fully visible, slightly softer, or fully transparent, you will need to make the background settings more translucent or opaque.
Was this article helpful?