You can quickly recover deleted notifications from your Android phone. Restore the notifications which you have accidentally deleted with a trick. Recover notification from any application. I will tell you two easy methods to recover removed notifications on your smartphone. Don't miss your essential notifications on Android Phone. You can cover and read all your removed notification.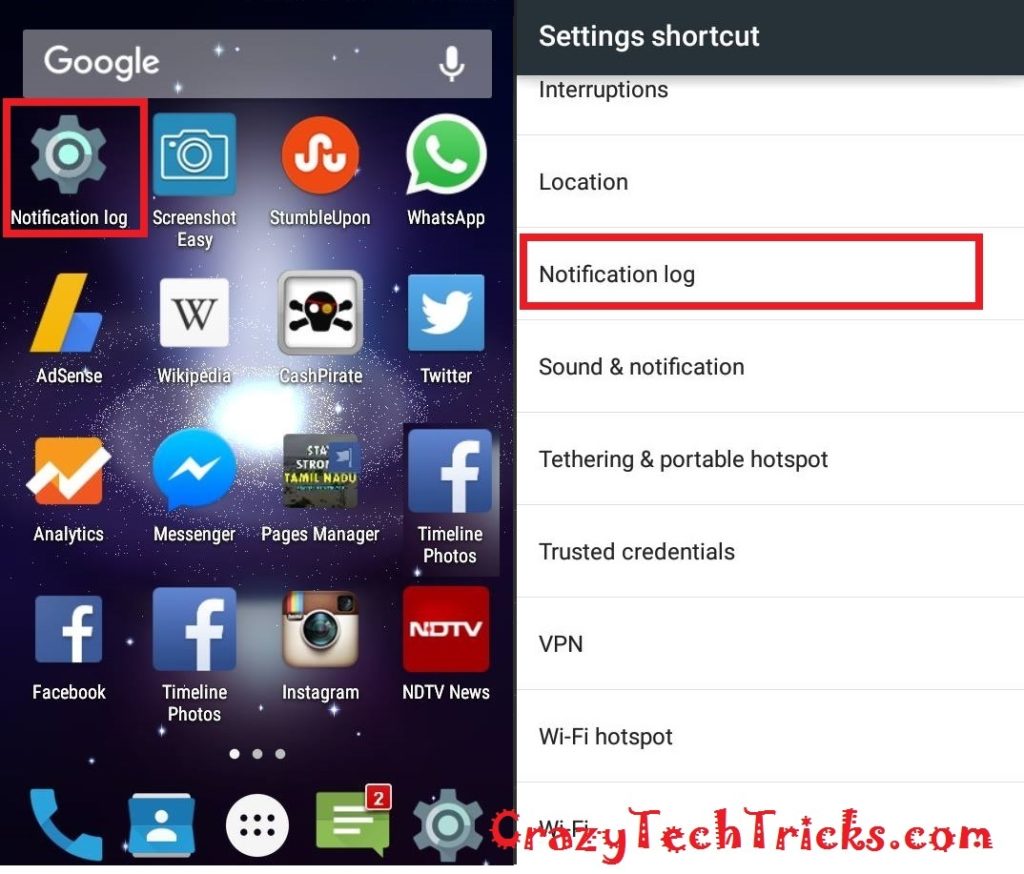 Every day we get lots of notifications on our and phone, and we don't care. But, after removing the notifications. We keep on thinking that maybe there was a notification which was very important. Now, we keep on opening the apps on our Android phone to find that notification back. But, unfortunately, we don't get notifications from our mobile phone.
Read more: How to find Free WiFi Hotspots Anywhere [Download Apps]
How to Recover Deleted Notifications on your Android Phone
Well, if you have accidentally deleted any of the notification from your Android phone. Then, don't worry because there is a way to recover removed notifications on Android Phone.
Tap on your Home Screen till it shows your notifications.
Now, just remove the notification by swiping them.
After removing all notifications, you will get Setting Shortcut widget.
Now, Tap on the widget and drop to your desired home screen.
Now, you will see notification log on your phone.
Just tap on it, and you will get all the notifications.
Read more: How to Turn Off Sound Notifications from Facebook on PC and Mac
Recover Deleted Notifications on Android Phone from Widgets
There are few Android phones which have a different layout.
Just tap on Home Screen or enter widgets directly.
Now, it will show you options Wallpapers, Widgets, and Settings.
Now, just tap on the Widgets.
You will find setting shortcut widget there.
Long tap on it and save on your home screen.
Then, follow the same procedure which you did above.
Well, you will get a complete list of notifications. It will show every notification of every app. It is the best way to restore/recover notifications from your Android phone and don't forget to share this article.
Trending: How to Install Android 6.0 Marshmallow on your mobile phone
---
Conclusion
It is the best method to recover deleted notifications from Android Phone. You can recover all your deleted notification by visiting the setting tab of your Android. Do share this article with your friends and help them to recover their deleted notifications on Android.
Was this article helpful?