It happens with us many times that we listen to some music accidentally. Later on, we want to get that song on our phone so that we can listen to the song again. But, the problem occurs, when we only remember a few words of the song in our mind and can't able to find it on the internet. However, I have already posted an article to find a song by humming using five different ways. But, for that, there are two most popular music identifier services available that are Shazam and SoundHound. You can search for a song using beats, words, lines, whatever you have in your mind. Not even that, you can listen and download to any music from there. Hold on! Now the question that arises here is that which one is best for me? Shazam or SoundHound? We are going to find out the same right here.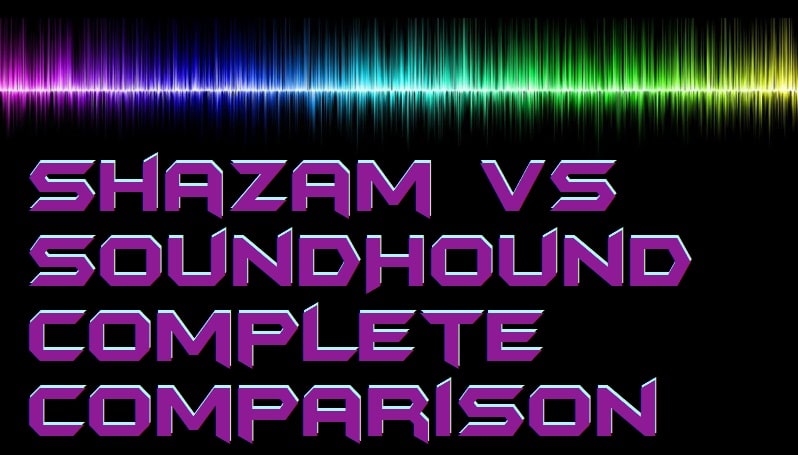 Shazam vs SoundHound – Complete Comparison
We will be comparing Shazam vs SoundHound on some significant points. The topics will be accuracy, efficiency, tag history, tag limits, advertising, and more. I am sure that these points will help you in choosing the best audio identifier service between Shazam and SoundHound. Alright, this much is enough for now. Let's move on to further details regarding the article.
Shazam vs SoundHound – Accuracy & Efficiency
Shazam is sensitive than SoundHound. There was a song in my mind which I heard it from someone's phone. But, I was not having the name of the song, artist, etc. I was just able to sing a few words of that song. I opened Shazam and sung that song with some gibberish. Shazam shows me a message saying "We didn't get that; try again." At that moment I planned to use SoundHound. I opened SoundHund and does the same thing on that. Guess what happened guys! It shows me three results in which two of them were that exact song. You can say that Shazam it has trouble in noisier environments. Where the SoundHound can do it very quickly. So, of course, I will say that the efficiency and accuracy of SoundHound are much better than Shazam.
Shazam vs SoundHound – Advertising & Tag Limits
If we talk about the advertising in between Shazam vs SoundHound. Then, let me tell you that Shazam is ads free where SoundHound is not. But, Shazam has its ads free version only on its iPad version. Where the SoundHound has its free version which makes it the winner of the long route. And, if we talk about the tag limit, then Shazam has the tag limit of only five songs per month to a user. Where Shazam had set it to unlimited in the free and paid version.
Shazam vs SoundHound – Tag Results
The Shazam displays the song title and artist, album cover, tag date, and genre. And, at a separate page, it shows the artist's bio as well. Anyone can download the song using iTunes, can look up for similar tracks, share the song using Facebook, Twitter or Email. SoundHound displays the song title and artist, album cover and album release date. SoundHound provided more options as compared to Shazam. You can get artist's entire discography, look up other songs on the album, look up for similar artists, you can share a song on Facebook or Twitter, and via email and SMS. Overall the SoundHound is the winner.
Shazam vs SoundHound – Tag History
Shazam and SoundHound both has the feature is tag history by which you can find out the tagging history very clearly. Shazam will show you the tagging history at the left side on the sidebar. In SoundHound, you can check the history from the left side of the sidebar. SoundHound also allows you to bookmark tagged history. SoundHound is the winner in this matter.
Shazam vs SoundHound – Who is the Winner?
As we have seen earlier in various points which we have covered in the article. Shazam is a trendy name if someone talks about to find a particular song by some beats, lyrics, etc. But, trust me guys the best one is SoundHound. Yeah, guys, the SoundHund efficiency and accuracy are very much better than Shazam. SoundHound can find out your some even you are in a noisy environment where the Shazam cannot do so.
Conclusion
We discovered the differences and comparison between Shazam and SoundHound. There is some more topic which can be considered as the comparing point. But, these points are the major points which can easily tell you about the pros and cons of both Shazam and SoundHound. Also, discover some free apps to listen to music without wifi. I hope now you have successfully got the idea regarding the same. Share it as much as you can so that others can also get their wished song by beats, lyrics, or maybe anything else.
Was this article helpful?