Due to recent events, the cisco certification program has dramatically changed. The company has made these changes so that it will be possible to keep up with the ever-evolving IT world. These changes took effect on Feb 24, 2020.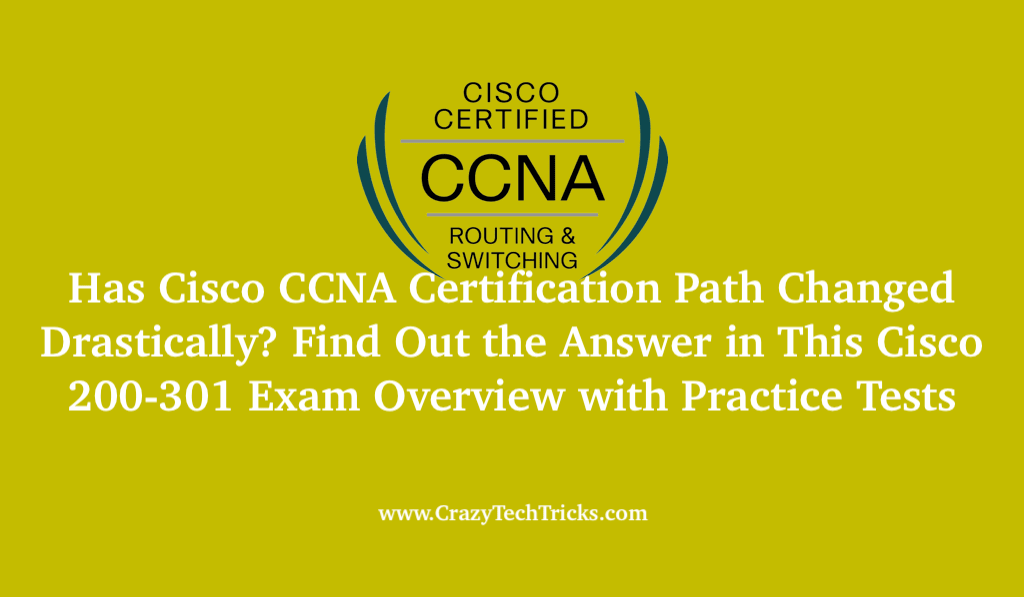 Unlike in the past, Cisco no longer offers several different exams for the CCNA certification path. Actually, there is currently just a single test, which is very comprehensive and available to the candidates from February 24, 2020. This new exam is 200-301 CCNA. It covers a wide range of fundamentals-based mainly on the latest job roles, software development skills, and technologies. What else can we say about this certification test? Let's continue to find out.
Introduction to the new Cisco 200-301 exam
PrepAway Cisco Certification Exam Questions, A+ 220-1001, 220-1002, TOGAF Salesforce Practice Test Certifications covers a broad range of topics that are closely related to each other. It focuses majorly on routing and switching, wireless networking, security, and also some programming concepts. Talking about questions, we don't know their exact number, but you are required to provide answers to each of them within the time allocated (2 hours). Just like any other certification exam offered by Cisco, this one can be taken at any Pearson VUE testing centre.
Read more: Best Remote Conference Software
Since the changes have been made recently, it is important that the applicants get familiar with what is new in the exam, as well as what has been removed, replaced, and what has been added and modified. Otherwise, you can focus on the topics that are no longer included, and this may lead to your failure in passing Cert bolt Cisco 200-301.
The modules included in the new CCNA content are listed below. They are what you should focus on when studying for the test.
IP Connectivity – OSPFv2, IP routing;

Network Fundamentals – cabling, routers, switches, IPv6, IPv4, TCP, and UDP;

Automation and Programmability – SDN, REST APIs, Chef, Puppet, JSON;

Network Access – EtherChannel, VLANS, and trunking;

Security Fundamentals – port security, VPN, wireless security;

IP Services – QoS, DCHP, SNMP, NTP.
Read more: Best Video Sharing Sites
Some objectives have been removed from the CCNA curriculum and no longer exist in the new Cisco 200-301 test. Knowing these topic areas will help you avoid wasting time studying what is not important. It will also help you ensure that you are using only the updated study materials that do not include obsolete subjects. Here are the objectives that no longer exist in the Cisco 200-301 exam content:
LAN Switching – frame, switch stack, VTP;

Network Fundamentals – OSI model;

WAN – PPP, WAN access, GRE, BGP, PPPoE, MLPPP;

Routing – Inter-VLAN routing, OSPFv3, RIPv2, EIGRP.
According to the new CCNA certification requirements, there are no formal prerequisites for taking new Cisco 200-301. However, there are a few recommendations from Cisco. The company asks the candidates for this exam to have:
An understanding of all the topics that the test focuses on;

A good grasp of network fundamentals;

At least one year of experience with Cisco equipment and computer networking.
Since Cisco launched its new exam, the company has not yet published its price. However, according to the Cisco official document, there has been a significant reduction in the overall cost of obtaining a certificate.
Read more: Top 10 Best Tinder Alternatives – 2020
Recommended training for Cisco 200-301 exam
Just like the other certification tests offered by Cisco, new 200-301 CCNA is not easy to pass. It requires that you have a thorough understanding of all the topics in order to be able to answer the questions accordingly. The recommended training by Cisco is known as Implementing and Administering Cisco Solutions (CCNA). The examinees can take this course at the Cisco Academy. When you complete it successfully, you will be awarded a training badge to show that you have gone through a vigorous training process and you are now well equipped to undertake all the technical tasks evaluated in the new Cisco exam.
Other preparation resources for Cisco 200-301 exam
Considering the difficulty level of Cisco 200-301, the students should be very serious about their preparation process. Besides taking the Implementing and Administering Cisco Solutions (CCNA) course, they should also complement this action by using several other study materials.
Given that Cisco has recently restructured its exams and credentials, there is no doubt that most resources available online still contain information and topics of the old version that is no longer relevant. To ensure that you are using the latest materials that are comprehensive, verified, and compiled by the IT experts who have also passed their Cisco 200-301, you should stick to getting such prep tools from credible sources. One of these platforms is PrepAway. On this website, you can always find updated resources that will help you clear your test at your first attempt. It includes the premium bundle with guides, braindumps, and video courses, as well as free materials and an exam simulator.
Be sure to take practice tests for Cisco 200-301 CCNA during your preparation. They will help you get familiar with what the real exam looks like and what is expected of you. It is a good opportunity to feel the vibe of the real test, try to answer within the limited time, and identify your weak spots and the current level of your skills. This type of preparation is the best addition to other ways of learning.
Conclusion
It is a common practice for Cisco to make changes and adjustments to its certification program. The company does it in order to ensure that its certified specialists are well equipped with role-based skills and knowledge that help enhance their careers in all aspects. They include getting a better job position, gaining more advanced skills, getting higher salaries, and more. This and much more is what new Cisco 200-301 intends to help you achieve.
Was this article helpful?