Hello friends, Today I will share a complete list of Google Home commands. You can use these commands. These commands are related to Health, Fitness, Music, News, Shopping, gaming and much more. I have shared detailed command for every broad command. You can give these commands to Google Home to get information about these followings. All these commands are working.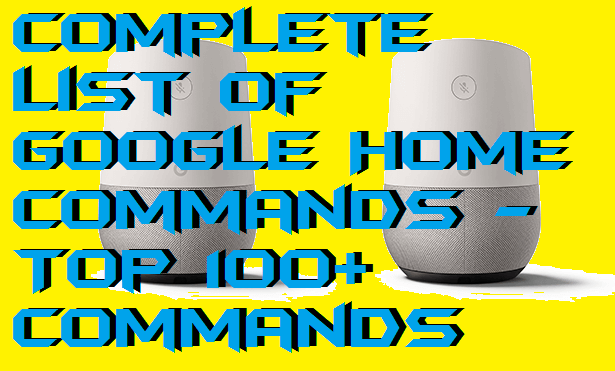 Complete List of Google Home Commands
Did you purchased Google Home for your home today and want to get the list of Google Home commands? Well, yes you will get the list of Google Home commands here. It is a good choice to buy Google Home for your home sweet home yo know, nice. In this section, I have made the list of Google Home commands which you must know if you have the Google Home device. However, you may also check the list of Google Home commands if you are not having Google Home and your relatives are having it. So, you can use it whenever you go to their home using the commands. Have a look on the list of Google Home commands which is given just below.
---
Health and Fitness Commands
If you want some command for health and fitness regarding then here, it is. If you need beauty tips, a virtual workout partner, medical advice, etc. then you can use these Google Home Commands. Go through the health and fitness commands now.
Talk to Virtual Nurse
I want to talk to WebMD
Talk to Fitness Tips
Talk to Beauty Companion
Talk to Nike Coach
Ask Relax Guru to help me relax
Talk to Life Meter
Ask Fitbit Coach for exercises
Talk to Calorie Tracker
Talk to Breathing Exercises
Read more: How to Delete Voice Recordings from Google Home – 100% Working
---
Music and Podcast Commands
Searching for some Google Home command related to Music and Podcats? Well, here it is. You can use these command to use Google Home regarding Music and Podcats. Listen to your fav music using Google Home command right now.
Play some music
What song is this?
Play [station name] on Pandora
Play [artist, song or genre] on Spotify
Play YouTube Music
Play [podcast name] podcast
Play [station name] on iHeart Radio
Play [station name] on TuneIn
Ask Song Explorer
Start Mix Lab
Read more: Amazon Echo vs Google Home – Which one is better?
---
New & Weather Commands

Every Google Home user should know Google Home command related to News and Weather. Who know somehow we need it. So, must check it and get the weather report by Google Home using the command.
Tell me the news
Talk to CNBC about the markets
Talk to Twitter Trends
Let me talk to Feed Cruncher
What's the weather?
Play the news from BBC News Summary
Talk to World Air Quality Index
Ask AccuWeather for the forecast
Talk to News Guy
Talk to Ambient Weather
Read more: Google DNS vs OpenDNS vs Comodo DNS vs Norton DNS – Which is Best DNS Servers?
---
Shopping Commands

We all love to shop for products online. Peoples who are having Google Home in their home can use these home commands to take help of it while shopping.
What can I buy?
Talk to OurGroceries
Let me talk to eBay
What's the closest supermarket? ('supermarket' can be replaced with another type of store)
Talk to Out Of Milk
Talk to GoGear
Talk to Product Hunt
Add [item] to my Shopping List
Talk to Chefling
Buy [item name] from Walmart
Read more: How to Rename Apps on Android Home Screen Without Root – 100% Working
---
Gaming Commands
If your kids love gaming on the computer, then you must check these command and tell your kids as well. So, they can use these command to take help of Google Home when they need it.
Play a game with my family
Let's play SongPop
Play Animal Trivia
Let's play Movie Trivia
Play Freeze Dance
Play Musical Chairs
Play Tic-tac-toe
Talk to Rogue's Choice
Let's play Jungle Adventure
Mad Libs
Read more: How to Boost Mobile Phone Signal at Home or Office – Signals Booster for Cell Phone
---
Sports Commands
Love to watch cricket, football, and other sports. Ten, you must use chk out these Google Home sports command these will help you a lot. You can even check the score of your fav team using Google Home by its command which I have listed here.
Who won the [team name] game?
Who plays for the [team name]?
Talk to RotoWire
Tell me facts about sports
When do the [team name] play next?
Talk to Score Tracker
Ask PGA TOUR
Talk to Football World
Talk to Racing Results
Talk to Formula 1 Schedule
Read more: How to Fix Google Play store Error 403, 491, 492, 498, 905
---
Learning Commands
If you love to learn something whenever you are free. Then at that moment, you can take help of Google Home commands which is given below. Learn something new by starting from Google Home commands.
Talk to National Geographic Bee
Talk to busuu
Talk to Study.com
Talk to My Famous Heroes
Ask wikiHow
Launch This Day in History
How do you say [word or phrase] in [language]?
Talk to Farmer's Almanac
What's the definition of [word or term]?
How do you spell [word]?
Read more: Google Earth Pro Free Download Full Version for Windows 10, 8.1 and 8 – Updated 2018
---
Productivity Commands

In productivity other things like cooking, hairdressing, colouring, and other. These types of thing are carried by Productivity. These are some productivity commands of Google Home products which you can take help if you need it. So, scroll down to check the commands list.
Set an alarm
Talk to Tile
Talk to Wonder
What's my daily brief?
Talk to todoist
Set a reminder
Talk to passchain
Set a timer
Talk to Finance Guru
---
Travel Commands

If you have to travel a lot and having Google Home in your home. The, use these Google Home commands for travelling related purpose, it will help you a lot. You can even tell to Google Home to make a ticket for you or your family.
Ask how much longer
Directions to [destination address]
Call an Uber
Find a hotel
Talk to KAYAK
Speak to trivago
Talk to triple-a restaurants
What to visit in [city name]
Status of [flight name/number]
Rent a car
Read more: What is Amazon Alexa and How to Use Alexa Voice Service
---
Other Commands
These are some other Google Home commands which you must check and are not categorised. These commands are very funny and very interesting as well which you must try. So, what are you waiting for? Try these Google Home command right now and see the interesting part of it.
Talk to Mr. Grumbles
Play Magic 8 ball
Start Time Machine
Ask Compliment Me for a compliment
Talk to Sleep Sounds
Open What's new on Netflix
Ask Help Me Choose
Talk to Daily Motivation
Talk to Horoscope TV
Talk to What's My Excuse
Read more: How to Delete Alexa History All at Once – 100% Working
---
Last Words on 
Complete List of Google Home Commands – Top 100+ Commands
This is the list of Google Home commands which I have collected from various sources. These commands are divided into their categories so that it will be easy for you to identify the type of the command and where to use it. You can also bookmark this article, so if you need the commands, then you can access this article quickly. I think this article has told you all the commands regarding Google Home product as well you are using it to access Google Home. You can share this article with your colleagues who are having the Google Home product so that they can also use it as you and I are using it.
Trending: LCD VS LED Monitor – What is the Difference? Which is Better?
Was this article helpful?