Hello, Readers! Here, I will describe you how to make a 3G phone 4G. This trick will let you use Jio 4G sim on 3G Android. You can upgrade your 3G phone to 4G. Install the applications listed below and enjoy Reliance Jio 4G on 3 Smartphone.
Jio SIM activation
With the appearance of Reliance Jio in the market with Jio welcome offer, many telecom service providers have to either reduce their usage charges or launch new data connection with attractive features like BSNL and Vodafone etc. If you have an android phone and really want to enjoy facilities of Reliance Jio 4G SIM on your handset, then you are at the right place in search of it. One of the biggest telecom companies in India, Reliance has launched Jio 4G sim and millions of people have already passed through Jio SIM activation process. You can be one of the next by simply downloading My Jio app. Download My Jio app from play store and click to install. Once it gets installed, open it and you will see the Jio welcome offer written on the screen. Tap on it to get your barcode generated after you enter the necessary details asked.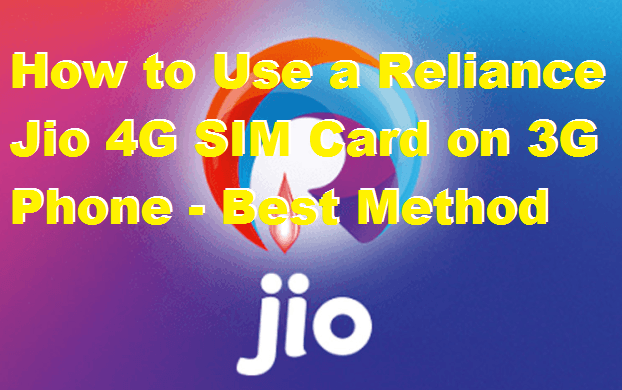 Reliance Jio 4G SIM
It is enabled with LTE technology which lets users call free anywhere in India. Also, it allows people to see Live TV, send free messages anywhere in India, free mobile data service etc. until 31st December'16. Talking are going on that Reliance may extend giving free services to next 3 months for android volte enabled devices; let's hope for the best.
Read more: How to Use WiFi and Data at the same time Android- WiFi with 3G/4G Simultaneously [DOWNLOAD]
How to make a 3G phone 4G – Upgrade 3G phone to 4G
Today in Google and social media, this is the trending topic that most of the people are searching. Use of Jio 4G sim in a 3G handset is a simple trick to know but it has to be 100% working. When you make the search, you will get numbers of tricks about Reliance Jio on 3G phone, but most of them are fake tricks or tricks those won't work. Try this awesome trick shared here and you can easily use Reliance Jio on 3G android phones. This trick works fine on any rooted or non-rooted android device. So, get a Jio 4G sim today from nearest Reliance Digital. For applying this shared trick, you need to find out the chipset of your android phone in the first place. Your device must be supporting Qualcomm Snapdragon or MediaTek chipset.
How to Use a Reliance Jio 4G SIM Card on 3G Phone – Best Method
Follow the below guideline bit by bit to find out what is your android device's chipset.
Downloading CPU-Z application from your play store should be your first priority. Install it on your device at first.
After installation, open CPU-Z on your device. The application will analyze your android device and provide you chipset information.
If your device runs with MediaTek chipsets, then use the 1st method mentioned here; and if it is running with Qualcomm chipset, then follow the 2nd method for using Reliance Jio on a 3G phone.
Read more: How to Increase Reliance Jio 4G Internet Speed – [100% Working] – Top 3 Methods
Reliance Jio on 3G phone
The trick for MediaTek Chipsets enabled the 3G handset to use Jio 4G sim. This trick works well and good on Android 4.4 Kit-Kat Version with MediaTek Chipset.
 Download MTK Engineering Mode and Xorware 2G/3G/4G Switcher  app at first.
Install it on your 3G phone and open it.
Dial your engineering mod code after opening the app. Open the engineering code to find the exact code for your android device based on the model.
The application allows users to run the latest setup from engineering mode menu. The code you will find here is different for all handsets.
After the service mode gets open you can configure network type and select the preferred one.
In network mode, you have to tap on 45 LTE/WCDMA/GSM option to use Reliance Jio 4G SIM.
After all, set, restart your device and you can now use Jio on your 3G phone.
Jio 4G sim
Trick for Qualcomm Snapdragon chipsets enabled 3G handset to use Reliance Jio on 3G android phones
Download Shortcut master android app at first.
Install it on your device and open the application.
Select the service menu or engineering mode directly from the main menu.
Search for system app option here. If it is available not here, dial *#2263# from the dial pad.
Now, go to key input section and write 0000. Press enter and wait till the process completes.
Next, tap on the system app option. You have to change the LTE bands right here.
Go to select-protocol-NAS-Network Control-Band Selection-LTE band.
Here, you have to choose LTE band 40. After the band set to 40, you can restart the device and enjoy facilities of Jio welcome offer.
Note: Download and Install Jio 4GVoice on your Android phone to make phone calls.
Read more: Top 10 Best Android Apps to Make Free Calls – National or International Free Mobile Calling
Last words
So, readers, this is the working trick that you can give it a shot with for using Reliance Jio on 3G android phones. The awesomeness of this trick is that you can use it for all types of 3G phone. If you have anything to ask about this post or want to ask questions, simply put your comments below. I'll try my best to help you all. Thanks for stopping by and keep visiting to know more new tricks like this.
Was this article helpful?