I will share complete details on how to conduct a website audit. I have shared 6 ways to conduct a site audit. By following these methods, your site will get more visitors.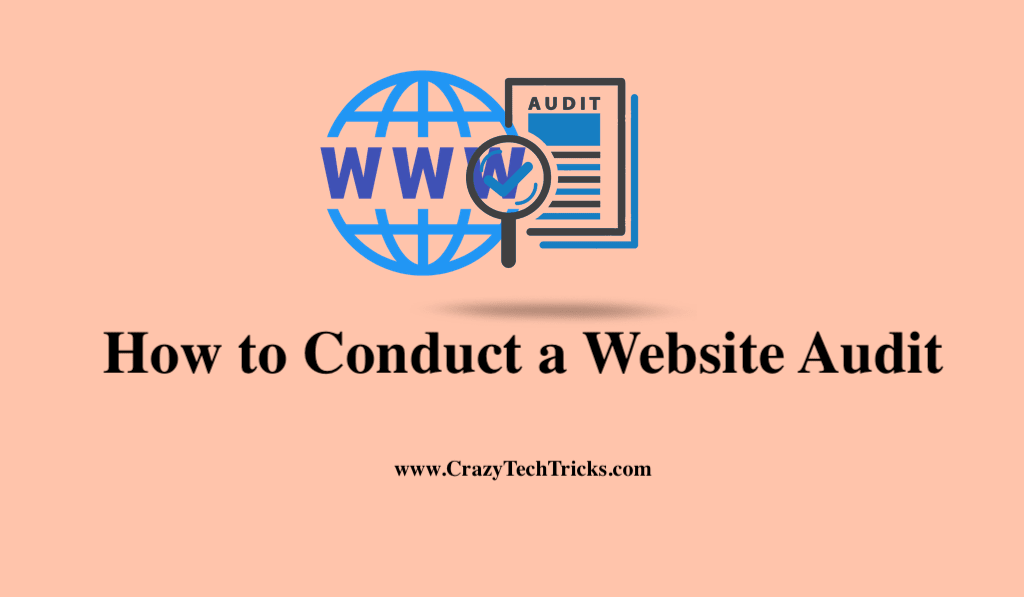 The end of a year that has been filled with many events is an excellent time to reflect on what has happened and plan for the next 12 months. Consider your accomplishments and what needs to be changed in order to be successful in the new year by reflecting on the past year. Many business owners can benefit from taking inventory of our websites and marketing campaigns in order to evaluate what is working well and what needs improvement. The easiest method to persuade the rest of your team to support a new website is to conduct a complete audit and evaluation.
Read more: How to Know if a Website is Safe for Online Shopping
How to Conduct a Website Audit
Performing a manual site audit is a significant amount of work that even seasoned SEO professionals find challenging and time-consuming. It's considerably more difficult to maintain larger, more established websites. A new website takes longer to load, and old websites have more content to review. Audit tools are essential here, but the manual edition is still required for an effective audit to take place. So, let's have a glimpse at how to conduct a website audit.
1. Using a Site Auditing Tool, Verify Your Site's URL
To begin, you'll need to choose a website auditing tool that can assist you in determining how effective your website is. By using site auditing software, you can get specific advice and test the performance of your webpage.
Read more: How to Convert JPG to PNG Image for Free
2. Locate and Fix Technical Issues
Following an audit, you'll want to inspect the site for technical issues, which may pertain to performance, SEO, mobile, or security. In terms of how well your website works for customers, its technical structure and configuration are important.
3. Finding and Resolving SEO Issues
The key to improving your search engine rankings is to focus on SEO-related factors like meta descriptions and image alt text. Among the most common issues found in an SEO audit are:
Missing, truncated, or duplicated title tags
There is an error in the Google Analytics code.
Links and anchor text that don't meet SEO standards
Read more: Best Video Sharing Sites
4. Design and UX should be examined
A successful website depends on both design and usability because they determine how your users interact with your site, how you communicate with them, and how long they spend on it. The information in these stats will influence the ability of your website's visitors to convert. A variety of metrics can gauge design and user-friendliness performance. An analysis of this type can help you gauge the impact of your website's design and user experience on your visitors.
5. Inspect the Website's Content
There is no room for sloppy work when it comes to an effective SEO strategy. With a comprehensive website audit, you will learn which pages rank for your target keywords, and which may not. Your blog, website pages, and other material can be evaluated by doing a website audit. It will also point out any pages with insufficient or redundant material. The content on each page of your website must be created with a specific objective in mind.
Read more: How to Create Website Shortcut on Desktop Internet Explorer
6. Make a list of all site issues and suggested fixes
While you conduct a website audit of your site, your results must be documented in some way. Identify the site faults and recommended fixes, and then pass that information along to the relevant teams.
Conclusion
Understandably, a shiny new website will cost a little fortune, but you know that fixes and improvements won't be enough to fix your website's problems. It's best to invest in your website to make your business successful. To begin your website redesign, you must have a process and a few tools to assess your current standings. You may contact us if you and your team decide to invest in a new website after your audit.
However, conducting a website audit is highly recommended to uncover any flaws with the website. It will help you determine if a website is well-optimized for search engine traffic, has broken links and files, is loading fast, is user-friendly, and if the content is current.
Was this article helpful?