You can clean your Flat Screen TV and other types of TV models like LED, Plasma, Tube and Qled. You can use household things to clean your Samsung, LG, Sony, Mi, or any brand TV. I have also shared things to avoid for cleaning the TV.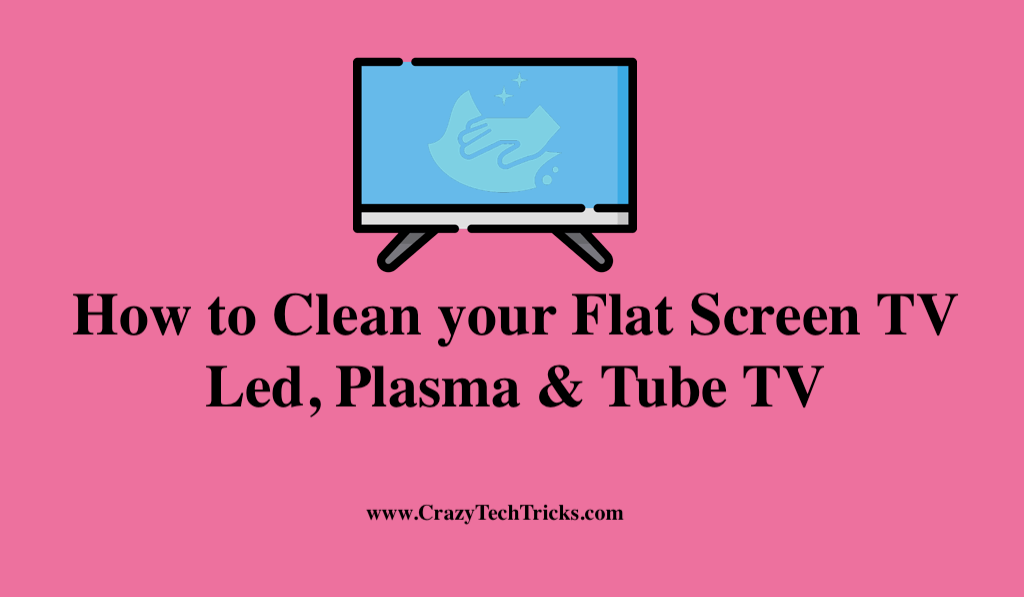 We all know that television is a must-have item in any house. For that, you must also keep your television in good working condition. Now, It's very natural for the dust to accumulate on your TV screen. Any flaws, including fingerprints of yours or your children may also detract from the overall appearance.
Read more: How to Delete LastPass Account
How to Clean your Flat Screen TV
We are all aware that flat-screen televisions have high-definition flat-panel displays that require particular attention when they are being cleaned. You just can't directly put chemical spray or water to clean your flat screen TV. If you perform such an action, it can result in irreversible damage as well as voiding any warranty that may currently exist.
Furthermore, there is the possibility of damaging the screen and leaving behind scratches if you use ordinary kitchen towels. Therefore, it is essential to clean your flat screen tv with the utmost caution.
Turn off the television. Turning off the television will make it much easier for you to recognize dust and filth on surfaces. Please wait a few minutes for it to return to room temperature.
Clean your flat screen TV with a dry cloth that is either soft or made of microfiber. When wiping the surface, give the cloth a good shake now and then to get rid of dust. Alternately, you can also use an electrostatic duster.
Create a solution by mixing equal parts of water and white vinegar in a bowl. Apply this mixture to your screen if it still appears dirty.
Water should not be sprayed directly onto your display to avoid damaging it.
Read more: How to Clean Apple AirPods
How to Clean your TV Screen at Home
Now, many individuals have several versions of tv, such as tube tv, plasma tv and so on in addition to flat-screen televisions. That plasma and tube tv too needs extra attention. It is obvious that you will not go to the shop on a regular basis to have your television cleaned simply because you want it cleaned. So you may clean your television set at home using a number of diverse approaches.
When you're cleaning something as delicate as a flat-screen television, minor scratches are bound to occur. After that, you can fix it by applying petroleum jelly.
There are times when the tv screen gets dark patches over it. If it is that so, then you can mix 1⁄2 water and 1⁄2 rubbing alcohol to remove them. When combining these ingredients, be cautious of their proportions, which should be equal. After that soak one corner of a microfiber cloth, a sponge, or a rag in the liquid. Squeeze off any excess fluid, and then use a soft cloth to wipe down the screen of your television.
In addition, there is a solution available under the brand name ScreenDr that can eliminate the dust, tint, and black areas. Therefore, if nothing else is successful, you can also think about using this kind of product.
GW Deluxe Magic Screen Cleaner is also one of the best solutions available to clean your flat screen TV and other electronic devices.
Read more: How to Clean iPhone Charging Port
Things to Avoid
To maintain the finest appearance and functionality of your flat-screen tv, you must avoid specific cleaning practices. If you will use anything without the knowledge, then you will have to run the risk of scratching the screen. A list of stuff to avoid is mentioned below.
If you want to keep your premium flat screen TV in working order, you should avoid using cleaners that have maximum quantities of alcohol or ammonia. That substance can cause irreparable damage to the display.
Its highly recommended not to use paper and towels as it can damage glass that has been protected with a special coating.
Avoid buying cleaning kits as they cost a lot of money and only contain a small amount of water-based cleaning solution.
Read more: How to Clean Boot Windows 10
Conclusion
In a similar manner, cleaning the remote control of each and every television is of the same importance as cleaning the television itself. Therefore, in order to clean your flat screen tv remote, you must first take the batteries out of it, and then you must rub it off with the microfiber cloth with the solution mentioned above. It's done! Your television and remote control are now virus-free.
Was this article helpful?