Hello friends, Today I will share 10 best dedicated game servers of 2019. All these are a cheap dedicated game server. You can play all your big massive game on these heavy servers. Your game will never lag on these servers. Your game will run faster on these servers and consume less load. You can play any of your game after connecting with these servers on Windows PC/Laptops.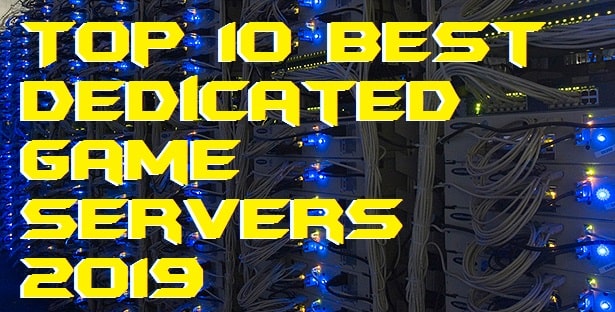 Are you a gamer and need a dedicated game server then you are at the perfect place. For a gamer, getting a perfect gamer server is a difficult task. Why? Because the majority of gamers are very less in the world of technology. Also, the competition in the gaming world is very high. Though, the gamers couldn't talk to each other about a dedicated game server. That is why I have shared this article from which a gamer can get names of the best dedicated game servers 2019.
What is the Gamer Server means?
Game Server means that a service which helps the gamer to play the game online very smoothly. A server means a part of software or hardware technology which serves any service to you. There are two types of gamer servers available. One is dedicated game servers and second is listen to servers. However, the best among these two varieties is dedicated game server.
Which Gamer Server Provider Should I Chose?
Choosing a best dedicated game server for you is fully depends on your game. If you are playing heavy games, then you need to get the best specialized dedicated game servers. But, if you have to play regular games, then you can go for standard dedicated game servers. However, the cost of dedicated game servers in today's world is very high. So, remember that you have to pay more for a dedicated game server as compared to normal web hosting servers.
Read more: Google DNS vs OpenDNS vs Comodo DNS vs Norton DNS – Which is Best DNS Servers?
Top 10 Best Dedicated Game Servers 2019
The list of top 10 best dedicated game servers 2019 is given below. I have chosen these game servers after doing hard research. Frankly, in this list, the top 3 names of the dedicated game servers are very famous, and maybe you guys know them. However, before I start the list, I would like to recommend that these top 3 game servers are going to work perfect for you and will provide you value for money quality. I have explained the details of these servers as well so that you can get the details of them right here in this article. Explore more by scrolling down.
GameServerKings is a game server hosting provider with competitive prices, global locations, and friendly 24/7 support staff ready to help you grow and manage your very own server. They are one of the most prominent Rust server hosts on the market and provide easy solutions to maintaining your servers. Go with GSK for guaranteed high performance, low prices, and a long lasting partnership.
Cheap Dedicated Servers
GamerServers
Fragnet
BranZone
GameHosting.co
Survival Servers
EnviousHost
X-Factor Servers
MultiPlay Game Servers
i3d.net
NFO Servers
All these are Cheap dedicated servers for Games. You can play any high-efficiency game on these servers without any lag.
---
GamerServers
GameServers is an amazing, dedicated game server which provides a high quality of gaming servers for the gamers. However, this the cheapest dedicated game server ever which a gamer may needs. Also, the customer support of this gaming server company is very representative. They have more than 15 server centers in the world. A gamer is going to play every game he or she wants to play using this gaming server company.
Read more: How to Open Facebook When it is Blocked by Server – Open Facebook in School and Colleges
---
Fragnet
Fragnet was established in 2010 which was started by a gamer for other gamers gaming. They provide the best hardware and networks with low latency and high-quality Internet bandwidth. However, they only host on Dual Quad Core Xeon Dell Enterprise servers. This company has more than ten network location across the world. The thing which is essential about Fragnet is that it is a kind of best but premium gaming server.
Read more: Why was Instagram and Facebook Server Crash – Updated 2018
---
BranZone
BranZone was established in the year 2002. It is present in various locations such as London, UK, North America, and more. They have the best quality of dedicated game servers which you are demanding nowadays. Also, they keep updating the hardware and software of the servers so that the serves go updated. Moreover, they also monitor their servers for uptime which will lead you to play games online smoothly.
Read more: How to Edit and Use Firefox Permissions Manager – Top 6 Firefox Security Features
---
GameHosting.co
GameHosting.co is a great dedicated game server website where you can get every kind of servers. Not only for gaming but you can also find the server hosting for Windows and Linux as well. The user interface os this website is very amazing. Also, the navigation section is pretty cool. Customer support of GameHosting is also good. You can play every game which you want to play using GameHosting gaming server.
---
Survival Servers
Survival Servers is the one of the best game hosting websites which is a complete package of a dedicated game server in itself. It is cheap, easy, and reliable. If you have chosen this website for a dedicated game server, then you are going to get an amazing control panel to manage your game server hosting with ease. You can play any game which you wish you play using Survival Servers online using your game server.
---
EnviousHost
EnviousHost is the most reliable game hosting service which is completely designed for gamers. You can any game using this game hosting service such as Minecraft, Starmade, Insurgency, and much more. They say that they have 99% uptime service, DDOS attack proof service, 24/7 customer support and built trust over 50 thousand gamers. You must try EnviousHost for a dedicated game server at least once.
---
X-Factor Servers
X-Factor Servers is a game server provider which is located at 8 different counties and gives a dedicated game server at a very low price. A gamer can play any game on this website's server. You can avail both private and public game servers which you need. The low price makes the X-Factor Servers be in the list of top 10 best dedicated game server 2019.
---
MultiPlay Game Servers
Multiplay Game Servers is a best dedicated game server for those gamers who need to play games in multiplayer mode. Basically, this gaming server host website is designed for the multiplayer system only where a game can be played in a group. It supports almost every games to play using their serves online. If you need to play a game in multiplayer mode, then use it because it is very cheap and designed for it only.
---
i3d.net
i3d is a global latency performance hosting service. It has a high-performance network globally. The company says that if you are using their service, then your gaming experience is in good hand. They offer a large range of ranked and unranked game servers. They have 10500 dedicated servers globally. So, you may try it at least once.
Read more: How to Fix Outlook not Receiving Emails Automatically 2018
---
NFO Servers
NFO Servers is a game server rental service which offers you highest performance, INAP bandwidth, custom kernel extensions, closed automated systems, and much more. They also have a variety of servers such as game servers, web servers, dedicated servers, virtual servers and more. They have an excellent facility for their dedicated game server that is why I have added it to the list of top 10 best dedicated game server 2019.
---
Last Words on 
Dedicated Game Server of 2019
These are the top 10 best dedicated game servers 2019. Above I have also suggested you that which kind of server you should but. Also, I have recommended that what are those top 3 dedicated game servers which you may think about. I hope you have chosen a perfect dedicated game server for you. If you know someone who plays a game online and needs a best dedicated game server, then you must recommend this article to him or her.
Trending: Top 5 Best Twitter Bot Detection Tool – Twitter Bot Detector
Was this article helpful?