We have shared 10 best SNES Emulators for Windows, Mac & Android. All these Emulators will work on almost every OS. You can use them on your computer and play any game you like. Users can download these Emulators on their Windows PC/Laptops and play their desired games.
These Emulators will help you in playing Nintendo games. You can even connect your gaming console and start playing these games.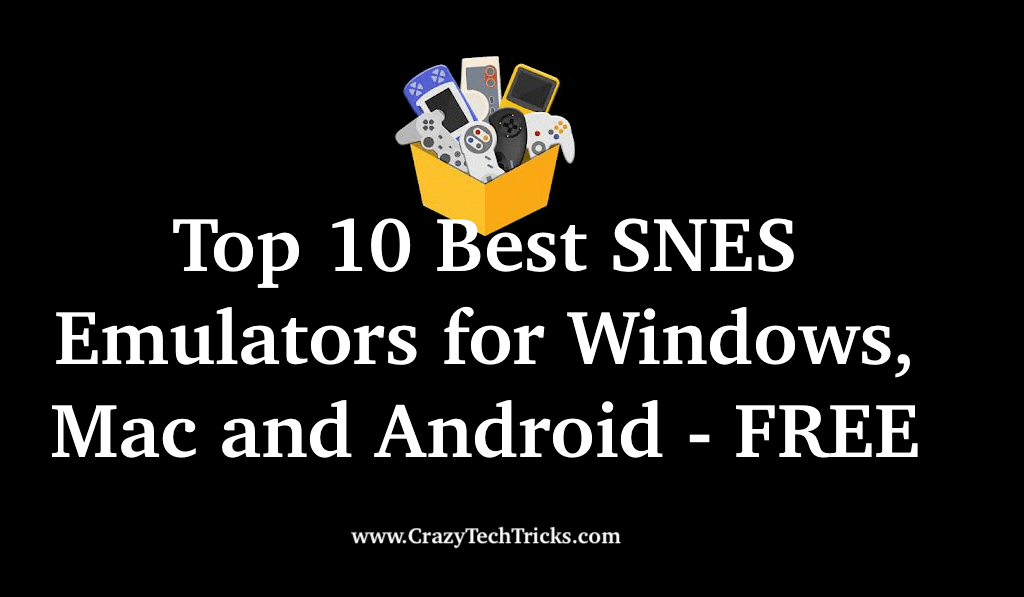 SNES stands for Super Nintendo Entertainment System. SNES emulators are used in Windows operating system to enjoy the games that we play on SNES in the previous era. To play SNES games like Mario or Mortal Combat in your windows pc or laptop, you have to install or use SNES emulators for Windows, Mac, and Android.
We want to play 90's game that was based on SNES console in our windows pc that is why I have created a list of top 10 best SNES emulators for Windows. If you guys are looking for the best SNES emulators for Windows or Mac or even Android, then this is the perfect place for you people. You can also check these best games like freelancer.
Top 10 Best SNES Emulators for Windows, Mac, and Android
I have listed the best 10 SNES emulators for Windows operating system that can be used to play 90's era games on your existing pc or laptop. Using SNES emulators for Windows, Android and Mac is the best option to play Super NES games without changing or getting extra stuff to play them. Sometimes we miss our childhood and want to play the old classic games without getting extra stuff and anything else.
Though, here is the list of top 10 best SNES emulators for Windows. I have explained some details of the each SNES emulators for Windows, and I hope you guys find a perfect one. You can also check the best 3D games for Android.
Higan
SNEX9X
RetroArch
ZSNES
BizHawk
SNES9X Ex+
Nestopia UE
NES.emu
John SNES
OpenEmu
---
Higan
Higan which was formerly known as BSNES emulator is the greatest emulator ever because it supports multiple consoles such as SNES console too. It emulators the original hardware of the system that works accurately to play those classic games. It also provides best and smooth gameplay experience which you are not going to get in any other emulators.
The sad thing of the Higan emulator is that its demand for good chipsets and not work well in old devices or low-end devices. However, this emulator is capable of playing every game which you can wish to play on your device. It is available for free in the market, so get it if you want to play SNES games on your device right now. Earlier we have also discussed How to Play Xbox 360 Games on Laptop.
---
SNEX9X
SNEX9X is also a great emulator which do not require any significant adjustment. This emulator is very easy to use as compared to other emulators. Once you have extracted the files of SNEX9X emulator on our device after that, you are ready to play your old classic game immediately.
Another best thing about this emulator is that it is capable of running any game without any trouble. If somehow a problem occurs then it will be treated in the non-noticeable issues. You can say that this emulator is best for those who are having low-end devices or old devices. It also has abilities to boost gaming speed, clear graphics, recording gameplay in AVI format, and streaming them online.
---
RetroArch
RetroArch is the yet another best and greatest SNES emulator to play games in any devices because it supports and offers a variety of cross-platform support. The best part of the RetroArch emulator is that it provides a good looking interface for the user. Such that a user can go friendly with the emulator very easily. You are going to get every control to your emulator as well as many features like shaders, netplay, and rewinding.
Not only this, but a gamer can also record or stream its gameplay through the internet to his or her friends. This emulator is capable of playing every game which you want to play on your existing device. Also, you can get it for free of cost. Get it now to play your favorite SNES games right now. If you are looking for dedicated game servers, then do read our article.
---
ZSNES
ZSNES is an excellent Super Nintendo emulator that is going to help you in playing every kind of old classic games with relative ease. A user can run most popular SNES games in the existing device trouble-free using this emulator. Because of the development discontinuation of this emulator, the emulator is quite capable but is easy to use.
Because it is one of the best SNES emulators that is very easy to use this is the reason that it is so much popular. But, if we talk about the security concern, then this emulator got eliminated. Why? Because this emulator installs unwanted apps by opening unwanted web pages when a user downloads a ROM of the game.
---
BizHawk
BizHawk is the emulator that is designed for casual gaming. Where it is designed around the TAS technology that is Tool-Assisted Speedruns. But, if you want to complete a game is a timer mode or fastest time mode then the BizHawk is going to rock.
Not only SNES but it also supports many platforms such as NES, Nintendo 64, Game Boy, Game Boy Color, Sega Genesis, Sega Saturn, PlayStation, Atari 2600, etc. You can easily find it on the internet for free of cost to play SNES games on your device.
---
SNES9X Ex+
To play SNES games smoothly on Android devices, there is a big name in the emulator community comes out and that is "SNES9X Ex+". There are many SNES emulators for Android available on the internet. But, trust me guys this one is perfect for you. Why? Because this is specially designed for playing SNES games in the Android devices. It supports for a variety of file types and gamepad as well.
You are going to get all the basic features that you are expecting to a SNES emulator. Not only this emulator is free of cost to use and play games through it. Moreover, its ads-free and in-app purchase free SNES emulator for Android smartphones.
---
Nestopia UE
Nestopia UE is the high accuracy SNES emulator which can run every SNES games without any trouble. It has some extra features that other emulators are not having such as net play and text scaling. The development of the emulator was stopped because of some reasons but, after 2008 the developers decided to start the development back.
Thus, the Nestopia UE came in, where UE means Undead Edition. Some more features like Famicom mic support, cheat support, game-specific custom palettes can be easily found in it. It has a user-friendly interface that allows you to install and start playing games.
Must Read: Fortnite vs PUBG
---
NES.emu
If you are bored watching the design of SNES9x EX+ emulator or you are bothered by playing games in SNES9x EX+ emulator on Android. Then, you can choose NES.emu for the alternative of that emulator which helps you to play SNES games in Android smoothly. Android devices that have at least 1GHz processor can easily use NES.emu emulator.
You are going to get tons of features like chat support, on-screen multi-touch touch controls, save state support, backup and more. NES.emu gives every control to the user which he or she wants on the emulator which is tough to find in SNES9x EX+ emulator.
---
John SNES
John SNES is the best paid SNES emulator for Android. Any Android device which has Android version 4.1 or up can use John SNES emulator in it. It is capable to let you enjoy any game which you wish to play on your device using John SNES. The user interface is pretty good, and the emulator is easy to use by a user.
The setting of the emulator is straightforward, and it's not a much-complicated emulator like others. Some advanced features like save states support and customizable keys are also available in it.
---
OpenEmu
The last emulator in the list of top 10 best SNES emulators for Windows, Mac, and Android is OpenEmu. It is a multi-system emulator that works on Mac OS. OpenEmu is a SNES emulator that is similar to RetroArch. But, the exciting thing is the user interface of the OpenEmu is very much cool as compared to other SNES emulator.
However, it is specially designed for Mac PCs/laptops only. Also, it supports multiple input methods. The most important thing is that it is free to download and use to play SNES games in Mac PC/laptop.
---
Conclusion
This was the list of top 10 best SNES emulators for Windows, Mac, and Android. There are more SNES emulators for Windows, Mac, and Android available on the internet which you can download to play old classic games like Mario in your existing Windows PC. Some SNES emulators for Windows are paid, and some of them are free of cost.
You can get any one of them which you want to use to play 90's game on your Windows laptop/pc. I hope this list has helped you a lot in getting or choosing the best SNES emulators for Windows. You can share this article with your friends or family members as well so that they also play SNES game in their own Windows PC/laptop.
Trending: How to Reduce Data Usage on Android
Was this article helpful?