Users can block people on Tinder. Once you block boy or girl on Tinder. They cannot text or contact you on Tinder. I have also shared a method to Unblock someone on Tinder. You can block as many people you want to block.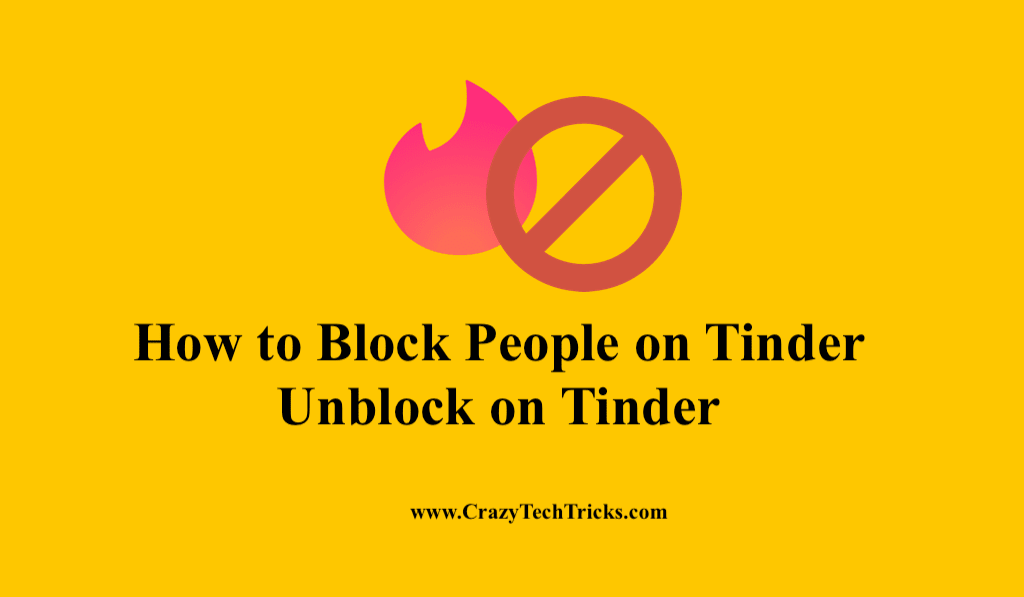 As of now Tinder has 57 million users. And it may increase in future. Sometime we may get match with the wrong person. And that wrong person keep on disturbing us with text and etc. In that specific case, we just want to get rid of that specific person. So all we want to do is block that person on Tinder. You can block people on tinder and report them too.
Everthought you joined Tinder and you know someone who is also on Tinder. But you don't want your profile to be shown to that specific person. In that case you can even block that person without even having a match.
If you want to block someone from your contact whom you know use Tinder then this feature will even block that person. And your profile will never be shown. Users can even block people on Tinder who are not even using Tinder.
Read more: Best Tinder Alternatives
How to Block People on Tinder
There are two ways to block people on Tinder. You can upload the contact of the person you want to block. Users can choose to upload their contact list and pick the contacts they want to block on Tinder.
Open the Tinder app > tap on your profile icon.
Then go to Settings.
Browse through and select Block Contacts.
Now, Grant permission for Tinder to access your contacts.
Then Under the Contacts tab, select people you would like to avoid from your contact list.
Finally Tap and Block Contacts.
Note: A person will never know that you have blocked them on Tinder.
Read more: How to Change your Name on Tinder Profile Without Facebook
How to Block People on Tinder Without Contacts Access
An alternative option is for users to add contact manually without granting Tinder permission to access contacts. This method is for people who are concerned with privacy issue. You need to enter the phone number from your own to block a boy or girl from Tinder.
First follow the three steps and add contact manually.
You can add contacts by tapping the + icon at the screen's top.
Finally, add the contacts you wish to block from Tinder and click "Done."
Read more: How to Cancel Tinder Gold Subscription
How to Unblock People on Tinder
If you have mistakenly blocked someone from Tinder. Then don't worry as its not life time ban or block. You always have the option to unblock a person from Tinder. After you unblock, person can do all type of communication with you as other users do on Tinder.
Open Tinder and click the profile icon.
Then go to your "Settings".
Browse through and click "Block Contacts".
Then go to the "Blocked" tab section.
Click on the "Unblock" next to every contacts you blocked.
If you want to unblock all,  Open the menu and select the "Unblock All."
Read more: How to Mute Someone on Facebook Permanently Without Knowing Them
Conclusion
Tinder is great dating app if it is used in good way. But bad people are present everywhere. You can use these method to block anyone from Tinder. By using this method you can block male, female or any profile from your Tinder profile. You will always have the option to unblock the person from Tinder. Remember there is no other method to block anyone beside this official Tinder method.
Was this article helpful?