I have shared five methods to change fonts in Android without Root. You can use inbuilt tricks to change the fonts or use these apps to change the fonts. Users can change more than thousands of fonts on their Android Phones.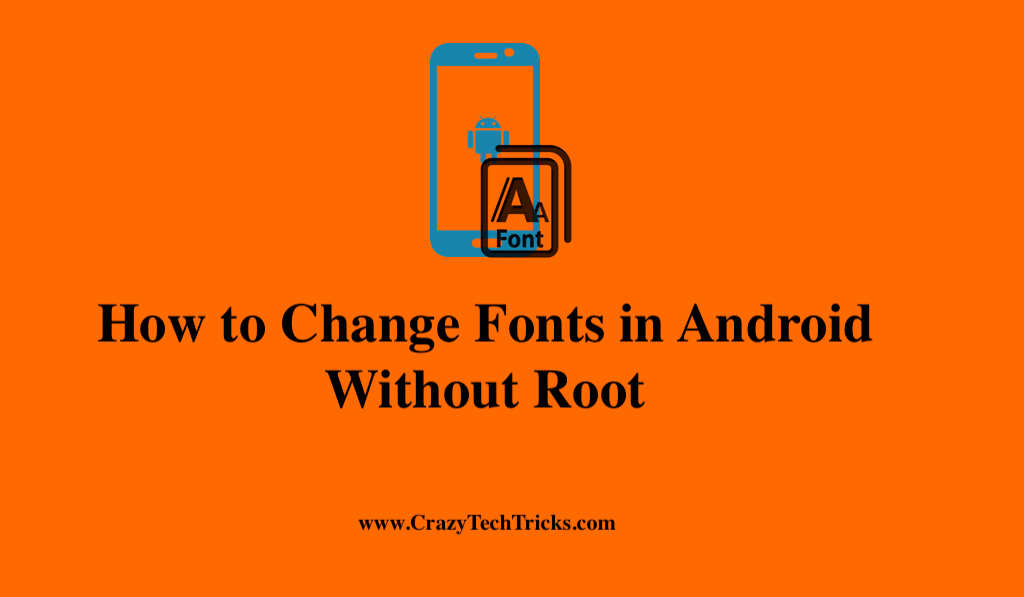 The term "font" refers to a group of readable or viewable text characters that have been designed to have a specific style and size. Using font, text can be altered or matched in terms of "tone" to enhance the visual appeal of a web page or document. So now it's natural that you might get sick of seeing the same fonts over and over again.
Read more: How to Add and Remove Fonts in Google Docs to Default
Android offers some excellent open-source programs for installing new fonts to solve this issue. These fonts are appropriate for both rooted and unrooted Android devices.
How to Use Different Fonts in Android
A variety of font changers are available in Android that can be customized to meet your needs. If your device doesn't support changing fonts built-in and you don't want to root it, you can use a third-party launcher. However, if you wish to keep using your personalized Android fonts, there is no reason to take a chance. Unlike the built-in tools, launchers can only alter the font for their launcher elements, which can change the system-wide fonts.
Change Fonts in Android
Here are five easy ways to replace your old, boring Android fonts with a new exciting one, without rooting your phone.
Launcher app
Android phones that come pre-installed with fonts
Use font apps to download new fonts

System Settings

Using HiFont
Method 1. Launcher app to change fonts in Android
Launcher Apps are a new option for Android developers to consider. You can download the program from the Google Play Store, which has a wide variety of styles. Then choose the most appropriate fonts for your device.
Go Launcher Fonts: We are all familiar with GO Launcher, and its popularity on the Google Play Store is well-known. Google Play users can customize their home screens, widgets, and backgrounds with this software that has a 4.5 rating and 7,000,000 downloads.
Read more: How to Customize Mouse Cursors for Windows 10
GO Launcher comes pre-installed with a set of five fonts. This may be done by using the SD card/GOlauncher Ex/fonts method. The fonts will automatically adjust after you've made the appropriate edits. To customize the font style on your phone using GO Launcher, follow these steps:
Read more: How to Increase Font Size in Windows 10
Method 2. Android Phones that come pre-installed with fonts
The Android operating system does not include font selections on many smartphones, such as those from Samsung and LG. Installing the best Android launcher enables you to use the best fonts available in Android launchers to your Android smartphone. So, in this instance, all you have to do is follow the instructions outlined below to change fonts in android:
Select the most appropriate one and save it to your phone. It is the simplest method for changing fonts on Android without rooting.
Read more: Best Fonts for Instagram Bio
Method 3: Use font Apps to Download New Fonts
Some apps for changing font styles in Android are listed below:
Stylish fonts: This is the most stylish mobile application to change fonts in Android. On the Android market, it ranks among the top five apps with 10 million downloads. Now, the steps involved in creating this application are listed below:
Install the stylish font link app from Google Play Store. Check out all of the available fonts.
Once the adjustments are made, you will be presented with new fonts.
iFonts: This app claims to work flawlessly even on devices that aren't rooted. One of its only disadvantages is that it is only compatible with a limited number of smartphones. This application is designed to run exclusively on non-rooted Android phones. As a result, its market is limited, but the benefits outweigh the drawbacks.
Go to the Google Play store and search the iFonts link program.
Install it on your Android device and launch it.
Browse the display and font style options in the settings. Make sure that the font you installed is accessible. You can also use the app's "Settings" option to set the date and time.
To change the system font, select the new font.
Read more: How to Compare Documents in Google Docs
 Method 4.
System Settings
Many fonts are available on Android smartphones, and you can access these in the system settings. Fortunately, this functionality is only offered by Samsung phones. Other devices (non-Samsung phones) may or may not have it by default.
Open the Settings menu.
Then, go Device.
Open Fonts.
Then go to the Font style to change fonts in android.
Or,
Select the Settings menu.
Go to My Devices.
Go to Display.
Finally, select Font Style to change fonts on Android.
Read more: How to Get Instagram Dark Mode
Method 5.
Using HiFont you can Change Fonts in Android
One of the most popular ways to change Android fonts is by using HiFont. The site offers hundreds of fonts that are hand-picked and have such styles as charming, darker, candy-colored ones. Furthermore, you can use it with the fonts application on your device.
Download and Install HiFont link on your Android device, then launch the application.
Now, navigate to Settings.
Go to Display.
Then visit Fonts. Fonts can be downloaded and installed here to change fonts in Android.
Read more: Best Label Makers
Conlusion
Android phones allow you to customize your experience and express yourself to your heart's delight. The Google Play Store offers several launchers that can easily change fonts in Android without installing new themes. So whenever you want to dazzle your friends with some cool texts or spruce up your phone by changing how texts look, you won't need to root your device. You can use any of the applications listed above to change fonts in Android quickly and easily without rooting.
Changing the font on Android seems to be a natural change of these ideas. With these methods to change fonts in Android, you can alter the device's appearance for the majority of the time. However, it isn't always as simple as it seems.
Was this article helpful?