You can delete feedback on Amazon by following these three methods. You can delete any type of buyer feedback from your Amazon product. Remove 1-star feedback from customers.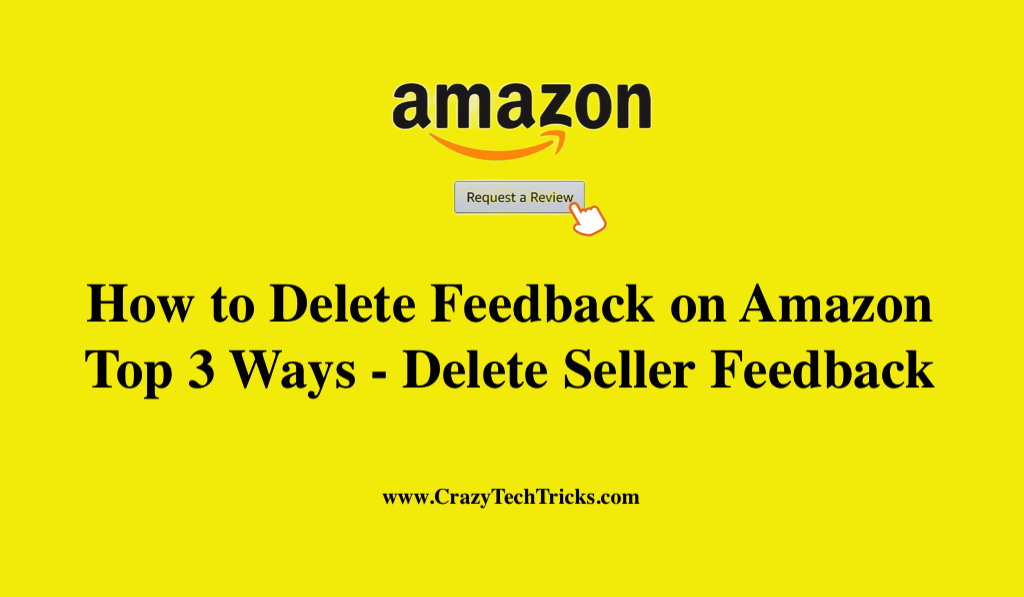 If you want to convert website visitors into paying customers, you should focus on positive customer feedback. Negative reviews, particularly those submitted by bogus users, can do some kind of damage. Negative comments are never fun, whether it's in the real world or on an e-commerce site. An Amazon seller's business can suffer if they receive bad reviews from customers.
How to Delete Feedback on Amazon – Delete Seller Feedback
Third-party vendors are verified by Amazon based on customer feedback, which ensures that they stick to the high standards that the corporation requires. In the seller feedback process, items and services are both evaluated. It's therefore important to understand that both are accounted for. Potential customers get a taste of what it is like working at your company.
Well, there are three ways to delete feedback on Amazon :
Removing manually
By contacting Amazon
By contacting Customer
Read more: How To Change Shipping Speed On Amazon app
Method 1. Removing Manually
Third-party seller feedback cannot be altered only removal is permitted. In the case of third-party sellers, you cannot leave any more feedback once you remove feedback. Moreover, You can delete feedback on Amazon manually.
Click on Feedback You've Provided.
Delete the feedback you don't want by clicking the "Remove" button.
Choose a cause for the deletion.
Choose Remove.
Read more: How to Delete Shipping Address on Amazon from PC
Method 2. By contacting Amazon
You can remove feedback by logging in to your Amazon account if it meets certain criteria. Now, Perform a right-click on Performance and then pick Feedback from the drop-down menu. Here, Make a list of only the negative comments. Select Request Removal now from the Actions menu on the right side of the screen to begin the removal process.
By clicking on View Case to the right of the prompt, you will be taken to the Feedback Removal Request page. From there, you can select Get Help. Finally, send an email to Amazon stating why they should remove the negative comments.
Read more: How to Link your Amazon Prime to Twitch
Method 3. By contacting the Customer
Your business can do its best by approaching the consumer personally and respectfully requesting they delete feedback on Amazon. Use the first name of the dissatisfied consumer and apologize as appropriate. It might be good to ask them what went wrong and why they were unhappy with the service.
In addition to showing empathy and making them feel heard, this will help you identify what went wrong.
Navigate to the Performance Tab and then to Feedback.
Make a list of the negative comments you want to address.
Choose Resolve from the right drop-down option.
Select the yellow "Contact Customer" button that can be found at the bottom of the page.
Simply type in a message, then hit the "send" button.
Read more: How to Get Free Audiobooks on Audible using Amazon Prime
Conclusion
In order to be a successful Amazon seller, you need to have a good seller feedback rating, although bad reviews are not conclusive. Make sure the rating does not violate Amazon's stringent guidelines, and if it does, attempt a resolution to the buyer's satisfaction and have them remove the rating themselves.
Was this article helpful?