You can easily hide your Facebook Page Temporarily or Permanently. Users can use their Android, iPhone, Windows, or Mac PC/laptop to Publish or Unpublish there Facebook Page. You can even hide your Page from feeds and only show data to your followers.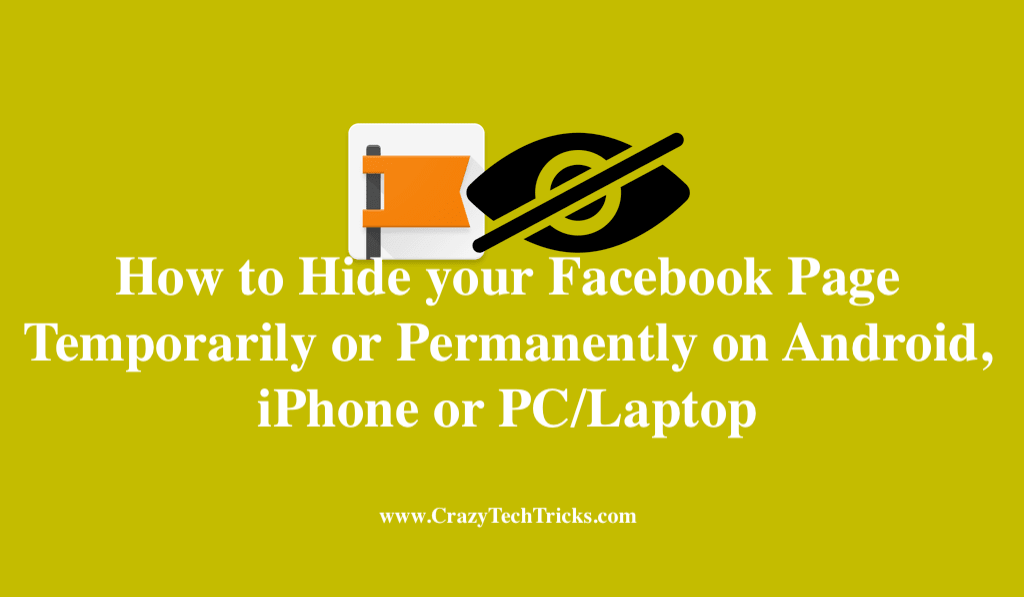 Facebook users have been growing rapidly all over the cosmos. So, the Facebook team is also doing efforts to continue to make it a more reliable and easy to use social media.  They have introduced many advanced features to keep the privacy of the users very safe and secure. Among all these features, there has been the existence of some extraordinary features that allow you to hide your personal data either from your account or a page that you own.
Read more: How to Mute Someone on Facebook
Why Hide your Facebook Page
Most of the time, it usually happens that a person creates a page on Facebook, either for business or personal purposes. If he starts posting the posts regularly, his page starts growing and people begin to follow that page. After some time, a thought may strike his mind to share the information with the followers of his page only rather than everyone who sees his page. So, he does some settings on his page and hides his page from everyone except his page followers, temporarily.
Read more: How to Change your Name on Tinder Profile Without Facebook
In reality, this means to unpublish a page. In this case, when the pages are unpublished, it will stop coming in the recommendations of the public and even the activities of the page will also be hidden from everyone except the followers of that page.
Some people choose to unpublish their page because they create the page for private business and allow only their co-workers and business partners to assess the information on the page.
Secondly, people usually hide their page or keep it unpublish because they created the page for their personal purposes and do not want to expose their activities to the outsiders. In these types of pages, only friends or family members of the page creator are the followers of the page. So, to keep themselves apart from public people, use the hide or unpublish option.
How to Hide Your Facebook page Temporarily on Android or iPhone
To do so, a person needs to follow a series of simultaneous steps in order to hide his Facebook page on a temporary basis. We will use the Facebook Page Manager application.
Open your Facebook Page Manager app and open the Facebook Page you want to hide temporarily.
The page will be hidden from the public after that moment and only page followers will be able to view the posts and information of the page.
Read more: How to Make a New Paragraph on Facebook Messenger
How to Hide Your Facebook page Permanently on Android or iPhone
Permanently hide here refers to hiding the page from the public forever that further means to delete the page from Facebook permanently. This action is usually performed by people when they stop using a page or they have created a page for a long time and now it has become useless. So, they decide to put a permanent stop on that page so that it does not get shown as a recommendation to the people to follow.
If you delete your page permanently, then all your data that you published on the page will get deleted. However, you will be given a chance by Facebook to regain your page before losing it permanently. For that, you will be given 14 days to restore it, if you want to. Otherwise, after the 14th day, your so-called page will be no more.
Open Facebook Page Magaer > Facebook Page > Tools > Settings > Page Options > Delete Page.
You will see two option Cancel and Delete Page?.
Tap on Delete Page?.
Read more: How to Add Music to your Facebook Profile
How to Hide Your Facebook Page Temporarily or Permanently on PC/Laptop Online
Its very easy to temporarily or permanently hide your Facebook Page online. Make sure you are logged in to Facebook Page. Now open the Facebook Page > Settings.

Now on top, you will see the option Page Unpublished which is hidden a Page Temporarily

and at Bottom Remove Page to permanently hide a Facebook Page.

Read more: How to Secure Yourself From Facebook Hack Scam
Conclusion
At last, it can be concluded from above that you can hide your Facebook page in both cases of temporary or permanent. But, the only difference is, you can bring back your page anytime from the temporary hide. On the contrary, side, if you will delete it permanently for hiding it forever, you cannot get it back unless you restore it within a period of 14 days.
Was this article helpful?