You can forward spam text to AT&T on iPhone by following these two methods. You can use this method on iPhone 13, 12, or any other iOS device.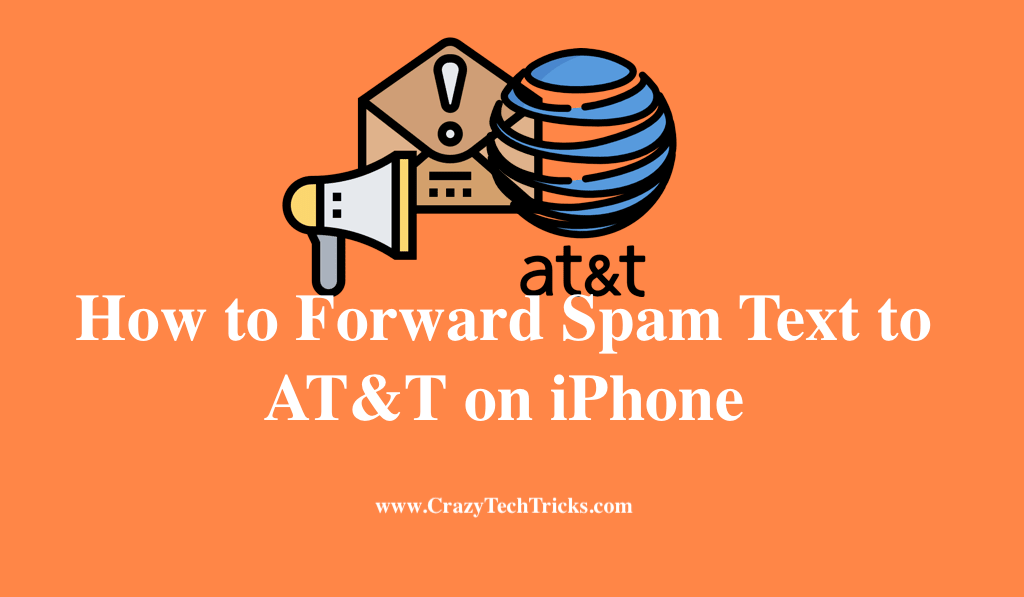 Texting is an incredibly efficient way to communicate. As spammers know just about everything about distributing and receiving communications, they've figured out how to monetize them. A spam text message is not an isolated incident. The problem of spam text messages is another annoyance similar to robocalls and spam email.
While spam text messages may be a standard part of your daily routine, you shouldn't become used to them since they could cause you to harm in numerous ways.
Read more: What is AT&T APN Settings
You are most likely to receive spam text messages designed to trick you into divulging sensitive information, like your credit card number or social security number. AT&T has realized the need to safeguard its customers from spam texts. Therefore you can report spam SMS to them. In this blog, we will clear your doubt about how to forward spam text to at&t on iPhone.
How to Forward Spam Text to at&t on iPhone
A report of spam SMS has been established using (7726, which spells SPAM) by the Global System for Mobile Communications (GSMA). Members of the GSMA, which represents hundreds of service providers around the world, include most of the major carriers in the United States.  However, A spam text is, in essence, any unwelcome communication. The following are only a few examples:
Being contacted by the winner of an award you never entered
"Special offers" with dubious legitimacy
Government institutions, such as the Internal Revenue Service (IRS).
Messages purporting to be from these institutions such as bank or credit card verifications.
Read more: How to Delete Spam Calendar Events on iPhone
Moreover, the various steps to forward spam text to at&t on iPhone are:
Forward Annoying Texts to 7726
Register Your Phone Number with the Do-Not-Call-List
Method 1. Forward Annoying Texts to 7726
When receiving a spam SMS message on your iPhone, you can report the message by texting SPAM to the number (7726). As a result, AT&T will text back and ask for the spammer's cell phone number. All you have to do now is respond with your phone number. Your monthly text quota does not include data from text messages marked as spam or AT&T's responses.
When using an Apple device, you'll need to keep your finger on the message. Once the menu appears, click on "More" and then the blue arrow at the bottom right. After clicking the blue arrow, your message will be displayed as a new line of text. Now, Click on "Send" after entering the number 7726.
Read more: How to Add Bookmark on iPhone 13
Method 2. Register Your Phone Number with the Do-Not-Call-List
Adding your phone number to the FTC's Do Not Call Registry will help you to forward spam texts to at&t on your iPhone. No credit card is required, and the process takes only a few minutes. Click on "Register Your Phone" after you've followed the link.
After 31 days of registration, you can report nuisance calls and messages. If you want to reduce unsolicited text messages, you can also use this method more effectively against spam calls.
Read more: How to Turn Off Voice Control on iPhone 11
Conclusion
By using AT&T Mobile Security for Android, you can check your smartphone and its installed applications for malware, such as Trojan horses, worms, spyware, and other destructive programs. During the installation of applications and on-demand, Mobile Security performs a scan.
In addition, Mobile Security will actively monitor your files for suspicious material if the Monitor File Settings option is selected. Therefore, the above method will be beneficial for you to forward text to at&t on iPhone.
Was this article helpful?