You can make a Kahoot game pin on your Smartphone or online using Chrome or any browser. Later you can distribute the pin with others to play the Kahoot game. You can start Kahoot by sharing the PIN with your friends.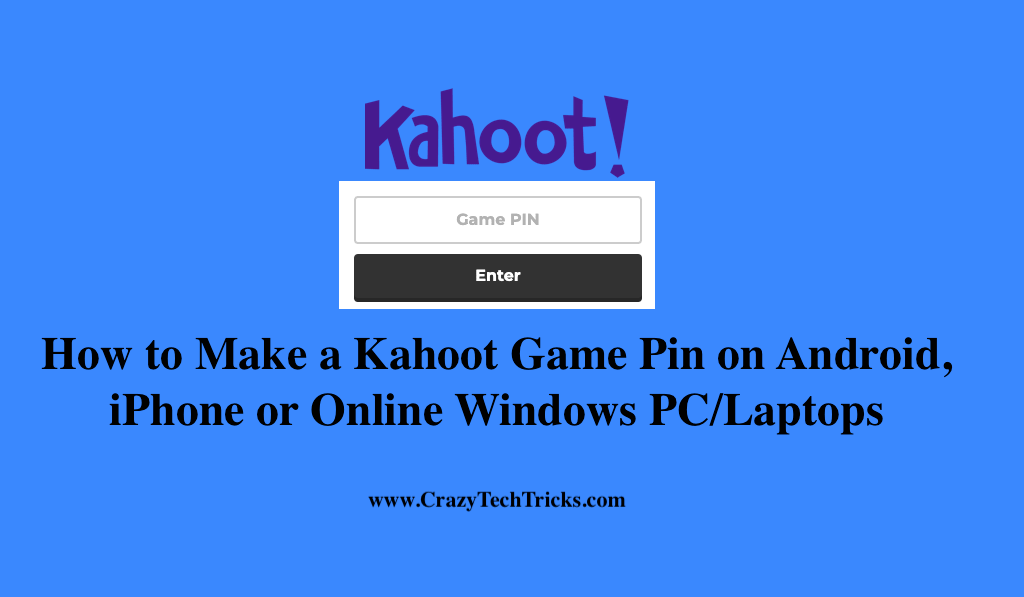 When it comes to educating students in a fun and entertaining way, Kahoot is one of the most popular educational exam games in use. It is not too difficult to set up the exam for students to participate in, and the examiner provides the users with a significant number of options for participating with a game PIN code. The Kahoot pin is very special and one of a kind.
During the live exam session, the examiner will create that pin. Additionally, in order for students to participate in the game, they will need to enter the Game PIN that is given to them by the examiner. This PIN can be entered by the official portal of Kahoot.com.
Read more: How to Download Games from Humble Bundle
How to Make a Kahoot Game Pin
Imagine you want to play a game with your partner or best friends to find out what everyone has been up to. Or what they know exactly about you. For example, your likes, dislikes, etc. For that, in order to get started with the quizzes, you will need to make a Kahoot Game Pin. Once it's generated, you'll be prompted for more information to join the network.
You can make a Kahoot game pin to share with your friends using both ways:
Using Desktop
Using Mobile application
Read more: How to Play Vampire Survivors for Free
Method 1. Using Desktop
When compared to using the mobile application, creating a quiz and making a Kahoot game pin on a desktop computer is a lot simpler. The reason for this is the significant constituent, which is that here you have a broad screen. You won't need to browse to a different page to choose an option because all of the necessary choices are presented on the same page.
Go to the official site of kahoot.com.
Then, enter your User id and password to access your Gmail, Microsoft, clever, and apple accounts. After this, a confirmation dialogue box will appear if you are a new user.
Here, click on continue and sign up. After selecting your occupation, the Kahoot homepage will open.
Now, click the Create button situated in the upper-right corner. In that click Kahoot.
Click on the New Kahoot create option.
Now you can enter your desired quizzes and add photos. After that, you will be prompted to enter options to create a valid question.
Select a time limit to set how long a question can be answered.
Set how many points you want your quiz to be based on the right answer.
The Add question button on the left pane will allow you to add new quizzes by allowing you to select single or multiple answers.
Now, Press Save. A dialogue box will appear where you will be asked to enter the title and description.
Click done after entering all details and go back to the home page.
Go to my Kahoot from the list of options on the right side of the screen.
Click on start there.
Now finally, you will receive your Game Pin.
Once you've obtained your gaming pin, you'll be able to share it with your social network and workplace colleagues.
Read more: How to Gameshare on the PS5
Method 2. Using the Mobile application
The mobile version of Kahoot is quite complicated to use because, first of all, the screen is quite small, and secondly, in order to set timers and points, you must click on different slides. Due to this, it might be inconvenient and time-consuming to use. Moreover, the step to make a Kahoot game pin on iPhone and Android is similar.
Install Kahoot! play & create quizzes app. You can also install it from the given link.
Then log in with your credentials or register if you are a new user.
Click on the create option at bottom of the main screen to start creating.
You'll be prompted to enter your title first.
And then click on the Add question and then choose the question type.
Simply click on the plus (+) sign to add a picture to your quiz. You can also insert it from your gallery. Below that you will find the space to write the question. Upon entering the question, select the correct answer too.
On the same screen, you'll notice a timer indicator in purple that you may use to set up a timer.
Now, to change points, click the three horizontal dots in the upper right corner of the screen. There are three alternatives available. Choose between 0,1000 and 2000.
Once done click on Preview.
Click on save after coming back to the title page. After saving, you'll be sent to my library option, which is next to the create option.
Now, In the Kahoot app, click on the quiz you have created to share it with your friends and to make a Kahoot game pin.
Now,  click on the start option.
Choose the Live game mode option.
And then Classic mode.
Here you go! You will get your Game PIN.
Read more: How to Fix Xbox Game Took Too Long to Start
Conclusion
Alternatively, you may simply select an existing quiz on the site and the system will automatically generate a unique Game PIN for you to use if you do not wish to create your own Kahoot. In addition, Kahoot pins are available in six-digit formats. Furthermore, the Kahoot pin shifts after a predetermined amount of time. Each time it is generated, it is different.
Was this article helpful?