Hello friends, Today I will tell you a method on how to permanently delete Slack account. Users can even deactivate their Slack account. I will also share a method to delete your personal data through email to slack. Users can even remove the Slack workplace.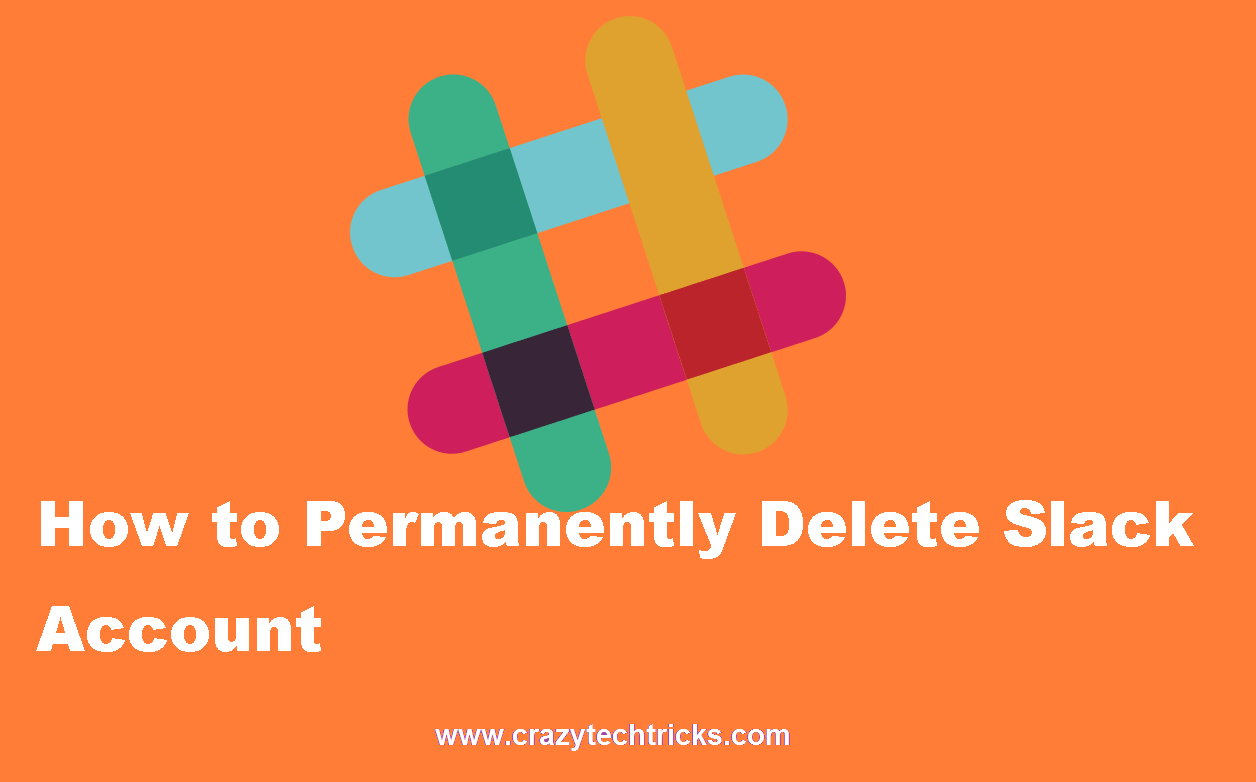 What is Slack? 
Slack is a collaboration hub created with the target to bring your team together to work seamlessly and efficiently. It is used to remove the hassle of formal mail writing, delayed response and to increase the efficiency between colleagues. Moreover, it is used to collaborate with other people online as efficiently as possible. With the robustness of slack, it brings efficiency and responsiveness within a team that is limited by their geographical location. 
---
Removing your account on Slack 
You have two options for removing your Slack account: 
Delete

your Slack account.

Deactivate

your Slack account.
Read more: How to Fix Outlook not Receiving Emails Automatically
---
How to Permanently Delete Slack Account
Deleting your account on slack is basically deleting your profile information from slack workspaces. This involves some background knowledge. For Slack to comply with the data privacy laws, the GDPR or General Data Protection Regulation, the primary owner/ admin of the workspace or organization can contact Slack and request to delete a member's profile information.  
What includes profile information? 
Display name

 

Job title

 

Profile picture

 

Phone numbers

 

Profile picture

 

Full name

 

And details from a custom profile field

 
Since Slack involves working of organizations and revolves around the professional working environment; It comes with four different package subscriptions, Free, Standard, Plus, and Enterprise Grid subscription.  These are often grouped in two packages consisting of Free, Standard, and Plus Subscription and Enterprise Grid Subscription respectively.  The process of both groups is different.   
Deleting account of Free, Standard and Plus Subscription in 5 steps: 
Visit your workspace settings to confirm who your workspace primary admin/ owner 

is

 and get their contact information.

 

Deactivate your account. (Process is given below)

 

Ask the workspace primary owner/admin to delete your profile information.

 

The workspace primary admin/owner will contact Slack via 

[email protected]

.

 

On the workspace primary owner's request, Slack will then remove your profile information from the workspace. 

 
Deleting Enterprise Grid Subscription in 3 steps:
Enterprise Grid Organization are mostly large, so if you don't know the organization's primary owner/admin. Follow the process beneath.  
Sending 

Slack

 a note on 

[email protected]

.  Include your workspace URL and the email address associated with the slack account.

 

Slack will then forward your request to the primary 

owner/admin. 

 

After the confirmation by the organization's primary owner, Slack will remove the profile information from your profile.
Read more: How to Save Contacts on Google Account
---
How to Deactivate your Slack account 
This is a necessary step while deleting your account from Slack. Deactivating is a temporary process from where your account can be activated again.  
There are some prerequisite while deactivating your account which you should know about: 
If you are a member of different and multiple workspaces; you will be having an account per workspaces that you are involved in. Therefore, you need to deactivate each and every one of your accounts from your multiple workspace.

 

Deactivating your account would not delete your files shared and messages. If the Workspace admin allows then you can delete your messages and files that you have added beforehand.

 

If you are the primary owner/admin of the workspace then you would need to transfer your ownership to someone else from that designated workspace.
Deactivating your account in 6 simple steps: 
Login your account on your desktop and click on your workspace name in the top left of the window.

 

Select Profile & account from the menu.

 

Click on the 

More

 actions button, then click on Account Settings.

 

Scroll to reach Deactivate account, 

then

 click on Deactivate your account. 

 

Enter your account password and select Confirm Password.

 

Click 

Yes

, deactivate my account. If you installed apps to the workspace, they may be disabled after 

you deactivate

your account – but a Workspace admin/owner will be able to manage and re-enable them for the workspace. 
---
How Slack strengthens business
Having a central channel for team communication helps increase productivity as it brings real-time work communications between different segments of a team. "It all happens in one place", as Slack professionals call it. With additional features such as integration of GitHub, HelpScout and Trello provide ease in technical integration, such as code and repositories sharing. File sharing is done with the WordPress plugin, having a plethora of features in it. Transparency in team communication is necessary when you are in contact with a huge team from around the world. This is easily kept with one-to-one and private groups. The greatest feature of Slack is its portability on different devices and on different operating systems.
Must Read: Boomerang Alternatives
---
Conclusion
Having an organized team in this competitive world is necessary as a transparent and competent team makes it through the competition. This is where having a Slack channel and workspace comes in handy. With all the features it provides, it is one of the most necessary aspects of a successful organization. This tutorial thus notifies how you can take an exit leap from the professional work with Slack by informing you of the process to deactivate and delete your account from Slack. 
Was this article helpful?